Two more Canadian birds are on the endangered species list as of July 1st .
This is a big problem that is going unnoticed;
its both an environmental and urban design challenge to keep urban birds alive. Commercial office towers and residential homes are both offenders;
sunrooms
and glass walkways like one below Ottawa City Hall kill birds daily. * see article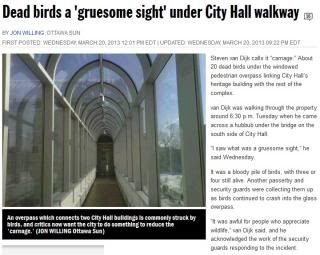 Ottawa Sun, March 2013
Dead birds a 'gruesome sight' under City Hall walkway | Ottawa & Region | News | Ottawa Sun
Overall I perceive there's a lack of awareness that birds are in trouble. I see dead birds on sidewalks beside office towers here in Toronto all the time - nobody cares.
Bird strikes happen not because the birds want to get inside the offices, or because they are crazy on drugs or poisoned by toxins, but because they see a reflection of the open sky and so believe their path is clear.
There's some new age glass on the market that lets birds see refractions in window panes while humans see nothing inside or out.
Bird friendly building
guidelines mandate proper lighting and non geometric designs and shapes - wire strips are used prevent nesting in hazardous areas, decoys deter birds from loitering on rooftops (not poison) and audio bursts discourage prolonged visits in truck loading bays and maybe on the positive side of things, the urban structure encourages nesting in safe and healthy green spaces above or elsewhere on property.
City of Toronto has published these guidelines as part of Lights Out - the Earth Day program
http://www.toronto.ca/lightsout/pdf/...form_jan18.pdf
What are the known bird Friendly buildings in your area? Do you have a building to nominate for a bird friendly building award? Will you join me in a call to raise awareness for the need to create more bird friendly buildings?