Thousands of fans made a pilgrimage to London's Abbey Road 50 years after the Beatles walked over its zebra crossing for the cover of the last album the band recorded.
The band was pictured striding across the road the album was named after on 8 August 1969.
Jaime Garri, 61, flew more than 14 hours from Santiago, Chile, to mark the 50th anniversary.
"You have to say thank you to them for giving us such lovely music," he said.
The image of John Lennon, Sir Ringo Starr, Sir Paul McCartney and George Harrison outside the EMI Studios in St John's Wood is one of music's most iconic moments.
Since the release of the Liverpool group's 11th studio album, the zebra crossing has become a tourist hotspot for devout fans who stop traffic to pose for pictures on the same spot.
And on Thursday, crowds came together in droves to recreate the moment once more.
'Love and positivity'
Fans at the event were in high spirits and many dressed up as their heroes in tribute to the band.
Momo Raickovic, who dressed as Harrison, told BBC News that the scene outside the studio was "magical", with groups bursting into renditions of their favourite Beatles songs.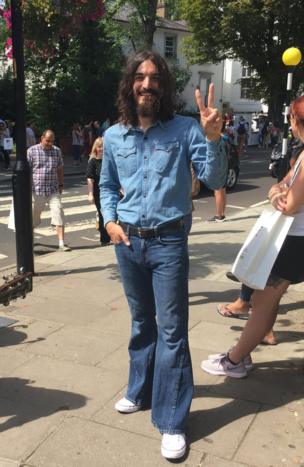 Momo Raickovic
Having travelled from Toronto, Canada, to visit the site for the first time the 27-year-old said the experience was beyond his "wildest dreams".
"To me their music means love, positivity and happiness. Their songs spread the positive message and that was evident in people here," he added.
https://www.bbc.co.uk/news/uk-49279293