Most Brits prefer staying at home to holiday in the most beautiful country in the world rather than holidaying in Johnny Foreigner Land....
Most Britons still take holidays at home
by SEAN POULTER, Daily Mail
4th May 2006
Popular: The 2000 year old Roman baths in the ancient city of Bath, Avon
Popular: Kew Gardens, London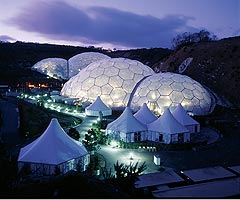 Popular: England's very own tropical rainforest is situated in the Eden Project, the world's largest greenhouse
Popular: York
Despite the rise of budget airlines and the lure of foreign hotspots, most Britons take their holidays in the UK, according to research.
Some 55 per cent of adults chose the British Isles for a relaxing break last year.
Resorts such as Blackpool, Brighton and Torquay, areas like the Lake District and historic cities are proving more than a match for Spain, France and Italy.

And British restaurants, once dismissed as little more than greasy spoons, are now among the best in the world.
Figures show we are taking more holidays than ever, with the total up 6.9million last year to 66.3million.
The rise has been triggered by a shift away from package holidays to more independent travel.
More Britons are also taking short city breaks in places such as York, Glasgow, Bath, Brighton and London. An increasing number are enjoying three or more holidays a year, mixing several short UK breaks with at least one foreign trip.
The figures come from a report commissioned by Thomas Cook. It says 23 per cent of people go on one foreign holiday a year, 15 per cent take two and seven per cent take three or more, leaving 55 per cent who prefer to take a break at home.
The report says: "When we look at the increase in the number of people travelling, it's easy to get carried away with the thought that everyone is going on several holidays, fitting in a little bit of work while planning their next jaunt.
"However, that's not quite true. The majority of the 59million adults in the UK - 55 per cent - do not actually go abroad, so there's still plenty of room for this market to grow."
Price seems an unlikely deciding factor in Britons holidaying at home as the cost of a summer stay in a hotel or holiday camp is on a par with popular Mediterranean destinations.
But the convenience of staying in the UK has many advantages in terms of travel, particularly avoiding the hassle of airports.
Last year, the UK's most popular attractions were headed by Blackpool Pleasure Beach, which drew almost six million visitors, ahead of London museums and the London Eye. Kew Gardens was one of the great success stories, with visitor numbers up by a quarter to just over 1.5million.

Elsewhere, Edinburgh Castle and the Eden Project in Cornwall were particularly popular, along with the Roman Baths at Bath, Chester Zoo and Canterbury Cathedral.
dailymail.co.uk