The UK will be a standard-bearer for free trade when it leaves the European Union, Liam Fox says.

The International Trade Secretary said Brexit was a "golden opportunity" and that it was "100% wrong" to say the vote was a sign of Britain looking inwards.

Liam Fox: Brexit is a 'golden opportunity'
BBC News
29 September 2016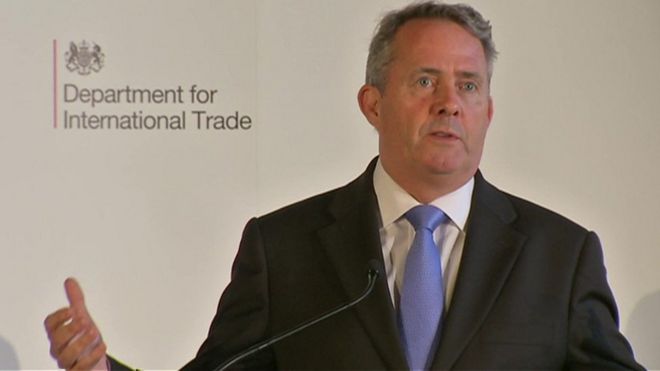 The UK will be a standard-bearer for free trade when it leaves the European Union, Liam Fox says.
The International Trade Secretary said Brexit was a "golden opportunity" and that it was "100% wrong" to say the vote was a sign of Britain looking inwards.
The UK is unable to negotiate trade deals independently while in the EU.
Mr Fox will be negotiating new arrangements with other countries after Brexit and has already had some talks.
In a speech in Manchester, he said free trade had "transformed the world for the better", and that the UK had "a golden opportunity to forge a new role for ourselves in the world".
He predicted the UK would "carry the standard of free and open trade as a badge of honour" once it leaves the EU.
EU 'imploding'
In an earlier
interview
with the Spectator magazine, Mr Fox - one of the leading campaigners for a referendum Leave vote - said the "architecture" of the EU was "beginning to peel away".
"It's going to sacrifice at least one generation of young Europeans on the altar of the single currency, and you can only rip out the social fabric from so much of Europe before it starts imploding," he said.
With the UK leaving, he said, "Germany has the potential to become the greatest ATM in global history".
He also said getting a "good future model" was more important than a speedy Brexit, but predicted the UK would have left the before the next general election in 2020.
And he defended his recent comments that Britain is "too lazy and too fat" with businessmen preferring "golf on a Friday afternoon" to trying to boost the country's prosperity.
"As a country, we have become too easy with the idea that the world owes us a living," he said.
"The world doesn't owe us a living. And we've just now got to probe all the areas where we could be making changes."
Liam Fox: Brexit is a 'golden opportunity' - BBC News