/ National

GDP grows faster than expected
By Wang Xu (China Daily)
Updated: 2008-04-17 07:16
The economy grew stronger than expected in the first quarter but it was accompanied by still surging consumer prices, prompting the government to tighten credit.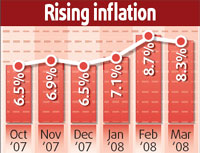 Growth in the world's fourth-largest economy was 10.6 percent in the first three months from a year earlier, beating market expectations of about 10 percent. But it was down from 11.2 percent in the fourth quarter last year, the National Bureau of Statistics (NBS) said yesterday.
Weakening export growth contributed to the mild slowdown, but rebounding retail sales and fixed-asset investment helped the economy expand faster than most analysts expected.
Retail sales of consumer goods rose 20.6 percent year on year to 2.56 trillion yuan ($365 billion) while fixed asset investment reached 2.18 trillion yuan ($311 billion), up 24.6 percent, or 0.9 percentage points higher than a year earlier.
The consumer price index - the key gauge of inflation - gained 8.3 percent year-on-year in March, down from a 12-year high of 8.7 percent in February. Despite earlier signs of easing, the CPI still gained a worrisome 8 percent year-on-year for the first quarter.
"The top concern is still inflation," said Li Xiaochao, spokesperson for the NBS, adding that the tight monetary policy would continue.
Shortly after Li's comments, the central bank jacked up the reserve requirement ratio for local banks, asking them to set aside more cash in deposits so as to mop up liquidity and curb inflation.
The move is the latest of the government's tightening measures, which analysts say have already proved effective, as reflected in the first quarter figures.
M2, the broad measure of money supply which includes cash and all bank deposits, grew by 16.3 percent year-on-year in March, down 1.2 percentage points from February. Yuan loan growth was 14.8 percent, down from 15.7 percent in February.
The M2 and loan growth rate are the closest to the central bank's targets (16 percent for M2 and 14 percent for lending this year) in 13 months, said Ma Jun, a Hong Kong-based economist with Deutsche Bank.
"This is a great success for the authorities' tight monetary policy, relative to market expectations of a significant overrun of first quarter lending targets."
Yet, a slew of worrisome data such as rising material prices and labor costs continue to bother policymakers and most analysts agree that further tightening measures would be employed.
The producer price index, a leading indicator of consumer inflation, gained 8 percent in March from 6.6 percent in February, a three-year high.
Li said the NBS is keeping a close eye on when, and to what extent, the rising cost of producers will be passed onto consumers.
"The CPI in April may spike at around 8.9 percent, and the inflation outlook for May-June could be anywhere between 8.0 and 9.3 percent," Ma said.
"Given this outlook, the central bank will have to continue its tight monetary policy," he said.