Portsmouth is the home of the Royal Navy. The football team's new stadium will, appropriately, be in the sea, and alongside HMS Victory.
Pompey are all at sea
Portsmouth Football Club
VISION ... how new stadium would look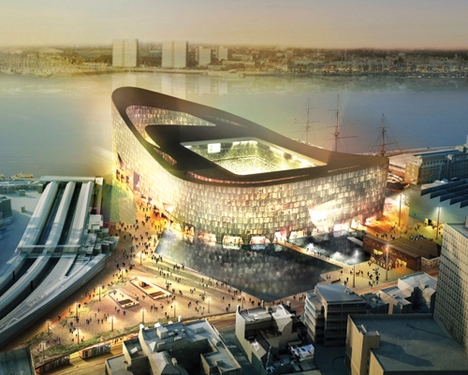 Portmouth's £600 million stadium - one of the most expensive sporting arenas in the world - will be surrounded on several sides by the sea and will have Nelson's ships HMS Victory sitting alongside it. High-flying Portmouth, team of the city that is the home of the Royal Navy, are currently 8th in the English Premiership.
By TONY LITTLE
April 26, 2007
PORTSMOUTH owner Alexandre Gaydamak yesterday announced a bizarre £600million plan to build a new stadium — in the sea.
Gaydamak wants to move Pompey from their 108-year-old Fratton Park home to a new 36,000-seater arena on reclaimed land at The Hard in Portsmouth Docks by 2011.
Portmouth football team's new stadium will just out into Portsmouth harbour and alongside it will be HMS Victory, Nelson's ship during the 1805 Battle of Trafalgar
Chief executive Peter Storrie said: "This will be the most spectacular stadium in the country.
"The fact it is set against the backdrop of the harbour and the English Channel befits the club's history.
"Portsmouth FC is moving to a new dawn with the backing of Alexandre Gaydamak.
"This shows where Pompey want to be — playing at the highest level and in a stadium befitting a Premiership side."
At present the land is owned by Portsmouth City Council and leased to the Ministry of Defence and Pompey are yet to be given planning permission.
The cost of the project will be funded by the building of 1,500 luxury apartments surrounding the stadium.
Fratton Park will be bulldozed and replaced by houses.
Boss Harry Redknapp said: "These are exciting times to be a Pompey fan.
"We are having our best season for 50 years and the club is moving in the right direction on all fronts. The future looks great."
thesun.co.uk