Seems the marketing department at Merck Schering Plough may have stepped in it big time. The FTC is now investigating, as Merck released a chewable formulation of their Claritan allergy medication, with cartoon characters on the box, and free stickers inside!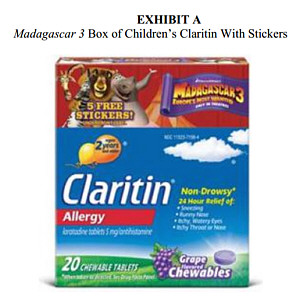 How they didn't anticipate the backlash is beyond me. The Public Health Advocacy Institute at Northeastern Universities School of Law sent the letter, with the support of another ten or so groups to the FTC for breaking a long-standing precedent against marketing pharmaceutical products directly to children.
The lawyer at PHAI:
"This campaign is in violation of longstanding FTC precedent to protect children from child-directed marketing of OTC supplements and, by extension, OTC drugs," PHAI attorney Cara Wilking wrote in the letter. "Dreamworks licensed its Madagascar characters for use on a number of children's food products including General Mills' fruit-flavored gummy snacks and fruit-flavored Airheads candy. The use of the same licensed characters on fruit-flavored OTC allergy medication, children's candy and children's gummy snacks creates a very real danger of product confusion and may induce children to over-consume Grape-Flavored Children's Claritin allergy medication.

Ahh those marketing folks...caught with their hand in the cookie jar this time!
Various news articles:
https://news.google.ca/news/story?hl...ed=0CC4QqgIwAA