British Embassy forced to apologize after throwing White House burning anniversary party
The British Embassy in Washington, DC was forced to issue an apology over the weekend after a social media post celebrating the 200-year anniversary of the burning of the White House raised eyebrows across the web.
On Sunday, the official @UKinUSA Twitter account reminded its online audience that 200 years to the day earlier, British troops marched the streets of the United States capital and eventually scorched the president's Pennsylvania Avenue home.
"Commemorating the 200th anniversary of burning the White House," reads part of the message sent from the Twitter account on Sunday. "Only sparklers this time!"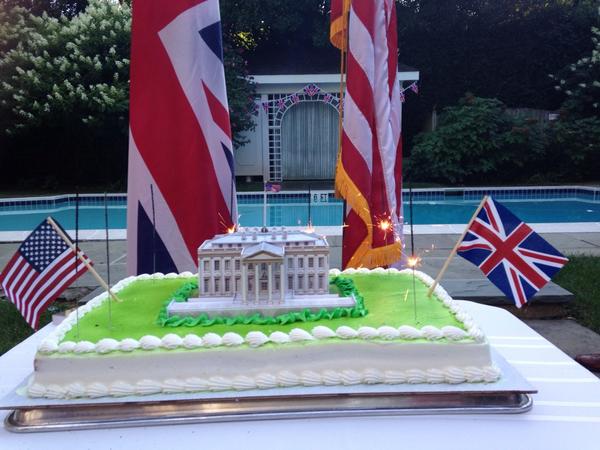 Along with the text reminder, the embassy account also attached a photograph of a cake adorned with a mock-up of the White House, indeed with blazing sparklers included, taken near a glistening swimming pool. According to the Daily Mail, the Embassy had earlier acknowledged it would be hosting a 'White House BBQ' to mark the anniversary of the "rather unfortunate event in UK/US relations."
By Monday the posting had been retweeted more than 4,000 times, and managed to attract the attention of Marie Harf, a spokesperson for the US State Department.
"The difference 200 years can make in foreign relations: 8/24/1814: #ItsComplicated vs 8/24/2014: #SpecialRelationship," Harf responded.
Just as quickly, the @UkinUSA account issued an explanation of its own as more and more irate American Twitter followers questioned the tweet.
"Apologies for earlier Tweet. We meant to mark an event in history & celebrate our strong friendship today," it read, along with a link to a recent editorial authored by the embassy's deputy head of mission, Patrick Davies.
"Needless to say, we've put the events of August 1814 far behind us," Davies insists in the op-ed, which was originally published by Huffington Post on Friday last week.
Nevertheless, the social media snafu managed to make waves and by early Monday had earned itself headlines on both sides of the pond.
"So much for water under the bridge," National Public Radio's Eyder Perlanta jested in a post published Monday.
Yet others, like Jeffrey Goldberg, a correspondent for The Atlantic, suggested that the embassy should have stood their ground instead of retreating.
"V[ery] annoying that the British embassy (@UKinUSA) felt pressured into apologizing for a funny tweet. Stand behind your jokes, Britannia!" he tweeted."
The 1814 burning of the White House was the only time that the US capital was ever invaded, and forced then-President James Madison to flee his home with his wife, Dolley.
source:
British Embassy forced to apologize after throwing White House burning anniversary party ? RT USA
............................
Guess they shouldn't give ISIS any Ideas
p.s.
Happy 200th on Burning Down the White House
...