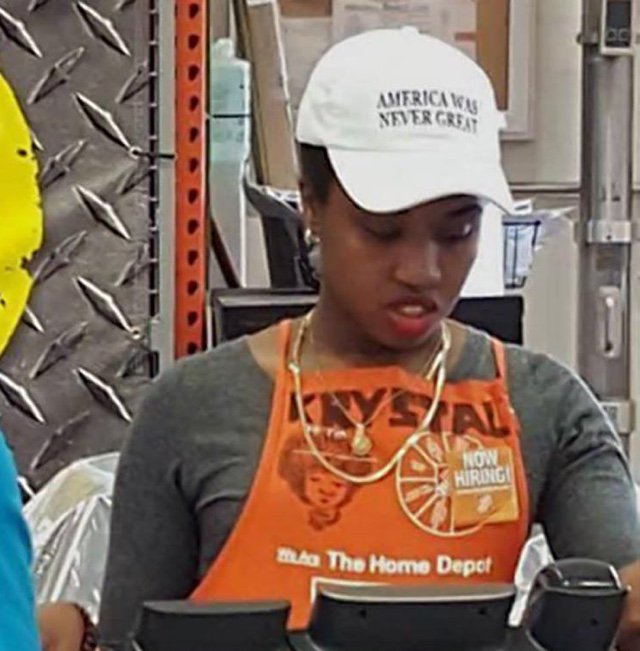 Gothamist Verified account ‏@Gothamist
Photo Of Home Depot Employee Wearing "America Was Never Great" Hat Sparks Outrage
http://gothamist.com/2016/05/19/america_was_never_great_hat.php …
STATEN ISLAND, N.Y. -- An image of a Staten Island Home Depot worker wearing an anti-Trump hat went viral on the Internet Wednesday, leading to threats against her life.
Krystal Lake, 22, of St. George, was spotted wearing the controversial hat during her Sunday morning shift at Home Depot, located on Forest Avenue in Mariners Harbor.
The hat reads: "AMERICA WAS NEVER GREAT."
The phrasing, Lake said, was inspired by presidential candidate Donald Trump's slogan, "Make America Great Again."
"The point of the hat was to say America needs changing and improvement," Lake told the Advance. "I don't think it's a positive message to say, "Let's look to the past.'"
Lake said she awoke Wednesday morning to a barrage of text messages, tweets and phone calls from friends and co-workers asking her if she had been checking her social media accounts.
"Everyone kept asking me if I was on Facebook or Twitter, which I hadn't been," she said, "and then I saw how many people were sharing [the picture] and that it was going viral.
"I was honestly shocked -- I didn't expect any of this to happen."
Lake, a lifelong Staten Islander and student at the College of Staten Island, said this was the first and only time she had worn the hat to work, and that she was not reprimanded by any manager for the decision to wear it.
When reached by the Advance on Wednesday afternoon, Home Depot spokesman Stephan Holmes said Lake's message on her hat does not reflect the opinions of Home Depot.
"We appreciate and understand the concerns of our loyal customers," he said. "In terms of the message, our associates are not permitted to wear items that reflect political statements.
"Unfortunately, no one on our management team saw her wearing the hat -- otherwise, they would have had her remove it immediately."
mo
Home Depot worker's 'America was never great' hat sparks social media rage | SILive.com