The Prime Minister this week launched the Labour Party's new General Election slogan that he hopes will propel his party to an unprecented fourth successive term in power.
The slogan is "A Future Fair For All" but there's nothing new about it. It was actually coined in 2003.
Brown revealed the slogan during a speech at the University of Warwick yesterday, his 59th birthday.
And the man who came up with the phrase also believes the Government faces a heavy defeat by David Cameron's Tories at the General Election.
The Prime Minister has the privilege of choosing the date of the General Election, which must be held this year. The most likely date is May 6th.
Labour came to power in 1997, ending 18 years of Tory rule. Labour also won the 2001 and 2005 elections. But this year will, in all likelihood, see the Tories returning to power.
Spot the difference... Brown unveils 'new' slogan - that he first used seven years ago
20th February 2010
Daily Mail
It's the 'new' slogan that Gordon Brown hopes will propel Labour to victory at the General Election.
But as the Prime Minister unveiled his catchphrase, it was revealed that it was first coined seven years ago.
Even more embarrassingly, the man who claims to have come up with 'A future fair for all' has also predicted Mr Brown will lead his party to a resounding poll defeat.
Back to the future: Gordon Brown unveils his 2010 'A future fair for all' slogan to a party rally at Warwick University yesterday
Looks familiar: Mr Brown, then the Chancellor, uses the same phrase at the Labour Conference in 2003
Former Downing Street adviser Matthew Taylor says he first used Labour's slogan in a report he wrote while working for the party.
In fact, Mr Brown addressed the Labour conference in 2003 from a lectern advertising the very same wording. Mr Taylor said: 'It's not a new slogan - there's nothing new under the sun.'
A new ComRes poll showing the British people's voting intentions came out today. The Tories now have an 8% lead, but the gap between them and Labour has narrowed. A hung parliament is likely. This will be the first time it has happened in the UK since 1974.
Conservatives: 38% (-2)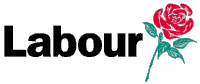 Labour: 30% (+1)
Liberal Democrats: 20% (-1)
He also signalled that he did not think the catchphrase would help Labour to win over voters and forecast that Tory leader David Cameron would seek to demolish it.
'The Conservatives believe that they only have to put pictures of Gordon Brown up with the phrase: Five more years?'
'I think we can probably expect that,' he said.
The Prime Minister used a Labour rally yesterday to urge voters to take a 'second look' at his party and warn that the Tories would put the economy 'at risk'.
But unveiling the party's main Election campaign themes, Mr Brown recycled catchphrases made famous by his predecessor Tony Blair as he claimed Labour would be 'change-makers' who stood up for 'the many, not the few'.
Soon-to-be-Prime Minister? David Cameron's Tories are the favourites to win the 2010 General Election
Reports have suggested that former Deputy Prime Minister John Prescott dreamt up the phrase 'A future fair for all'.
But in a BBC interview, Mr Taylor, who was head of the Downing Street policy unit under Mr Blair, insisted: 'That was the name of the document that I wrote when I was working for the party about seven years ago.'
Despite claiming credit for it, however, Mr Taylor suggested the phrase would not engage the imaginations of voters.
He said: 'Sometimes slogans capture a particular moment. The best slogans have got content and they've got contrast.
'If you go back to 1997, Labour had these three phrases that it used between about 1994 and 1997 - "Many, not the few", "Future, not the past", "Strong leadership, not drift".
'Those slogans came to shape the whole of Labour's strategy, which was all about those three things.
'Sometimes slogans really do provide a framework for a campaign. Other times, they're just words.'
On his blog, Mr Taylor has been critical of Mr Brown and his chances of winning the Election.
A year ago, he forecast a Tory victory, saying 'the economy is a disaster area and the Conservatives have been pretty successful at detoxifying their brand'.
Last night, the Tories ridiculed the Prime Minister for having to recycle his main Election slogan.
Conservative chairman Eric Pickles said: 'If there was any doubt Labour has run out of ideas, this will put an end to it. Far from looking forward, Gordon Brown is clearly going back to the future.'
Labour responded by claiming it had no problem with reusing an old slogan. A spokesman said: 'We're not ashamed to talk about fairness. Fairness is at the very heart of Labour's progressive beliefs - it's one of our enduring values.'
dailymail.co.uk
Last edited by Blackleaf; Feb 21st, 2010 at

01:23 PM

..