The largest Iron Age earthwork in Britain has been identified at the former site of a Norman castle.

The mound at Skipsea Castle in East Yorkshire is 278ft (85m) in diameter and 42ft (13m) high.

It was thought to be part of a Norman motte and bailey dating from 1086 but archaeological analysis of soil from its core showed it is 2,500 years old.

Largest Iron Age monument found at Skipsea Castle
BBC News
3 October 2016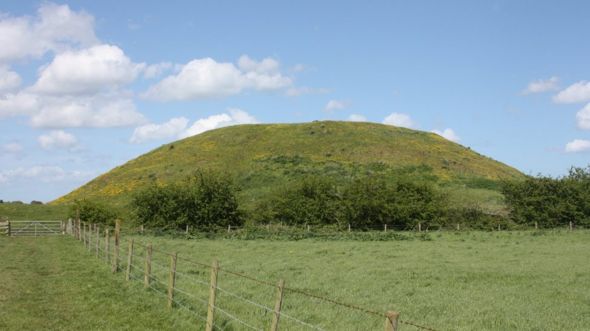 The mound at Skipsea Castle was thought to be have been created by the Normans in 1086, but they utilised the existing earthworks
The largest Iron Age earthwork in Britain has been identified at the former site of a Norman castle.
The mound at Skipsea Castle in East Yorkshire is 278ft (85m) in diameter and 42ft (13m) high.
It was thought to be part of a Norman motte and bailey dating from 1086 but archaeological analysis of soil from its core showed it is 2,500 years old.
Dr Jim Leary, from the University of Reading, said: "We have a pristine, untouched, Iron Age monument".
Dr Leary, who led the excavation of the site near Bridlington, added: "It's the largest Iron Age mound in Britain and there it was hiding from us in plain sight."
Further research is now being planned to establish the purpose and use of the mound.
"The key question now is what was this mound used for?" Dr Leary said.
"Was it a burial mound? Is it comparable to some of the really big burial mounds in Germany and Switzerland and eastern France of that period? If so, that's really significant."
A comparable mound of size and age to that in Skipsea exists at Heuneburg in Germany.
Dr Leary has previously carried out analysis of Silbury Hill in Wiltshire, a 130ft Neolithic mound which is the largest in Europe.
What's a motte?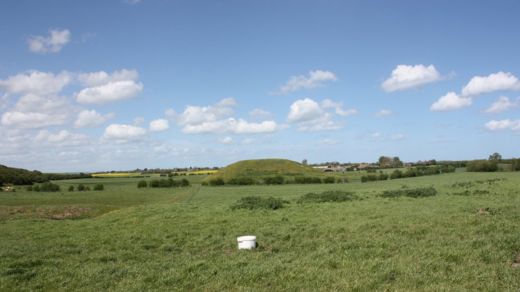 Mottes are purposely constructed earthen mounds atop which a wooden or stone tower would be built
They were frequently coupled with lower and wider defensive earthworks known as a bailey
The motte and bailey type castle was developed in the 10th Century in northern Europe
Their design was utilised across England and Wales by the Normans following the conquest in 1066
Largest Iron Age monument found at Skipsea Castle - BBC News