ENGLAND'S POPULATION TO RISE 6 MILLION BY 2029
*England's population will approach 56 million by 2029
*England's population is rising much faster than previously thought and is almost on a par with the huge rise in population experienced during the Victorian era
*London will become larger than New York and be the western world's biggest city
How London's skyline will look, circa 2015. By 2025 London will have become even larger than New York and will be the developed world's largest city. Its population is expected to be as high as 10, 000, 000. In 2025, Britain's population will be well over 70 million. London was at its biggest in the 1930s (when it was still the largest city in the world) but has become slightly smaller since then. However, by 2029, it will have grown to its largest-ever size.
England's population will shoot up by more than six million in the next two decades - with immigration the driving force, according to official figures.
Five out of six of the new residents will have arrived here from abroad, or been born to migrant families.
The growth spurt will take England's population 56, 467, 000 by 2029, from the present total of 50, 093, 000 - a leap of 12.7% according to the Office for National Statistics Estimates.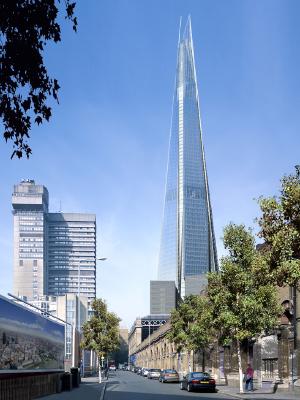 The Shard, London, the construction of which is commencing
That is the biggest percentage increase over a 25-year period since before the First World War.
It matches some of the biggest jumps in population achieved while the Industrial Revolution was transforming England from a largely rural farming nation to one of teeming cities in the 19th Century.
Some experts belive the figures UNDERESTIMATE the growth - because of the Government's failure to count real levels of immigration.
Ministers reckon, for example, there may be half a million illegal immigrants in the country, but they have no way of knowing for sure.
London is also expected to become one of the most crowded cities in the world. The ONS takes the 2004 population of London as 7, 428, 000 and predicts this will grow to 8, 806, 000 by 2029. Experts, however, predict that the city will be home to around 10, 000, 000 by that time.
Expansion on the scale predicted by the Government means that London will jump over New York, Tokyo and Moscow to become the most populous city int he developed world in two decades' time.
Just five cities are larger than the 8.8 million official estimate for London - and only Seoul (South Korea) and Sao Paulo (Brazil) are thought to have more than 10, 000, 000 at present. Even the conservative estimate would TOP London's highest ever recorded population - recorded in the 1930s, before long-distance commuting and industrial decline prompted many to leave the city.
dailymail.co.uk
Last edited by Blackleaf; Oct 13th, 2006 at

12:45 PM

..