your texting thumbs a blur, as you msg your other friends camped out at stores or malls around the country. This is just as much for the Canadians as it is for the Americans.
Storp the mād-ness!
I did most of my shopping online. No lines. Good prices.Superdy-duper fast delivery! My damn mouse finger is pert near worn out from all that clickin'!
I loves shoppin' this way.
I still go to the malls, but instead of linin' up at the cashiers, hands full of overpriced junk, I lord over the rummies and their giftin' frenzies wif a mocha-choco-lotta-coffa-chino, or something. Then I point at them as they hurry by and laugh. I drool. Toss a lotta gookies.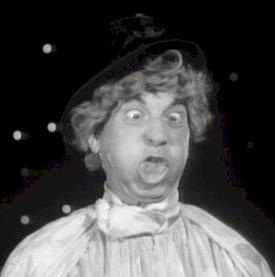 This is a gookie. Thank you Harpo Marx!
I also fondle a stuffed woman's breast that I take to the mall mocca-chino bar. I place it in a conspicuous spot near the shoppers, squeezin' it occasionally, and wink, but only at the 'under 30' guys. Drives 'em crazy! The girls laugh.
Finally tonight, a change of pace. Harpo Marx, playing his harp. He's been dead for 52 years, but his talent lives on. He left the planet as the result of complications from open heart surgery.
He started playing the harp because all the other Marx Brothers already played an instrument or had their own shtick. Harpo began playing it, sitting on the wrong side, but changed later when he saw pictures of harpists playing them correctly. He also tuned his harp differently than what was considered correct. Not knowing any better, he learned to play without any help, and never took lessons until later on in life He also tried to learn to read music, but never mastered it.
The sound and style of his playing drew professionals from around the world to observe and learn his style. One of his adopted children, Bill, is a trained musician - a pianist who attended Julliard. Because Harpo couldn't read music, Bill would write out letters rather than musical notes for his dad to follow.
A 16 year old Bill Marx wrote this arrangement that his dad played on
I Love Lucy
in 1953.
www.youtube.com/watch?v=H16vDiX_PCo
This one is from A Night at the Opera (1935) The man genuinely loved kids and adopted 4 of his own.
www.youtube.com/watch?v=GWWMRYrnCjY
Last edited by Murphy; Nov 25th, 2016 at

01:12 AM

..