Fifty years ago a Birmingham band called Black Sabbath gave rise to heavy metal...
How Birmingham gave birth to heavy metal
Fifty years ago today Black Sabbath's first album launched the only musical genre native to the English midlands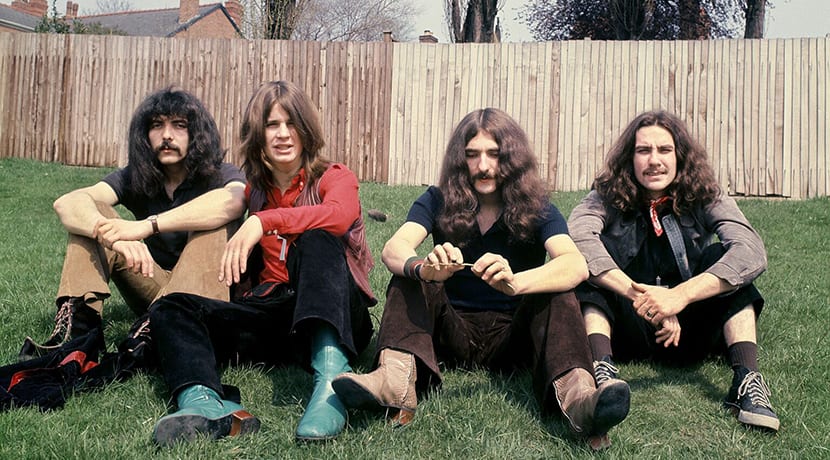 Iommi, Osbourne, Butler and Ward Credit : Birmingham Mail
Paul Lay
Paul Lay is Editor of History Today.
unHerd
February 13, 2020
Black Sabbath's debut album was released on 13th February 1970
A river of vinegar streamed down the streets of Aston, the northern industrial suburb of Birmingham, just before Christmas in 1956. The torrent came from a burst vat in the HP Sauce factory, one of a holy trinity of imposing structures that gave an otherwise relentlessly bleak, poverty-ridden area some pride: the others were Aston Hall, one of the finest Jacobean structures in England, and Villa Park, home of what was then still the most successful football club in the country, on the verge of a seventh record-breaking FA Cup victory, at a time when the trophy still mattered. Spaghetti Junction was yet to arrive.
Seven-year-old Terry Butler, known to his friends as Geezer, was a thoughtful child, one of seven from a devout Irish Catholic family "with no money whatsoever", who trod those tough streets with glimpses of beauty and a world beyond, where the vinegar run was big news that left a bad smell. Ten years on, he would form a friendship with a local lad even poorer than he was: John "Ozzy" Osbourne, a shoeless skinhead with whom Geezer, by then an unlikely trainee accountant, formed a band, heavy into the blues and the Beatles. They called themselves Rare Breed.
Geezer's girlfriend knew a bloke called Tony Iommi, already an experienced guitarist, with a roster of bands behind him. The three of them then met a drummer, Bill Ward, also from Aston, now calling themselves Earth. But Geezer's brother was a big Dennis Wheatley fan, who had seen the Hammer horror film Black Sabbath, which Geezer thought would make a better name.
Geezer usually wrote the lyrics to Black Sabbath's music, but the opening lines of the eponymous opening track of their self-titled debut, released 50 years ago today, were written by Ozzy. "What is this that stands before me? Figure in black that points at me", run the opening lines, the only lines in the history of British pop and rock music that created an entirely new, world-conquering genre: heavy metal. Black Sabbath can claim to be second only to the Beatles in the influence that a British band has had on the world.
The track "Black Sabbath", one of seven songs recorded in a 12-hour session on 16th October 1969, opens with the sound of rain, before the diabolus in musica of Tony Iommi's genre-defining riff bends up and down as Butler and Ward, as fine a rhythm section as any in rock, play with the space behind, a bewildering echo of the drop-forges, chain-making and sheet steel works that dominated the aural landscape of Birmingham and the Black Country in their pomp before the Thatcherite assault on manufacturing.
It was not just the sound of the surroundings that created heavy metal, but the dangers of the physical creation of metal and dirt. As a 17-year-old, Iommi had lost the tips of the middle and ring fingers of his right hand in an accident at his final shift at a sheet-metal factory in Lozells, after returning from a European tour with one of his first bands. He almost bled to death in hospital, where the tips of his fingers were returned in a matchbox by a colleague.
Had the accident not happened, Iommi would have been just another guitarist with a passion for the blues. But, cauterising the plastic from a washing up bottle onto the tips of his fingers, and inspired by the jazz guitarist Django Rheinhardt, whose hands had been badly burned, Iommi detuned his guitar, filed down its frets and the ultimate riff maker was born.
As was the genre Sabbath invented, mastered and in which they remain unsurpassed. The debut album was followed up that same year by the LP Paranoid, which gave them a hit single, saw Butler's lyric writing expand and the band define their sound. YouTube footage of a gig in Paris in 1970 shows the group at their early peak, performing War Pigs, Butler's bitter attack on the Vietnam War.
Ward's drumming is possessed, his tiny kit assaulted to exhaustion, Butler weaving bass lines like a web inbetween. Ozzy, then unravaged, despite spending the advance for Black Sabbath on a new pair of shoes and a bottle of Brut, delivers like a man who can't believe his luck, while Iommi looks on with that humble, knowing look of his, master of what he surveys.
The run of great LPs that followed — Master of Reality, Volume IV (worth the entry price alone with the insane riff of "Supernaut", and its closing line of "I've seen the future and I've left it behind"), Sabbath Bloody Sabbath and Sabotage – cemented the reputation, despite the slow attrition of booze and cocaine, from which they've now all returned. But my God, it took time to gain recognition. Like the Stooges, their great American counterparts, born of that other motor city, Detroit, it took a while for the world to catch up with their dumb brilliance.
Last year, their home city honoured them with an exhibition at its City Museum and Art Galleries, where their axes and amps, and Aston Villa plectrums shared space with the Pre-Raphaelites. Thousands visited from all over the world. But the best bit of the exhibition was the first: a vast grainy visual montage of Aston in the 1970s, the same street I walked with my Aunt Rose, where you could smell the sauce and taste the metal in the air.
The soundtrack in the room was of the drop forges that we felt with a familiar judder in our home every half hour on the dot. It was the sound that Sabbath turned into music, a genre all, their own: Made in Aston for the world.
https://unherd.com/2020/02/how-birmi...o-heavy-metal/
Last edited by Blackleaf; Feb 16th, 2020 at

12:19 PM

..