Benny the beluga is spending his fifth day in the Thames but appears to be healthy and swimming normally, the Port of London Authority (PLA) has said.

The latest sighting of Benny came just after midday, with reports it had stayed in a one-mile stretch of river.

Whale-spotters are being urged to keep to the riverbank near Gravesend and not venture on to the water in boats.

Benny is the first whale to have been seen in the Thames since 2006.

Thames whale: 'Watch Benny from shore' fans urged
29 September 2018
BBC News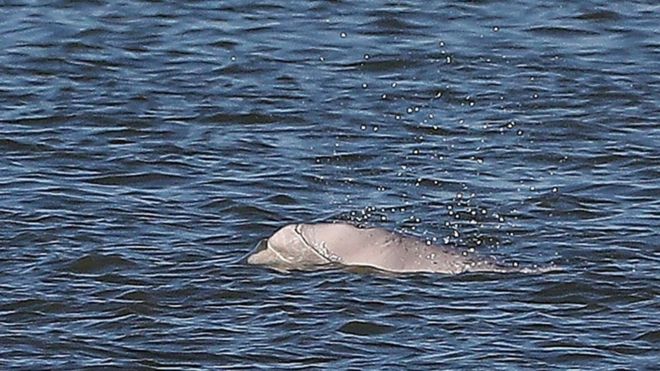 The whale has been seen "swimming strongly"
Benny the beluga is spending his fifth day in the Thames but appears to be healthy and swimming normally, the Port of London Authority (PLA) has said.
The latest sighting of Benny came just after midday, with reports it had stayed in a one-mile stretch of river.
Whale-spotters are being urged to keep to the riverbank near Gravesend and not venture on to the water in boats.
The PLA said no-one had attempted to take a boat near Benny, but it was a situation they hoped to avoid.
'Don't bother Benny'
A spokesman said: "The first confirmed sighting was just after 12:00 BST.
"To the best of our knowledge, the whale is healthy and swimming, although obviously this is an unusual situation."
As whale-watchers gathered on the banks of the Thames, people took to social media to give the beluga its nickname.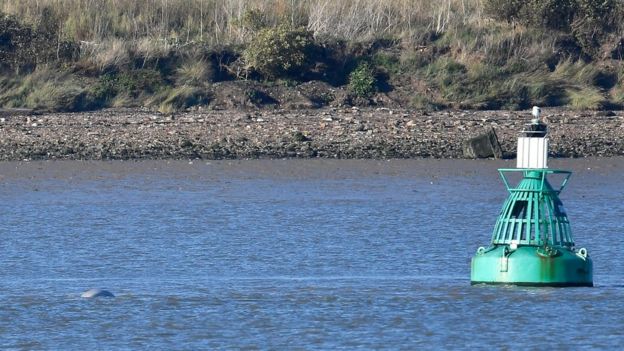 It breeched near a buoy on the River Thames
The PLA spokesman said: "The biggest obvious hazard is people wanting to come in small boats to have a look, so we have asked people not do that to the whale and to watch safely without bothering it from the shore."
No-one had yet tried to take a small boat on to the river, he added. However, that what happened in 2006 when
a bottle-nosed whale became stranded
in the Thames. It later died.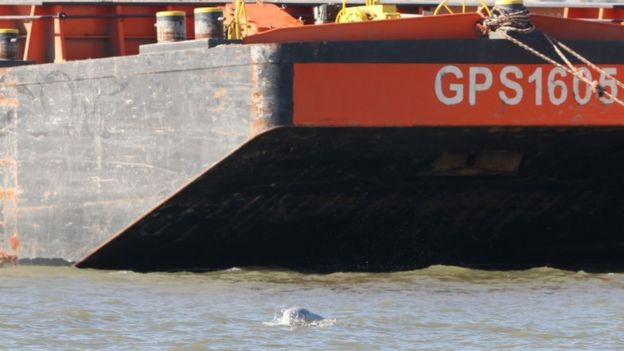 The estuary where the whale is feeding is a busy shipping channel
Benny was first spotted in the Thames estuary on Tuesday, "swimming strongly and feeding normally" near barges.
On Thursday, it was sighted slightly further upstream.
Experts said the whale appeared to be a sub adult - an older juvenile but not a fully-formed adult.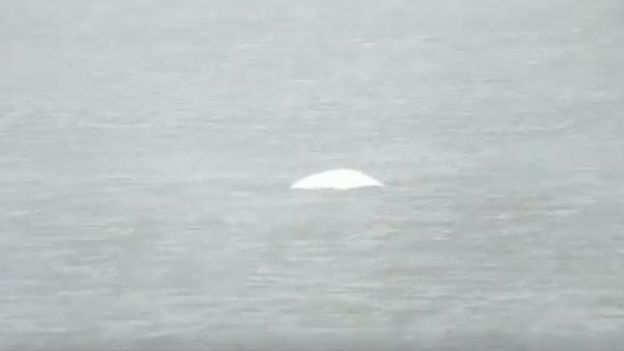 Benny has been seen feeding around barges near Gravesend
According to the British Divers Marine Life Rescue (BDMLR), Benny has been foraging, surfacing and diving - behaviour consistent with a healthy animal.
River users and shipping companies have been urged to steer clear of the whale, which is thousands of miles away from its Arctic habitat.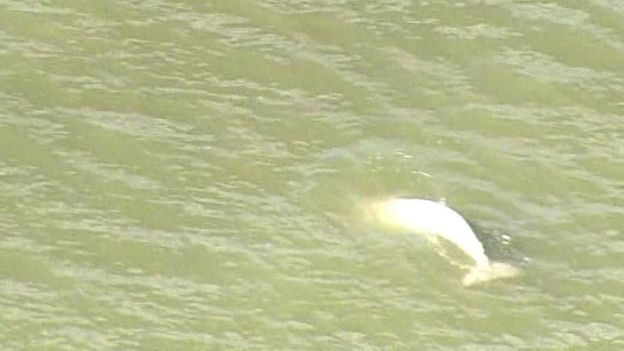 Image caption Benny has been foraging in the river
Beluga whales can grow up to 20ft in length and are usually at home in the icy waters around Greenland, Svalbard or the Barents Sea.
Rescue teams have been on standby in case the animal gets into danger.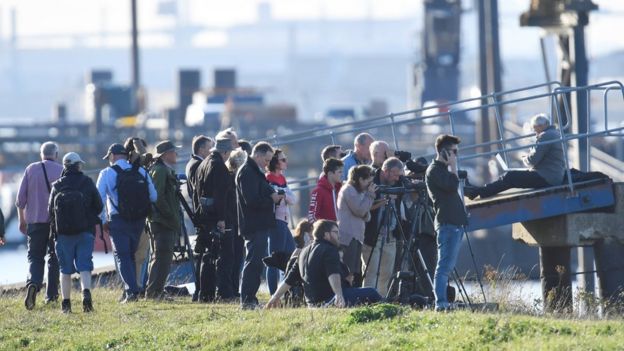 Crowds gathered to look from the river bank

https://www.bbc.co.uk/news/uk-england-kent-45693075