The boys are making preparations for the Mali mission. Our people are top notch. I wish them the best.
---
RCAF Chinooks being prepared for Mali mission - African troops from UN force face casualties from IEDs
- David Pugliese, Ottawa Citizen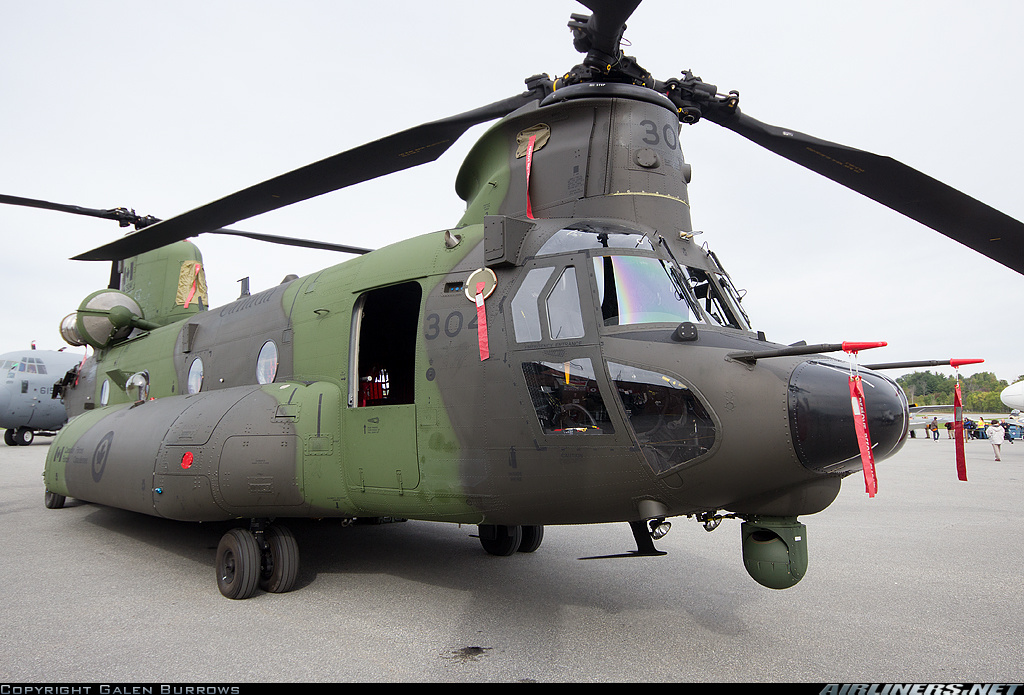 This is a Chinook.
Canadian helicopter crews and support personnel are headed to Mali and while there are dangers associated with any operation they have a much better chance of avoiding casualties than do the United Nations soldiers from Africa who are being killed on the ground, says a defence analyst who just finished working with the United Nations.
Canada announced Monday it would send two RCAF Chinook helicopters from the military base at Petawawa, Ont. as well as four armed Griffon helicopters to act as escorts for those larger aircraft. There will also be support personnel for the helicopters being sent to Mali, a country that since 2013 has been dealing with insurgents and armed Islamic extremists.
Of the 164 military personnel killed in the Mali mission, 71 were from accidents or from illnesses, according to the Department of National Defence.
"Most (combat) fatalities are for African troops in vehicles hit by IEDs," said Walter Dorn, a professor at the Royal Military College who has just returned from Africa where he was conducting research for the UN. IED refers to improvised explosive device or roadside bombs.
Well-equipped western forces have a much better chance of survival, he added.
The bulk of the 11,400-member force is made up of UN troops from African and Asian nations such as Bangladesh, Burkina Faso, Chad, Niger, Senegal and Togo.
"The lack of armoured personnel carriers, including mine protected vehicles, remain a major obstacle to the mission's operations," warned a UN report published Dec. 26.
Last month four UN soldiers in Mali were killed and four others wounded when their vehicle hit an IED. The day before six Malian soldiers were killed in a similar blast. In November 2017 a UN convoy was ambushed, with four soldiers killed and sixteen wounded. In September, three UN soldiers were killed and five injured after their vehicle hit an IED.
Canadian government sources say Canadian military personnel are not expected to conduct extensive travel on the country's dangerous roadways and most will either be operating aircraft or supporting those helicopters from an airbase.
No helicopters have been shot down by insurgents, Dorn noted.
But there has been four fatalities as a result of helicopter crashes because of technical or mechanical issues. In March 2015 a Dutch Apache attack helicopter crashed in northern Mali, killing its two crew members.
In July 2017 a German military Tiger helicopter crashed in the north of the country, killing two on board. Issues with the helicopter's autopilot have been blamed for the incident.
In July 2016 two Dutch soldiers assigned to the UN mission in Mali died during a training exercise when a faulty mortar round prematurely exploded. A Dutch investigation determined that stocks of old mortar rounds were being used. The older munitions had been purchased with the help of the Pentagon in a rush to supply the Dutch mission but proper safety procedures were not followed. In October 2017, Dutch Defence Minister Jeanine Hennis took responsibility for the accident and resigned.
Asked Monday about the potential for Canadian casualties, Foreign Affairs Minister Chrystia Freeland said the government was aware of the "difficulties of the situation in Mali."
RCAF Chinooks being prepared for Mali mission – African troops from UN force face casualties from IEDs | Ottawa Citizen