CD Review: Towers of London - Blood, Sweat and Towers
Written by
Larry Sakin
Towers of London
are a controversial
punk rock
band from
London
who formed in
2003
. Their music mixes elements of
hard rock
music with '77-style British punk.
The band have divided the opinions of the British music press since their emergence in early
2004
, gaining favourable reviews from some music
media
and extremely negative from others with whom they have had rivalries.
[1]
Towers of London are well known for their energetic live performances and outrageous antics, both onstage and off.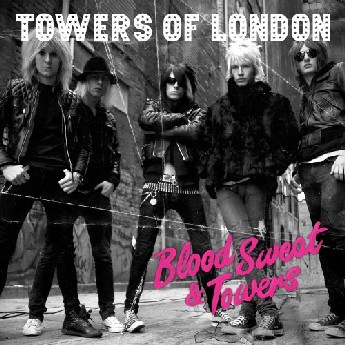 Their latest album "Blood, Sweat and Tears."
Donny Tourette
- Vocals
Dirk Tourette - Rhythm guitar
The Rev - Lead guitar
Tommy Brunette - Bass
Snell - Drums
The guitar/punk band Towers of London know a lot of rock history. Almost every note and chord on their debut album
Blood, Sweat, and Towers
were first created by the seminal punk bands of the late seventies and some of the hard rock bands of the late eighties.
The group consists of Donny Tourette on vocals, his brother Dirk on guitars, The Rev playing lead guitar, Tommy Brunette on bass and Snell on drums. Fashion-wise, they're somewhat quixotic. They resemble Axl Rose and Tommy Lee more than they do Johnny Rotten and Tommy Ramone. Their onstage/offstage antics are closer to the latter as well. So Towers of London seem to have successfully merged two musical forms that are generally opposed to the other and you have to admire that.
Their sound towers over their sense of style.
Blood, Sweat, and Towers
is the kind of gutsy, trashy album that would make those punks and metal heads of years past very proud. The album begins with "I'm A Rat," which offers us a little bit of Iggy and the Stooges, mixed with the wildness of the MC5.
Then, voila! The band changes gears on "Air Guitar" to give us some Sex Pistols in-your-face attitude backed up by the sensual bass pounding of Arthur "Killer" Kane from the New York Dolls. The third track, "Kill the Pop Scene" could be used as special addition to a Ramones tribute concert.
Now, shake these combinations up and add a massive dose of L.A. Guns and GN'R for spice and you have a sound that kicks some mighty big ass. The thrill ride doesn't stop there. The singles "**** It Up," which sounds like a rebuke against British Prime Minister Tony Blair, and "On A Noose" are droll little commentaries which flips a proverbial "bird" at the insanity the world has been plunged into recently. It's a role few rock musicians have taken on much too late.
What passes for rock 'n' roll of late is in need of a shake-up and these are just the guys for the job. You can hear Donny Tourette's sneer as he chews through each song. The Rev produces some brilliant solo work ala Buckethead, and drummer Snell assaults his kit with violent abandon, much like the uncontrollably evil Hunt Sales.
Even if this clash of influences isn't your kind of thing, this album is worth listening to. It has the power to possess you from the inside out, and it won't be long before you'll find yourself whispering the lyrics to yourself. Yes, Towers of London serves music history well. And
Blood Sweat and Towers
is certainly an historic album.
track listing
1. I'm A Rat
2. Air Guitar
3. Kill The Pop Scene
4. Beaujolais
5. **** It Up [Acoustic Version]
6. King
7. Good Times
8. On A Nook
9. Start Believing
10. Northern Lights
11. **** It Up
12. How Rude She Was
13. Seen It All
************************************************** *********************************************
And their latest, "I'm a Rat", single has been released -
Rock-by-numbers hook and chord progression and playfully repetitive vocals
There has to a place for bands like 'The Towers' in the fabric of rock music. Deliciously exposing Rock n Roll's timeless ability to reflect and parody itself, 'I'm a Rat' is the first track on the debut LP Blood, Sweat and Towers and has all the ingredients that made the Bravo channel shell out for the rights to a 10-part documentary following the band on tour. For just under three minutes the track belts out a rock-by-numbers hook and chord progression and playfully repetitive vocals. 'I'm a rat, I'm a rat, tell me how'd you like that?' They may have the shelf life of that carton of milk you left out on the counter over the weekend but Towers of London will surely have you contemplating a night in with a 'Spinal Tap' DVD.
www.skinnymag.co.uk