Permission has been granted to see if remains in an unmarked grave at a church in Winchester, Hampshire, are those of the legendary King Alfred the Great.
Alfred the Great was the king of the Anglo-Saxon kingdom of Wessex (West Saxon) between 871 and 899. Winchester was, at the time, Wessex's capital.
9 August 2013
BBC News
'King Alfred' remains in Winchester to be examined
Alfred the Great's statue in his former capital of Winchester
Permission has been granted to see if remains from an unmarked grave are those of King Alfred the Great.
The remains at St Bartholomew's Church, Winchester,
were exhumed amid security fears
after publicity surrounding the
discovery of Richard III's remains
.
The local
Hyde900 group
has been successful in its application and will start scientific tests shortly.
The chancellor of the Diocese of Winchester gave permission after a consultation.
He has granted the group a licence - known as a faculty - to start examining the remains.
In a statement, the diocese said: "This decision has been made independently of the Diocese of Winchester and takes into account the views of a number of statutory consultative bodies, such as the Church Buildings Council.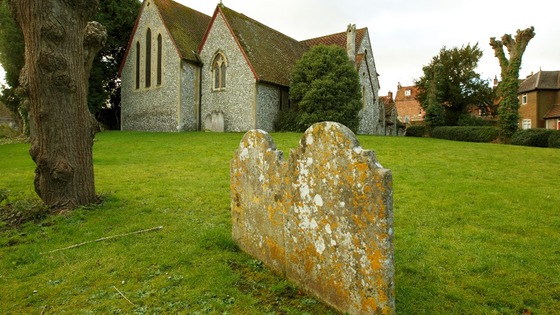 St Bartholomew's Church in Winchester, Hampshire, where archaeologists have exhumed bones from an unmarked grave
"Hyde900 will now have the responsibility to manage any scientific investigations, complying fully with any conditions set out by the chancellor."
The Hyde900 community group was set up to celebrate the 900th anniversary in 2010 of the foundation of Hyde Abbey, the burial place of King Alfred.
Alfred was a king of Wessex at a time when what is now England was a group of independent Anglo-Saxon kingdoms
ALFRED THE GREAT
His remains are known to have been moved several times since he was buried in Winchester's old minster in 899 AD.
They were moved in 904 to a new church to be alongside his wife and children, before being moved again to Hyde Abbey in 1110.
The abbey was destroyed during the dissolution of the monasteries in 1539 and studies indicate the tomb was robbed.
It is believed some bones were put on display in the 19th Century before being buried at St Bartholomew Church.
BBC News - 'King Alfred' remains in Winchester to be examined