iPhone users target of 'Wave' microwave-charging hoax
The iPhone 6, at left, and iPhone 6 plus are shown next to each other during a new product release, in Cupertino, Calif. on Tuesday, Sept. 9, 2014. (AP / Marcio Jose Sanchez)
Published Tuesday, September 23, 2014 10:49AM EDT
Last Updated Tuesday, September 23, 2014 12:23PM EDT A fake Apple ad making the rounds online claims that iPhone users can charge their devices wirelessly in the microwave.
The ad, which shares many design characteristics with official Apple advertising, describes a new 'Wave' feature in iOS 8, the latest mobile operating system released for Apple's mobile device users.
"You can now Wave-charge your device by placing it within a household microwave for a minute and a half," reads the post. "iOS 8 contains new drivers that interface with your device's radio-baseband allowing it to synchronize with microwave frequencies and use them to recharge our batter."
If that sounds too good to be true, that's because it is. Putting your phone in the microwave could ruin both the phone and the oven within seconds.
Nevertheless, some people have posted on social media about their failed attempts to Wave-charge their phones. Rather than quick-charging their devices, people claimed the results were a burnt phone and a microwave fire.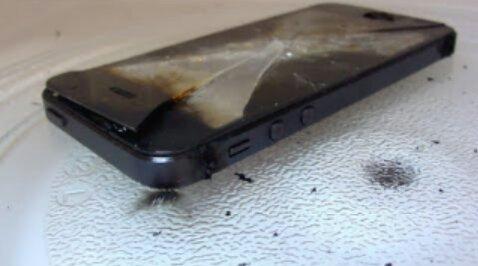 The prank appears to have originated on the online bulletin board 4chan, where people wrote posts suggesting they had successfully charged their phones in microwaves.
This isn't the first time users have destroyed their phones over a fake promo. An Apple-styled ad made the rounds online last year, suggesting iPhones would become waterproof after they were updated to iOS 7. That inspired some outraged tweets, including one person who said their phone ended up at the bottom of a river.

Read more: iPhone users target of 'Wave' microwave-charging hoax | CTV News