Never mind records such as "Longest time spent in a bath of baked beans" or "Fattest dog". There must be records that some people wished were introduced.
Now a new book by the team behind BBC Radio 4 comedy The Now Show- Hugh Dennis, Jon Holmes and Steve Punt - is an hilarious guide to the achievements that never made it, such as "Most obvious manifestation of middle-class status", "World's weirdest phobia" and "Most bicycles lost by a politician."
The world records Guinness forgot: a tongue-in-cheek guide to the achievements that never made it
By
Daily Mail Reporter
04th January 2010
Daily Mail
If you couldn't care less about the world's strongest man, and Britain's largest ice sculpture leaves you cold, then a new book by the team behind Radio 4 comedy The Now Show- Hugh Dennis, Jon Holmes and Steve Punt - should be right up your street.
Here, they present a very tongue-in-cheek guide to the world records they'd like to introduce.
MOST MISQUOTED PHRASE
'The World Is My Oyster': Invariably used to mean 'the world is at my feet', which is not what it means at all.
In Shakespeare's The Merry Wives Of Windsor, Sir John Falstaff says to the vainglorious idiot Pistol: 'I shall not lend thee a penny,' to which Pistol replies: 'Why then, the world's mine oyster, which I with sword shall open.'
King of rock: If the explosion of Elvis impersonators continues they will make up one-third of the world's population by 2020
An oyster is something that has to be prised open with a blade. The phrase means 'I will have to use force to get what I want'.
Basically, it's a line about knife-crime and how it gets results. Clearly, Shakespeare is more popular with hoodies than is commonly thought.
MOST TERRIFYING WORDS
The three most terrifying words in the English language are Replacement Bus Service.
MOST BICYCLES LOST BY A POLITICIAN
Tory leader David Cameron
This title currently goes to cycling-crazy, flop-haired Tory leader David Cameron, who seems on average to have a bike stolen every six to nine months.
You can understand the attraction for thieves. Cameron's are the only bikes that come with a chauffeur driven car following 100 yards behind them.
He appealed for the return of one taken from outside a Notting Hill supermarket - explaining that he thought of the bike as an 'old friend'.
Presumably he also has an old friend he thinks of as a bit of a bike. Say no more.
BIGGEST MASS-KILLER IN HISTORY
You're probably thinking Genghis Khan or Vlad the Impaler, but no. Sir Walter Raleigh is the single most life threatening person in history.
He returned to Europe from the New World bringing two things - potatoes and tobacco.
That's fags and chips.
Smoking and junk food, the two biggest killers of Western lifestyle - all down to one man in a cloak and feathery hat.
He shouldn't have been knighted, he should have been put back on his boat and told not to return until he'd discovered tofu and jogging.
LEAST AGGRESSIVE PRIMATE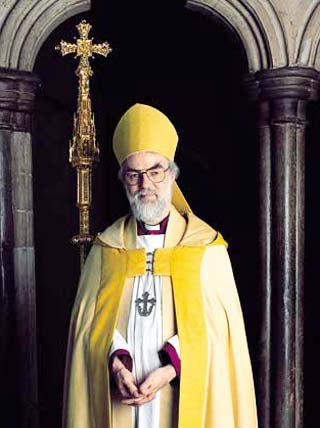 THE world's least aggressive primate is Dr Rowan Williams, the Archbishop of Canterbury and Primate of All England.
MOST POINTLESS PIECE OF ROYAL ETIQUETTE
According to the rules of royal etiquette, one should never turn one's back on the Queen. This seems entirely unnecessary. She is very unlikely to steal anything.
MOST IMPERSONATED PELVIS
The most impersonated person in the world is, of course, Elvis Presley (1935-77).
There are currently more than 400,000 professional Elvis impersonators in the world. Interestingly, at the time of his death in 1977 there were only 170.
This rate of expansion of Elvis impersonation is such that were it to continue at a constant rate, by the year 2020 it is estimated that one-third of the world's population would be Elvis impersonators.
MOST OBVIOUS MANIFESTATION OF MIDDLE-CLASS STATUS
A British middle-class family enjoy afternoon tea in the 1850s. Afternoon tea was invented in 1840 by Anna, 7th Duchess of Bedford, as a way to quell the inevitable hunger pangs between lunch and dinner.
Middle-class parents are almost paranoically unimaginative when it comes to naming their offspring.
They like to call their sons Jack, Tom or Harry, like they're escape tunnels rather than children.
Girls are given names like Victorian dolls - Emily, Chloe or Bronchitis.
The working class, on the other hand, give free rein to their imaginations, naming their children after rappers, foreign surnames, sports stars and holiday destinations.
Frequently these names are then misspelt. (Rumours persist Britney Spears almost had a brother called Dordoyn until this was deemed to be a bit too upmarket, so he was christened Coat Dazzur.)
MOST ANNOYING THINGS
An actual survey a couple of years ago came to the conclusion that the most annoying thing in modern Britain is cold-callers. They worked this out by cold-calling people, so you'd have to say the sample may have been skewed.
MOST POINTLESS FEATURE ON A TELEVISION
Without doubt, the most pointless feature on a television, or indeed any electrical appliance, is 'standby'.
Why would you keep your television on stand-by? When are you going to need your telly at that level of readiness?
Standby is for fighter squadrons or firemen, not telly watching. Watching telly really isn't that important.
No self-respecting Pathe Newsreel ever went: 'All across Britain squadrons of televisions are kept at the highest level of preparedness so that they can instantly cope with any emergency that may come their way.
'They wait patiently for the Tannoy, the Tannoy which will tell them to scramble, to scramble as fast as they are able, or they might miss the beginning of Hollyoaks.'
DATES LEAST LIKELY TO FEATURE IN A HISTORY EXAM
1216
: Nothing happened. King John very bored, wandering round his castle muttering: 'This time last year at least I had the signing of the Magna Carta to look forward to.'
1667
: Historically insignificant, and little is known about it save for the year's most-asked question in London: 'Can you smell burning again?'
1806
: Very quiet year, particularly for Nelson.
1946
: Lots of international meetings about how to make Europe homely again. No one notices the Russians measuring the continent for curtains.
2007
: Everything is hunkydory, particularly in the banking sector.
WORLD'S WEIRDEST PHOBIA
Walloonophobia is the fear of Belgians. Very few people are scared of Belgians, and certainly not the German Army, which marched straight past them twice en route to France.
MOST ANNOYING RECORDED ANNOUNCEMENT
This is, by definition, a difficult category as all recorded announcements are annoying, but the worst surely has to be those supermarket self-service checkout machines that protest in a recorded voice that there is 'an unexpected item in the bagging area'.
Why is it unexpected? By definition, anything that one places in the bagging area has more than likely come from the shelves of the very supermarket that you are in: a tin of dog food, say, or a radish.
I only want to hear the announcement if I astonish the checkout machine with something truly unexpected in the bagging area - such as a judge's wig or an egret.
dailymail.co.uk
Last edited by Blackleaf; Jan 4th, 2010 at

11:51 AM

..