The UK has officially left the European Union after 47 years of membership - and more than three years after it voted to do so in a referendum.

The historic moment, which happened at 23:00 GMT, was marked by both celebrations and anti-Brexit protests.

Candlelit vigils were held in Scotland, which voted to stay in the EU, while Brexiteers partied in London's Parliament Square.

Boris Johnson has vowed to bring the country together and "take us forward".

Brexit: UK leaves the European Union
BBC News
1 February 2020
The White Cliffs of Dover in Kent announce Brexit has happened
The UK has officially left the European Union after 47 years of membership - and more than three years after it voted to do so in a referendum.
The historic moment, which happened at 23:00 GMT, was marked by both celebrations and anti-Brexit protests.
Candlelit vigils were held in Scotland, which voted to stay in the EU, while Brexiteers partied in London's Parliament Square.
Boris Johnson has vowed to bring the country together and "take us forward".
In a message released on social media an hour before the UK's departure, the prime minister said: "For many people this is an astonishing moment of hope, a moment they thought would never come.
"And there are many of course who feel a sense of anxiety and loss."
He said some had worried the political "wrangle" would not end but it was his job to take the country forward.
How did the UK mark the moment?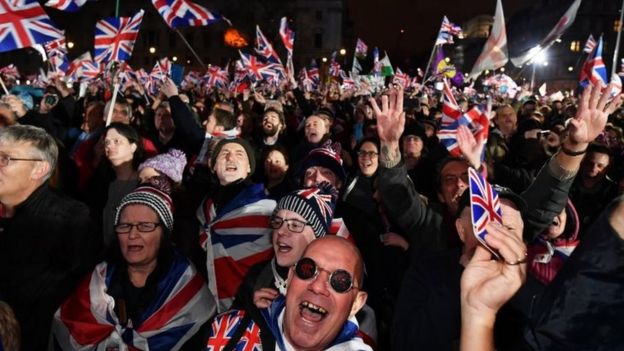 Brexit supporters held a party in Parliament Square
Brexit parties were held in pubs and social clubs across the UK as the country counted down to its official departure.
Hundreds gathered in Parliament Square to celebrate Brexit, singing patriotic songs and cheering speeches from leading Brexiteers, including Nigel Farage.
The Brexit Party leader said: "Let us celebrate tonight as we have never done before.
"This is the greatest moment in the modern history of our great nation."
Pro-EU demonstrators earlier staged a march in Whitehall to bid a "fond farewell" to the union - and anti-Brexit rallies and candlelit vigils were held in Scotland.
Police in Whitehall arrested four men and also charged one man with criminal damage and being drunk and disorderly, while in Glasgow one man was arrested.
Meanwhile, other symbolic moments on a day of mixed emotions included:
The Union flag being removed from the European Union institutions in Brussels
The Cabinet meeting in Sunderland, the first city to declare in favour of Brexit when the 2016 results were announced
A light show illuminating 10 Downing Street and Union flags lining The Mall
A 50p coin to mark the occasion entering circulation
The building of the UK government's delegation to the EU changed its name and sign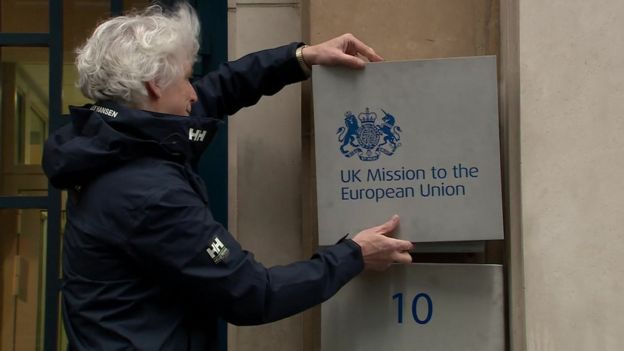 The government's EU delegation has changed its name from "representation" to "mission"
In Northern Ireland, the campaign group Border Communities Against Brexit staged a series of protests in Armagh, near to the border with the Irish Republic.
The Irish border - now the UK's land border with the EU - was
a major sticking point
in the Brexit divorce talks.
NI and the Irish Republic "will continue to remain neighbours",
said NI First Minister Arlene Foster
on RTÉ on Friday.
At 23:00 GMT, Scotland's First Minister Nicola Sturgeon tweeted a picture of the EU flag, adding: "Scotland will return to the heart of Europe as an independent country - #LeaveALightOnForScotland".
Ms Sturgeon
is calling for a new referendum
on Scottish independence, arguing that Brexit is a "material change in circumstances".
Speaking in Cardiff, Welsh First Minister Mark Drakeford said Wales, which voted to leave the EU, remained a "European nation".
Labour MP Hilary Benn, who chairs the Brexit select committee and backed Remain, said he was "sad last night... but we have to accept it".
He told BBC Radio 4's Today programme the UK was always a "reluctant" EU nation, adding: "We joined late and we left early."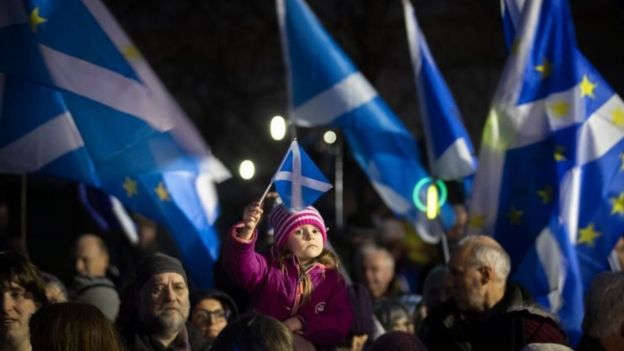 Pro-EU campaigners take part in a "Missing EU Already" rally outside the Scottish Parliament in Edinburgh

What now? It's happened.
A dreary night didn't discourage those celebrating in Parliament Square. We wake this morning out of the European Union. But we follow their rules until the end of the year, without a say.
We are separate after more than 40 years, but remember much of the status quo will hold for now - the UK and the EU, the awkward couple, finally divorced - but still sharing a house and the bills.
But what the prime minister hails as a new era, a bright new dawn, starts months of hard bargaining with our neighbours across the Channel.
The UK's requests: a free trade agreement, cooperation on security, and new arrangements for fishing are just some of the vital arguments that lie ahead.
https://www.bbc.co.uk/news/uk-politics-51333314
Behind the scenes at PM's Brexit party: Boris Johnson told ministers and aides including an emotional Dominic Cummings 'we did it!' as they sipped English sparkling wine in No10 - but had to count down to historic moment himself after TV failed
Boris Johnson marked Brexit by drinking English sparkling wine with his team, including chief adviser Dominic Cummings, who is said to have been close to tears.



'Woken up to find the sky hasn't fallen in': Jubilant Tories welcome first day of Britain outside the EU after night when even Boris Johnson's DOG was celebrating alongside thousands at parties and pubs
Defence minister James Heappey joked that the 'sky has not fallen in', tweeting that it was a 'big relief'. Meanwhile, Steve Barclay and James Duddridge have expressed joy despite their jobs as Brexit Secretary and minister having been axed on the stroke of 11pm - when the government department was abolished. It has also emerged that even Boris Johnson's dog Dilyn was partying last night. The PM's partner Carrie Symonds posted a picture of their pet clad in a Union flag coat, apparently taken at a reception held in No10 last night.



Brexit got done! The UK FINALLY leaves the EU as Britons celebrate in jubilant scenes across the nation when clocks hit 11pm - from Nigel Farage in Parliament Square to ordinary people up and down Britain
On the stroke of 11pm, the UK officially divorced from the bloc after three years of bitter political struggle that split families and paralysed Westminster. Jubilant Brexiteers heralded the moment with celebrations across the country, including a flagship bash in London's Parliament Square where Nigel Farage led a chorus of God Save The Queen. The last moments were ticked off in a light show projected on to the famous black door of Downing Street, where Boris Johnson held a muted party for his staff after releasing a pre-recorded address to the nation. The Prime Minister hailed the 'moment of hope, a moment many people thought would never come' and said Brexit would 'unleash' the UK's potential - but warned there will be more 'bumps in the road'.



Party like it's January 31! Brits far and wide including in London, Warrington, Boston and Glasgow celebrate Brexit in style with festivals and pub crawls to mark history
Britons last night toasted in a new era for the UK outside the European Union with parties, pub crawls and rallies across the country. The celebrations got into full swing well before the 11pm, when Britain finally divorces from the bloc after three and half years of wrangling. From the central Leavers party in London's Parliament Square, to the social clubs of Warrington in the North West, merry revellers waved Union Jacks and wished each other a 'happy Brexit day'. People have also decorated their homes for Brexit-themed dinner parties and have erected British flags along their streets as the country comes together for an evening of revelry.
Last edited by Blackleaf; Feb 1st, 2020 at

06:52 AM

..