The UK's annual Armed Forces Day is taking place, with the national event in Liverpool one of more than a record 300 across the country.

The day is billed as a chance for people to show their support for those connected with the armed forces.

Prime Minister Theresa May said that the armed forces are more relevant than ever after "playing a vital role" after the Manchester attack.

Armed Forces Day: Liverpool leads events across country
BBC News
24 June 2017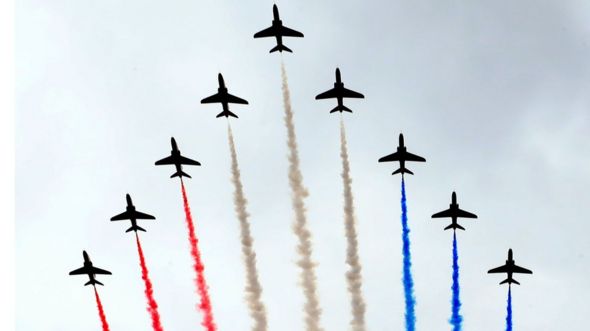 The Red Arrows flying over Liverpool was one of the highlights
The UK's annual Armed Forces Day is taking place, with the national event in Liverpool one of more than a record 300 across the country.
The day is billed as a chance for people to show their support for those connected with the armed forces.
Prime Minister Theresa May said that the armed forces are more relevant than ever after "playing a vital role" after the Manchester attack.
In Liverpool, there was a parade to the Waterfront from St George's Hall.
As well as those currently serving, the day salutes veterans, reservists, cadets, families and charities.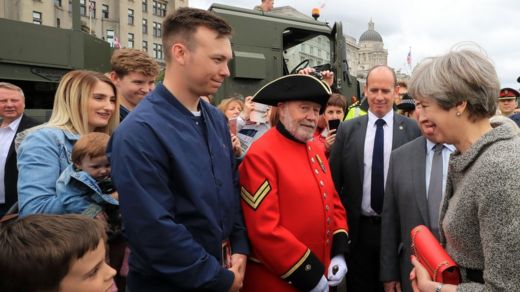 Theresa May attended the event in Liverpool and paid tribute to the armed forces
Mrs May said that armed forces "provided visible reassurance to our communities" when they were deployed on the streets after the terror threat level was raised to critical.
Troops were deployed after 22 people were killed by suicide bomber Salman Abedi at the Manchester Arena on 22 May.
Mrs May, who is attending the Liverpool event, said it was an opportunity for thousands of people to show their "gratitude to the men and women who do so much to preserve our freedom."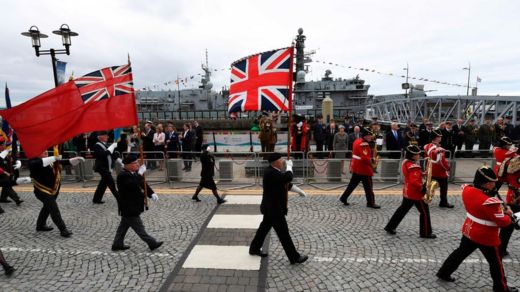 Military parades have been taking place across the country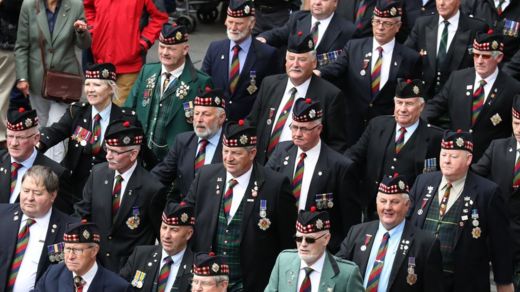 Former service personnel from Legion Scotland marched down the Royal Mile in Edinburgh
The parade comprises about 100 personnel from each of the services, plus bands, veterans, and about 300 cadets.
Other attractions include Typhoon and Red Arrows flypasts, HMS Iron Duke opening to visitors, dragon boat racing, a Royal Navy Wildcat (helicopter) flypast, and finale by the massed bands.
HMS Iron Duke
Defence Secretary Sir Michael Fallon said: "As we celebrate Armed Forces Day there are 10,000 regulars and reserve personnel serving now on Nato operations."
Current deployments include Royal Navy ships serving in the Gulf, and the Royal Air Force patrolling the Black Sea as part of Nato deployments, and the war against Islamic State.
Armed Forces Day: Liverpool leads events across country - BBC News