Which Are Riskier For Web Users?
The
Internet
, it seems, is always full of surprises.
According to
a report
released on April 30
by security software firm
Symantec
, religious and ideological websites are riskier to visit than adult and pornographic websites.
Symantec's
annual "Internet Security Threat Report"
analyzes massive amounts of data gathered through its products, services and intelligence network to outline trends in Internet security.
In this
latest report
, Symantec's analysis found that religious sites had more than triple the average number of threats per infected site than pornographic sites; an average of 115 threats had been found on religious sites while an average of 25 had been found on pornographic sites.
According to the report
, this may be the case because "pornographic website owners already make money from the Internet and, as a result, have a vested interest in keeping their sites malware-free -– it's not good for repeat business."
LOOK: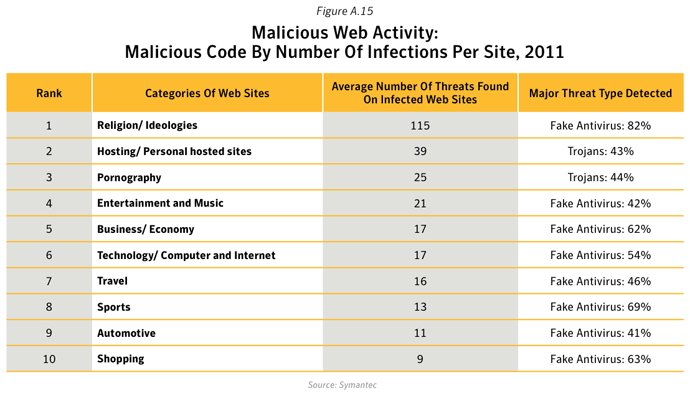 more

Porn Sites vs. Religious Sites: Which Are Riskier For Web Users?

As they say, could be more averaging (or ratings...religion is an easy and popular target) than anything else to be picking on so-called 'religious' sites because: