Wales' footballers last night qualified for their first major tournament since the 1958 Sweden World Cup - despite being defeated.
The Dragons lost 2-0 against Bosnia-Herzegovina (also nicknamed the Dragons) in their Euro 2016 qualifier last night, but managed to still qualify for the Euro 2016 finals in France thanks to Cyprus' 2-1 victory over Israel.
This comes days after Northern Ireland qualified for Euro 2016, their first major tournament since 1986.

With England being the first team in Europe to qualify for Euro 2016, it means Scotland will be the only UK side who will not be at the tournament in France next summer.

Wales book their place at Euro 2016 - their first major tournament since 1958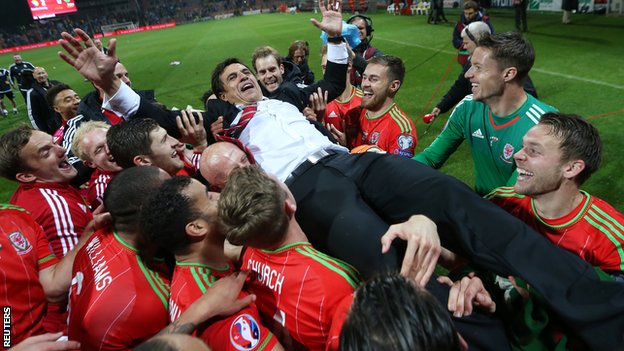 Wales players lift manager Chris Coleman into the air as they celebrate qualifying for their first major tournament since the 1958 World Cup in Sweden
By Dafydd Pritchard
BBC Wales Sport in Zenica
10 October 2015
Euro 2016 Qualifier
Bosnia-Herzegovina 2-0 Wales
Djuric 71
Ibisevic 90
At Bilino Polje stadium, Zenica
Wales reached their first major tournament finals in 57 years in bizarre circumstances as they qualified for Euro 2016 despite defeat in Bosnia-Herzegovina.
Needing a point to end a wait stretching back to the 1958 World Cup, Chris Coleman's side were beaten by Milan Djuric and Vedad Ibisevic's second-half goals.
But they went through anyway thanks to Cyprus' 2-1 victory in Israel, which sparked wild celebrations from the away fans in Zenica.
Wales' first defeat of the campaign saw them overtaken at the top of Group B by Belgium, who qualified with a 4-1 win in Andorra.
Those success-starved supporters can now look forward to next summer's tournament in France, and consign half a century of heartache to history.
Littered with false dawns and squandered opportunities, Welsh football has come to be defined by agonising failure - but not any more.
The current generation of Wales players grew up watching agonising near-misses. Paul Bodin struck the bar with a penalty in a defining World Cup qualifying defeat against Romania in 1993, while Mark Hughes' side lost a European Championship play-off against Russia 10 years later. It is the anguish of the past which has inspired this generation.
A year ago, Wales and Bosnia were inseparable in an absorbing goalless draw in Cardiff, and Coleman's men knew a repeat would clinch Euro 2016 qualification.
Top seeds at the start of the campaign, Bosnia needed a win to keep alive their play-off hopes but were without their captain and all-time leading scorer Edin Dzeko.
The Manchester City striker, on loan at Roma, failed to recover from a knee injury but, despite his absence, Bosnia began confidently with another Roma player, Miralem Pjanic, orchestrating matters in midfield.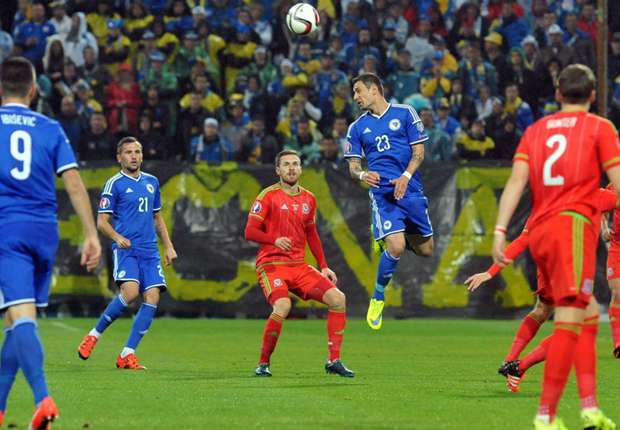 Wales suffered a 2-0 defeat against Bosnia-Herzegovina in Zenica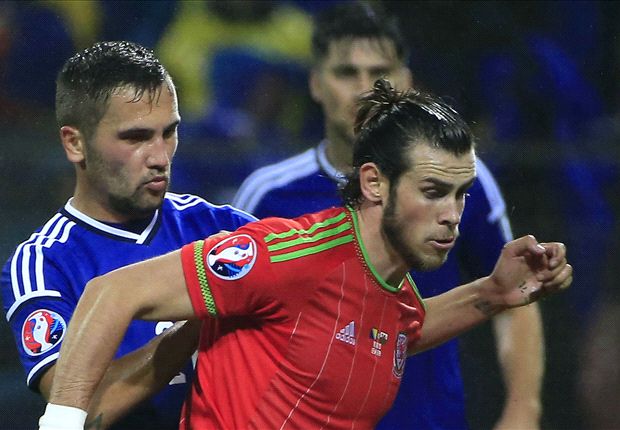 Real Madrid star Gareth Bale in action last night for Wales
Despite their 2-0 defeat against Bosnia-Herzegovina, Wales still qualified for Euro2016 thanks to Cyprus beating Israel 2-1 (above)
Coleman had said beforehand Wales would "take the game to Bosnia" and, although there was attacking intent from the visitors, they were deprived possession for long periods.
Their best chance came moments before half-time as Aaron Ramsey jinked his way to within a yard of goal - but his and Neil Taylor's scrambled close-range efforts were thwarted by Bosnia goalkeeper Asmir Begovic.
The hosts improved in the second half and, roared on by their hostile crowd, took the lead as Djuric's header looped over Hennessey.
Bosnia sealed victory as Ibisevic tapped in from close range, and Welsh attention turned to the match between Israel and Cyprus.
Cyprus fans for the night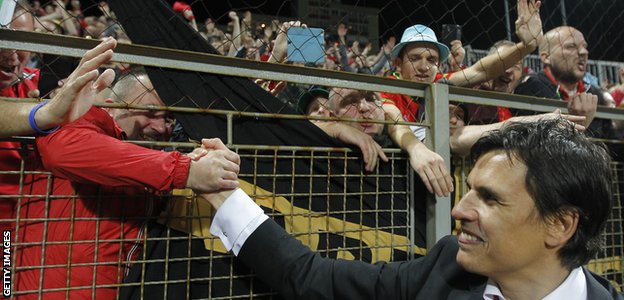 The travelling Welsh fans reacted wildly at the final whistle
While a point in Zenica would guarantee their place in France, Wales also knew they would qualify if Israel failed to win their final two fixtures against Cyprus and Belgium.
Israel were expected to beat Cyprus but, after 58 minutes, fell behind to a goal from Dossa Junior.
When news of that strike reached the 750 Wales fans in Zenica, their little pocket of the vociferous Bilino Polje Stadium erupted.
Delirium soon turned to anxiety when Israel equalised and Djuric headed Bosnia in front, much to the deafening delight of the home crowd in Zenica.
But there was a sense of mutual joy moments later, as Walsall defender Jason Demetriou put Cyprus back in front against Israel and put Wales back on the brink of history.
Aaron Ramsey, Wayne Hennessey, Gareth Bale and Joe Ledley celebrate after qualifying for Wales' first major tournament since the 1958 World Cup in Sweden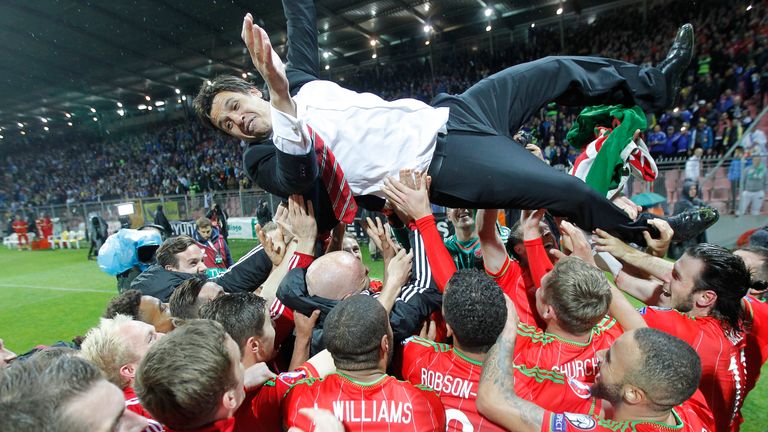 Wales players carry manager Chris Coleman aloft after securing qualification to Euro 2016
Wales' qualification comes just days after
Northern Ireland qualified for Euro 2016 (above), their first major tournament since the 1986 Mexico World Cup. With England being the first team in Europe to qualify for Euro 2016, it means Scotland will be the only UK side who will not be at the tournament in France next summer

BBC Sport - Euro 2016 qualifying: Bosnia-Herzegovina 2-0 Wales



Harold Macmillan was British Prime Minister; Elvis Presley topped the charts with Jailhouse Rock; Sir Edmund Hillary reached the South Pole; eight Manchester United players were amongst 23 people killed in the Munich Air Disaster; and Pele scored his first-ever World Cup goal, which came against Wales.

What life was like in 1958, the last time Wales played in a major football tournament (and even then, they didn't actually qualify for the 1958 World Cup in Sweden...........)

Euro 2016: Wales end 57 years of hurt, but what was life like in 1958?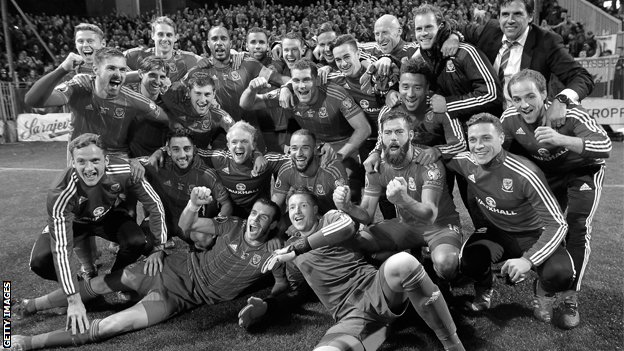 BBC Sport
10 October 2015
Not since 1958 have Welsh fans been able to cheer on their own team at a major international tournament, but they can now make travel plans for France after
Wales' qualification for Euro 2016.
In 1958, newspapers rather than the internet listed football scores; coal was king in Wales, and a red phone box would be where you would make a call, with mobiles still decades away.
How does the footballing landscape compare?
Chris Coleman's side have earned their place in France by winning five of their nine Group B matches and drawing three.
Wales' route to the 1958 World Cup in Sweden was
far less glorious.
In fact, John Charles and his team-mates failed to qualify.
They finished second to Czechoslovakia in their qualification group, but were thrown a lifeline in the unlikely form of global political unrest.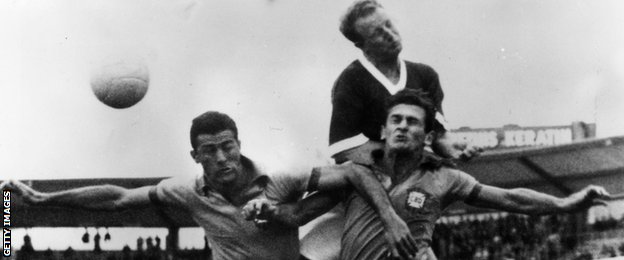 Ivor Allchurch became known as the golden boy of Welsh football and was a key figure in Wales' 1958 World Cup campaign
Israel had won their section by default as no African or Asian country would play them following
the Suez crisis
of 1956. However, Fifa were reluctant to allow a team into the World Cup finals without playing a match.
Wales were picked to face the Israelis in a two-legged showdown and secured their place at the World Cup with a 2-0 win at Ninian Park on 5 February, 1958.
From jubilation to tragedy
The world was left in shock the day after Wales booked their place at the 1958 World Cup when 23 people, including eight Manchester United players, were killed in the Munich air disaster.
The British European Airways (BEA) plane crashed during take-off after it had stopped to refuel in snowy Munich as the team returned from a European Cup match against Red Star Belgrade.
Of the people to die, 21 did so instantly, while Duncan Edwards - described by former United temporary manager Jimmy Murphy as the "greatest of them all" and who could have had a bright future with both Manchester United and England - passed away 15 days after the crash.
England's 1966 World Cup winner Sir Bobby Charlton was amongst the survivors.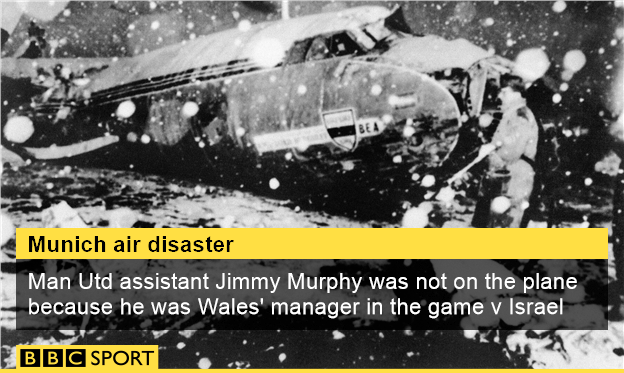 What happened to Wales in the 1958 finals?
Wales drew each of their group games, a run that included a clean sheet against hosts and eventual runners-up Sweden.
They then came from behind to beat 1954 runners-up Hungary (who were then the best team in the world) 2-1 in a play-off and set up a quarter-final against eventual winners Brazil.
A then unknown 17-year-old called Edson Arantes do Nascimento - Pele - scored his first World Cup goal, the only one of the match, and Wales were out.
Wales' 1958 Sweden World Cup results
Group three:
Hungary 1-1
Mexico 1-1
Sweden 0-0
Play-off:
Hungary 2-1 (won)
Quarter-final:
Brazil 0-1 (lost)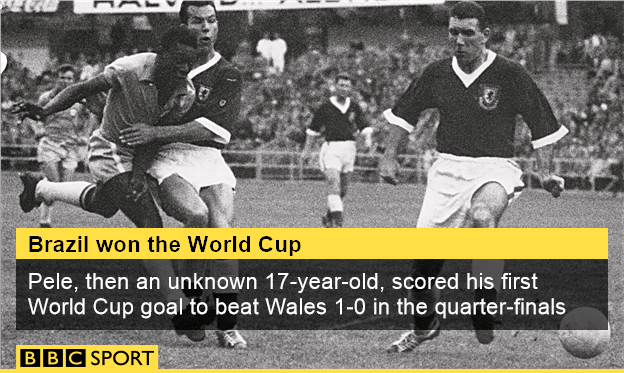 What else happened in 1958?
Away from football, jukeboxes played rock'n'roll, the space race had begun and Sir Edmund Hillary reached the South Pole.
In 2015, Cardiff is hosting Rugby World Cup matches, and in 1958, the Welsh capital was also temporary home to prominent sportspeople during the Empire Games - the precursor to the Commonwealth Games.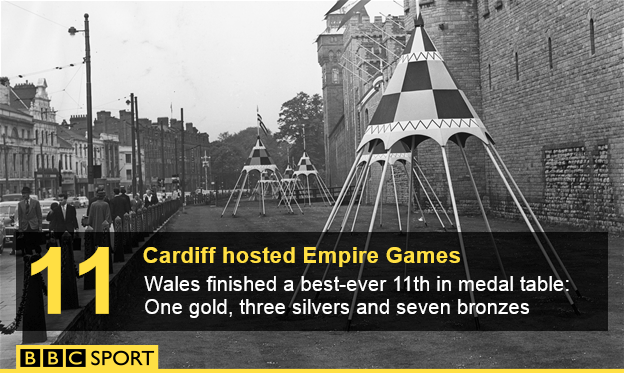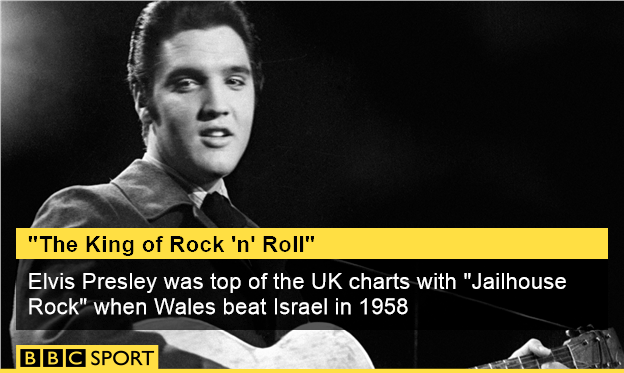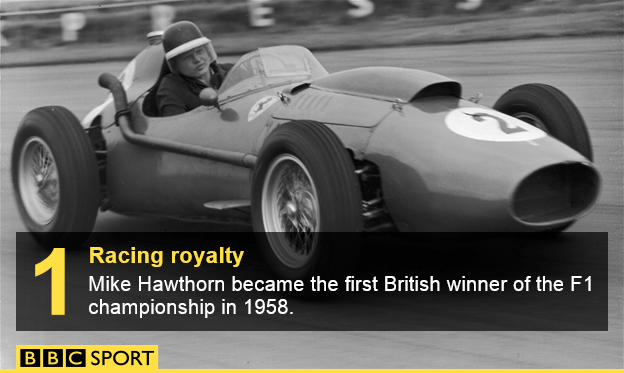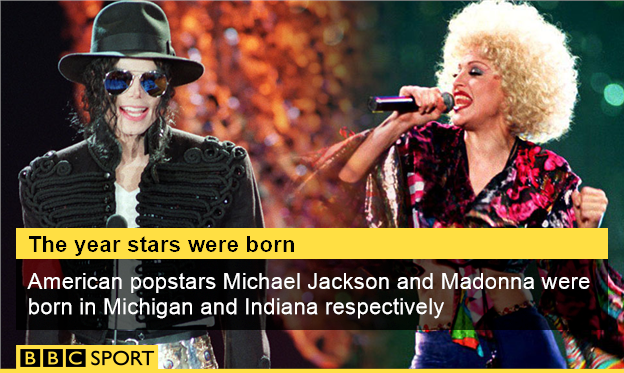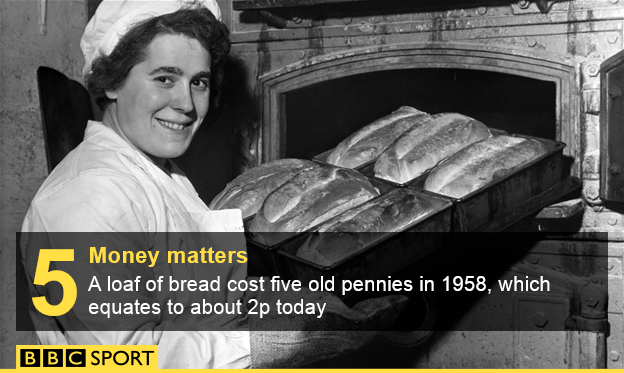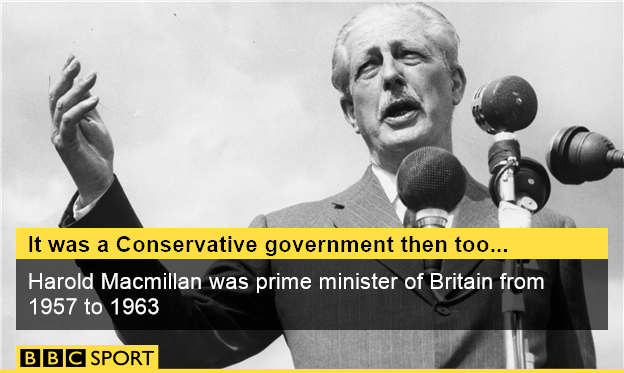 BBC Sport - Euro 2016: Wales end 57 years of hurt, but what was life like in 1958?
Last edited by Blackleaf; Oct 11th, 2015 at

06:39 AM

..