Two satellites launched to monitor disasters
(Xinhua)
Updated: 2008-09-06 13:40
China launched two satellites to monitor the environment and natural disasters at 11:25 a.m. on Saturday.
The two satellites, launched from the Taiyuan Satellite Launch Center in Shanxi Province and carried by a Long March 2C rocket, were expected to enhance the country's capacity to forecast natural disasters, according to Bai Zhaoguang, a leading scientist and designer of the satellites.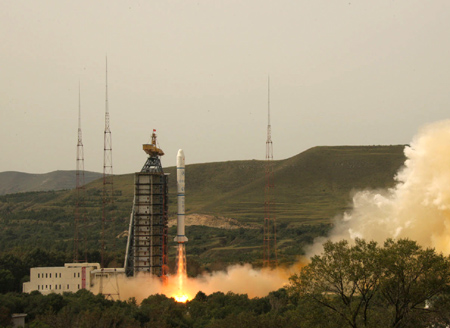 A Long March 2C rocket blasts off from the Taiyuan Satellite Launch Center in North China's Shanxi Province to send two satellites into orbit, September 6, 2008. [Xinhua]
The satellites are the first of their kind put into space by China.
They are expected to have a lifespan of more than three years. They have state-of-the-art imaging systems and infrared cameras and provide a global scan every two days.
The satellites can closely track natural disasters, Bai said, and provide quick assessments of damage to guide rescue and reconstruction work.
"The role of the satellites will be significant when China faces such natural disasters as this year's snowstorms and massive earthquake," he said.
The satellites are unparalleled in monitoring the environment in terms of their scale, speed and ability to operate regardless of weather, he said.
China had several natural disasters this year. In the winter, prolonged snowstorms affected large areas of southern and central China and stranded millions of people.
On May 12, an earthquake measuring 8.0 on the Richter Scale struck southwest Sichuan Province. It is feared more than 87,000 died in the disaster.
China used satellite images to help assess damage to infrastructure after that quake.
===========----------------------------------------------------------------------------------------
China takes a positive step again .
Last edited by Zan; Sep 6th, 2008 at

07:35 AM

..