Nobody left in the London tower block which was engulfed in flames in minutes on Tuesday night is still alive, fire crews have said.

Rescuers say there are still 'unknown numbers' of people dead inside, but at the moment it is too risky to try to recover them from the upper floors of the fire-ravaged and unstable Grenfell Tower.

The official death toll stands at 12 this morning, but it is feared that could rise to more than a hundred once all of those inside have been recovered.

London fire chief Dany Cotton told Sky News: 'Tragically now we are not expecting to find anyone else alive. The severity and the heat of the fire would mean it is an absolute miracle for anyone to be left alive.'

Full searches of the upper floors, where no one is said to have survived, are yet to be carried out.

Rescuers reveal 'unknown numbers' of bodies are stuck in inferno tower raising fears HUNDREDS died - as ministers face fury over why they ignored repeated warnings over 'fire hazard' cladding

12 people are known to have died in tower block blaze - although death toll is expected to rise significantly

London Labour MP says 'hundreds' may have died and calls for 'corporate manslaughter' arrests

Fire crews have managed to get to the top but not enter flats or rooms because it is too precarious

London fire chief said today that it would be 'miracle' if anyone was still alive in the burnt-out building

A full inspection of the building will be carried out to work out whether it is safe for recovery to continue

Theresa May is visiting the site today, amid claims ministers turned a blind eye to fire safety concerns

Seventy eight people were taken to hospital, with 18 of those fighting for lives in critical conditions


By
Josh White For The Daily Mail
and
Martin Robinson
and
Alexander Robertson
and
Gareth Davies
and
Keiligh Baker
and
Ekin Karasin
and
Isobel Frodsham
and
Alex Matthews For Mailonline
and
Richard Spillett
15 June 2017
Grenfell Tower engulfed by flames in the early hours of Wednesday
Nobody left in the London tower block which was engulfed in flames in minutes on Tuesday night is still alive, fire crews have said.
Rescuers say there are still 'unknown numbers' of people dead inside, but at the moment it is too risky to try to recover them from the upper floors of the fire-ravaged and unstable Grenfell Tower.
The official death toll stands at 12 this morning, but it is feared that could rise to more than a hundred once all of those inside have been recovered.
London fire chief Dany Cotton told Sky News: 'Tragically now we are not expecting to find anyone else alive. The severity and the heat of the fire would mean it is an absolute miracle for anyone to be left alive.'
Full searches of the upper floors, where no one is said to have survived, are yet to be carried out.
In a separate interview, Ms Cotton told ITV today: 'Some of the internal structures are not regarded as safe at the moment. However, the central core is, so my firefighters have been up to the top floor last night. They have done the initial brief search from the doorways.'
'So although we've been up there we haven't managed to do a comprehensive search and until we can make the building safe then I really don't want to risk the safety of my firefighters at this moment in time,' she added.
Ms Cotton said structural surveyors and urban search and rescue specialists would inspect the building on Thursday and once it was declared safe a full search would take place.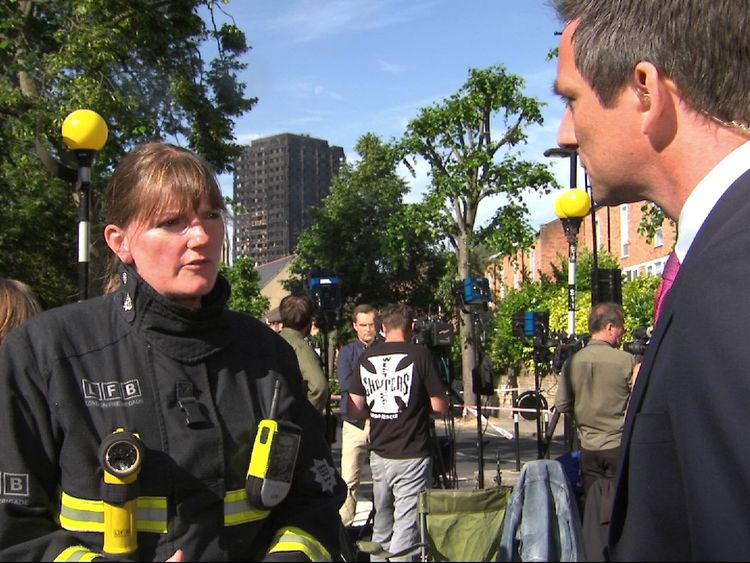 London Fire Brigade Commissioner Dany Cotton told Sky News: 'Tragically now we are not expecting to find anyone else alive. The severity and the heat of the fire would mean it is an absolute miracle for anyone to be left alive.'

Nobody knows how many people remain in the building, but it is feared there are no more survivors
Grenfell Tower in the Royal Borough of Kensington and Chelsea, west London, this morning. Fire chiefs say it would be a 'miracle' if anyone left inside is still alive. Firefighters have reached the top but have been unable to enter flats and room because the building is too unstable

Pictures of the tower today show the burnt-out flats on the upper floors, which are now blackened hulks with little left intact

Prime Minister Theresa May visited the site of the burnt-out building this morning after vowing a full investigation

This aerial photo taken hours after the fire ripped through the tower block shows the devastating scale of the inferno

Prime Minister Theresa May visited the scene of the tragedy this morning and spoke with emergency services. She has promised a full investigation into the tragedy.
Labour MP David Lammy has labelled the fire 'corporate manslaughter' and called for arrests to be made.
'This is the richest borough in our country treating its citizens in this way,' he said, adding: 'I suspect hundreds will have done by the end of this count.'
It emerged overnight that ministers were warned numerous times over the cladding that turned the Grenfell Tower into an inferno but ignored the advice of fire experts.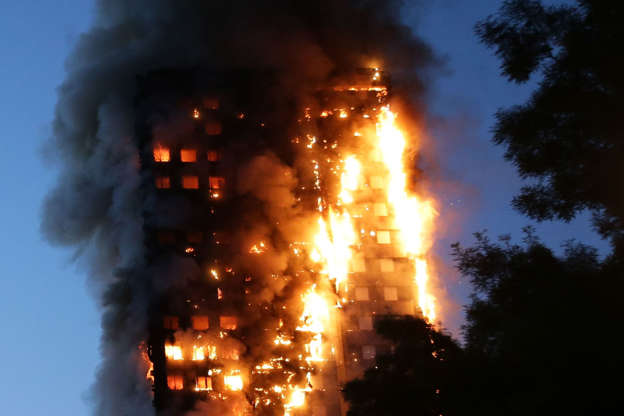 Fire spread rapidly through the 24 storey bulding. People jumping from the building and shoutrs of screaming were reported by witnesses
The Home Office was handed a damning report after hundreds of residential tower blocks were surveyed in the 1990s - but did nothing.
The study, carried out by architect Sam Webb, found that half of the buildings inspected did not meet basic fire safety regulations.
Fire expert Mr Webb described the state of Britain's tower blocks as a 'disaster waiting to happen'. He told The G
uardian
: 'We discovered a widespread breach of safety, but were simply told nothing could be done because it would make too many people homeless.'
Fears have since emerged that new plastic cladding was a main factor in the fire and caused the tower to 'light up like a matchstick'.
The rain-proof cladding was installed at the block in White City, west
London
, in May 2016 as part of a £10million refurbishment but claims say it helped the fire spread quickly from the fourth to 24th floor.
The former chairman of the tenancy organisation connected to Grenfell said the fire was a 'scandal' that could have been avoided.

Hundreds of people lived in Grenfell Tower
Young children wear protective masks near the tower
There are real fears that that nobody who lived on the top three residential floors may have survived the unprecedented fire

A brave firefighter is pictured inside the burnt remains of the 27-storey building, as efforts are made to investigate what caused the blaze


How the fire ripped through Grenfell Tower: At 2.05am, left, the blaze was restricted to one side of the building. By 2.35am, centre, it was spreading fast. And by 4.17am, right, the whole block was in flames
By mid morning, the plastic cladding could be seen charred and melted on the tower in west London


The fire continued to burn all day yesterday. Left, the fire rages early on Wednesday morning, centre, firefighters battle the blaze and right, flames continue to rip through flats in the evening
Queen praises rescuers and says she is praying for families of victims
The Queen has paid tribute to the 'bravery' of firefighters who have battled the Grenfell Tower fire.
She also praised the 'incredible generosity' of volunteers offering their support to those affected.
In a statement from Buckingham Palace, the Queen said: 'My thoughts and prayers are with those families who have lost loved ones in the Grenfell Tower fire and the many people who are still critically ill in hospital.
'Prince Philip and I would like to pay tribute to the bravery of firefighters and other emergency services officers who put their own lives at risk to save others.
'It is also heartening to see the incredible generosity of community volunteers rallying to help those affected by this terrible event.'
Firefighters stand amid debris in a children's playground near the tower block
Neil Hall/Reuters


Onlookers watch in horror as firefighters tackle the blaze. Witnesses say ash and debris are covering the area around the building
Reg Kerr-Bell said he stood down from the Kensington and Chelsea Tenancy Management Organisation (KTMO) several years ago over his concerns about the way it was run.
He said: 'This is a scandal. This is one of the biggest scandals in the country - and it could have been avoided.'
He added: 'This refurbishment contract should never have been managed by KTMO. It was too big for them. My great concern was about the viability of the project.'
He said he met a former director two days ago to discuss his concerns.
'We felt there was a disaster waiting to happen and we were going to have a meeting with the MP so that we could put these concerns to them.
'That was two days ago and today he phoned me and said: 'You will not believe what is going on'.
'It is not going to finish with this - this is just the start.'
Bodies were strewn through Grenfell Tower including in its lobby and undertakers were seen removing the dead in a delicate and treacherous recovery operation set to last several days.
It is believed that the death toll could reach more than 100, but police have said it is not possible to confirm how many people are unaccounted for because the building is still on fire nearly 24 hours after it started.
A series of blunders are being blamed for the disaster with residents claiming there were no working fire alarms, no sprinklers and the only staircase leading to safety was blocked.
A body wrapped up in a blanket, obscured by MailOnline, lies in the ground floor of the White City tower block largely destroyed by fire over night
Cladding is a material attached to a building's frame to create an outer wall (shown in this graphic). The process of applying the rain-proof frontage can create a 25mm-30mm cavity between the cladding and the insulation behind it, shown between the first two layers

Experts were last night focusing their blame for the scale of the disaster on external cladding fitted to the block only last year.
It was made from metal panels and slabs of a polystyrene-like material, separated by a small cavity, fixed to the concrete surface of the outside of the tower.
Together with new windows, the cladding was meant to boost the building's energy efficiency, protect against the weather and smarten up the look of the 1970s facade.
But it appears to provide a fatal conduit for the flames to leap from one flat to another, with witnesses saying the outside of the block ignited 'like a firelighter'.
There are fears that hundreds of high-rise blocks across the UK are fitted with similar materials – even though MPs warned of the potential fire risk nearly 20 years ago.
A report in 1999 by the Environment, Transport and the Regions select committee said: 'We do not believe that it should take a serious fire in which many are killed before all reasonable steps are taken towards minimising the risks.'
The MPs highlighted concerns that the air cavity between the layers of cladding can act as a chimney, helping the fire spread rapidly upwards. Their report demanded that 'all external cladding systems should be required either to be entirely non-combustible, or to be proved through full-scale testing not to pose an unacceptable level of risk in terms of fire spread'.
Grenfell Tower before the refurbishment (top) in 2011 and with the new cladding (bottom)
Undertakers remove bodies from Grenfell Tower today but the recovery of the dead is likely to take several more days as the fire is still not out
But the method was popular as councils sought to meet insulation standards laid out under the Blair Government's £22billion Decent Homes Programme, which ran from 2000 to 2010. It continued to be used even after the 2009 fire at the 14-storey Lakanal House in Camberwell, South East London, which killed six people.
Sam Webb, a fire safety expert who helped gather evidence after that tragedy, said last night there was a conflict between safety and the materials used to make buildings more energy efficient.
'They are not fire-resistant and in some cases they're flammable,' he said. Fires involving cladding have also occurred in Australia,
Russia
and the Arabian Peninsula – adding to the serious safety concerns.
They include two in Dubai, one on New Year's Eve 2015 at the 63-storey The Address Downtown and a second last July at the 75-storey Sulafa Tower.
In Scotland, high-rise blocks are being given safety checks following the London blaze. A spokesman for Aberdeen City Council said checks are already under way on its properties, adding: 'We ensure our buildings meet required standards and regulations.'
Tom Barclay, director of property and development at major Glasgow-based housing association the Wheatley Group, said: 'We want to reassure residents of our multi-storey blocks that we have a robust approach in place to minimise the risk of fire.'
A City of Edinburgh Council spokesman said: 'Our health and safety team regularly audits multi-storey services. However, as a further precaution we will be carrying out a review of fire safety and evacuation procedures in all of our housing blocks.
'
Grenfell Tower was clad last year as part of an £8.6million refurbishment by East Sussex-based builders Rydon, which said yesterday that its work 'met all required building controls'.
Yet the company admits on its website that the insulation material used, Celotex RS5000, 'will burn if exposed to a fire of sufficient heat and intensity… [and] toxic gases will be released with combustion'.
A drone inspects the top floors of the wrecked tower block, where residents on the highest storeys are all feared dead after being trapped in their homes and then engulfed
Firefighters continue to battle large scale blaze in London tower block more than 14 hours after it broke out on the fourth floor



The local community has rallied to supply clothing and food for those made homeless
Design specifications seen by the Mail suggests Grenfell Tower had 150mm (6in) of Celotex RS5000 insulation and overcladding made from ACM – aluminium composite material – with a 50mm (2in) 'ventilated cavity' in between.
ACM is also potentially highly flammable and rescuers yesterday faced the hazard of blazing metal panels raining down on them as they tried to enter the building.
Arnold Tarling, chartered surveyor and fire expert with property firm Hindwoods, said the air cavity could create a 'wind tunnel [that] traps any burning material between the rain cladding and the building'.
Had there merely been one layer of insulation, this could have fallen off and fallen away from the building but the metal cladding meant it was all contained inside.
'Not all insulation used in the process is the more expensive non-flammable type,' he said. 'So basically you have got a cavity with a fire spreading behind it.'
Dr Kostas Tsavdaridis, associate professor of structural engineering at the University of Leeds said: 'The fire seems to have spread inside the building but also outside.
'Some materials used in facades act as significant fire loads: in most cases they are high-temperature resistant instead of fire resistant. But even if they are, smoke and fire will spread through the joints.'
Grenfell Tower was equipped with metal overcladding by Harley Facades Limited, another East Sussex-based firm.
The company, which installed but did not manufacture the panels, said they were a 'commonly used product'. Managing director Ray Bailey said: 'At this time, we are not aware of any link between the fire and the exterior cladding to the tower.'
Celotex, which is based near Ipswich, said: 'Our records show a Celotex product (RS5000) was purchased for use in refurbishing the building. We will assist with enquiries from the relevant authorities.'
Plans for the externals works at Grenfell Tower were approved by the Royal Borough of Kensington and Chelsea.
In May 2016, once work was completed, council leader Nick Paget-Brown said: 'It is remarkable to see how the cladding has lifted the appearance of the tower and how the improvements inside people's homes will make a big difference to their lives.'
The tower's management facing a possible gross negligence manslaughter case it has emerged:
Survivors said fire alarms did not work, there were no sprinklers and they were saved only by phone calls from neighbours;
Victims were given fatal advice by 999 operators to stay in their flats;
Former chief fire officer Jon Hall branded it 'a Third-World type accident that represents a failure of every component of fire safety and building management';
London Fire Commissioner Dany Cotton said: 'In my 29 years of being a firefighter, I have never ever seen anything of this scale';
Labour leader Jeremy Corbyn suggested austerity was a factor;
Theresa May's chief of staff Gavin Barwell was in the dock over claims he 'sat on' warnings about high-rise fires as a minister;
Successive ministers were blamed for ignoring the lessons of a fatal 2009 tower block blaze;
A former Kensington housing boss admitted Grenfell had been a 'scandal waiting to happen';
Contractors Rydon insisted they had complied with building regulations – but later changed their statement to remove mention of fire regulations.
Emergency services are still running through falling debris including glass and its controversial cladding continues to rain down

An emotional woman wearing a breathing mask holds her head in despair as she rests on the pavement near the scene of the blaze in west London
A woman puts a face mask to her mouth as smoke and the smell of burning hangs in the air around Grenfell Tower



Read more: Fears more than ONE HUNDRED have died in Grenfell Tower | Daily Mail Online
Follow us: @MailOnline on Twitter | DailyMail on Facebook

Breaking News: Death toll rises to 17 but with over 100 still missing
The missing: Syrian refugee, 23, who 'came to London for a better life' feared to be first confirmed victim after he and his brother became separated as they scrambled to escape tower inferno

Engineering student Mohammad Alhajali (right), who fled his war-torn home of Daraa three years ago, was confirmed by family and friends today as having died in yesterday's fire in West London which killed at least 12 people. But his older brother Omar (right in left photo; with Mohammad pictured left), a 25-year-old business student, survived the blaze and is now recovering in hospital. Meanwhile a family with three young girls are among the many missing people after a huge inferno engulfed the tower block. It is feared scores of residents died when flames engulfed Grenfell Tower. Those who escaped the blaze have been left trying to find out if relatives, friends and neighbours managed to get out. Social media campaigns have been launched by relatives of several other children and elderly people caught up in the fire who are still unaccounted for.
Blown out windows, melted kitchen tables and washing machines stopped mid-load: Harrowing images reveal the charred remains from inside inferno tower after terrified residents abandoned their homes
These are the first pictures showing the complete devastation left behind by the inferno inside Grenfell Tower. Dozens, possibly hundreds, of people are feared dead after the devastating blaze ripped through the tower housing block. Seventy eight people were taken to hospital as around 600 residents tried desperately escape the flames that broke out at around 1am on Wednesday. Firefighters are still working to completely extinguish the smouldering block of flats more than 24 hours after the blaze started, but a picture of the charred remains of the flats are beginning to emerge showing blown out windows, melted kitchen tables and washing machines stopped mid-load.


'She was hugging everyone to comfort them': Emotional Adele is praised by fans as she makes low-key appearance at scene of tragic Grenfell Tower less than 24 hours after deadly inferno
Adele made an appearance at Grenfell Tower on Wednesday evening, less than 24 hours after a horrific blaze devastated the building, killing and injuring hundreds of residents. One Adele fan account said: 'Adele was going around and hugging everyone she could to comfort them'. Another Twitter user said:: 'i'm so proud stanning a humble & genuine human being like you. i love you so much, queen @Adele... Adele was going around and hugging everyone she could to comfort them.'
Last edited by Blackleaf; Jun 15th, 2017 at

05:31 AM

..