Organisers of a "knob throwing" competition in Dorset hope the current champion tossing record will be broken later.

The Dorset Knob Throwing and Food Festival event in Cattistock involves participants chucking the locally made, spherical biscuit as far as they can.

The record is held by Dave Phillips with a throw of 96ft set in 2012.

The event also features a knob eating contest, knob darts and a knob-a-thon.

Dorset knob throwing: Hopes high for record
BBC News
3 May 2015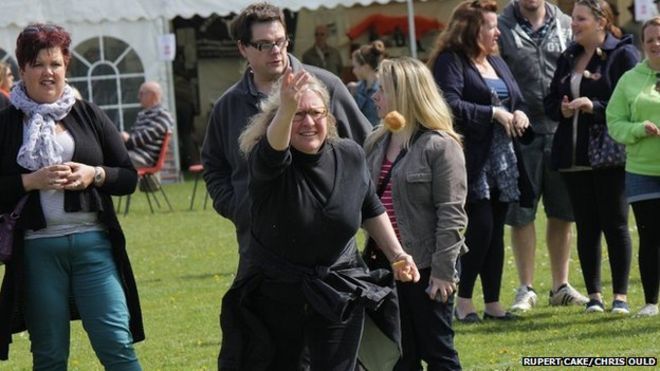 The savoury biscuits must be thrown underarm and the competitor must keep one foot on the ground
Organisers of a "knob throwing" competition in Dorset hope the current champion tossing record will be broken later.
The Dorset Knob Throwing and Food Festival event in Cattistock involves participants chucking the locally made, spherical biscuit as far as they can.
The record is held by Dave Phillips with a throw of 96ft set in 2012.
The event also features a knob eating contest, knob darts and a knob-a-thon.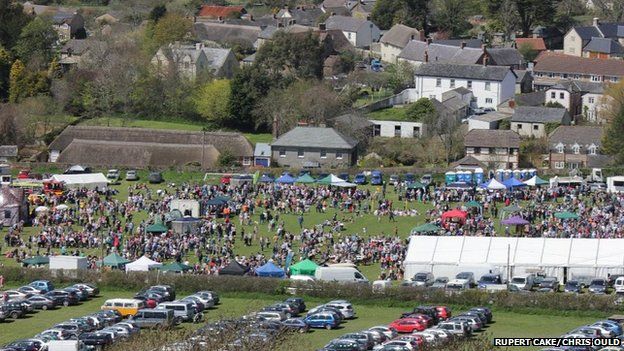 The Dorset Knob Throwing and Food Festival event takes place in Cattistock, near Dorchester, Dorset
Organiser Nigel Collins thought up the idea for the festival, which has been running since 2008, after seeing a Yorkshire pudding throwing contest.
Knob throwing is the "centrepiece" of the event, but Mr Collins said he keeps adding games to the event.
"The knob-a-thon is a lot less strenuous than anything athletes such as Jessica Ennis-Hill or Mo Farah might compete in, but it involves taking part in at least five knob games," said Mr Collins.
Other games include putt the knob, knob walking, knob archery, guess the weight of the knob and pin the knob on the Cerne Abbas Giant.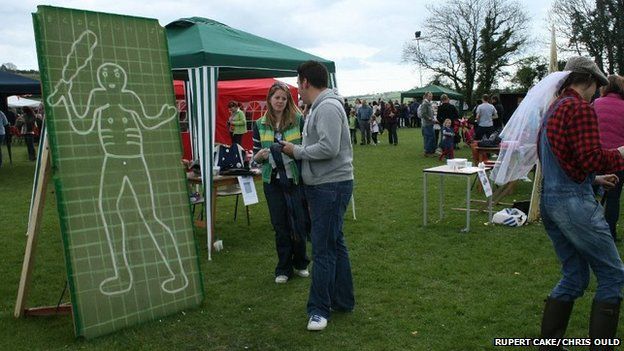 Other games include pin the knob on the Cerne Abbas Giant (pictured, without his knob)
Last year's longest throw was by Dave Morrison, who tossed his knob 71ft.
The winner receives their winning biscuit, made by the Moores family since 1860, and a plaque, while their name is added to a board in the village hall.
The knob eating contest started in 2012 and that year's winner Stuart Lambert still holds the record.
"He managed 14 in the one minute time limit - he was stuffing two knobs in at a time though," Mr Collins said.
Knob throwing rules
Three knobs per go, furthest knob thrown is measured
Use only knobs provided
Standing throw from marked standing point
Underarm throwing only
One foot must remain on the ground during each toss
Distance of the furthest knob only measured within the designated throwing zone, which is 16ft x 104ft
Knob measured at final resting place
If knob breaks upon landing it will be the umpire's decision as to its final resting place
A
Dorset knob
is a hard dry savoury biscuit which is now produced by only a single producer, for a limited time of the year.
Dorset knobs are made from bread dough which contains extra sugar and butter. They are rolled and shaped by hand. They are baked three times. Once cooked, they are very crumbly and rather like very dry stale bread or rusks in consistency.
They are named after their shape's resemblance to Dorset knob buttons, but have also been compared, in size, to door knobs.
Dorset knobs are typically eaten with cheese (for example, Dorset Blue Vinney). Dorset knobs were said by his parlour maid to have been a favourite food of local author Thomas Hardy. As they are so hard, they are also eaten by first soaking them in sweet tea.
In the past there were a number of producers of Dorset knobs. Today the only firm to produce them commercially is Moores Biscuits of Morcombelake, four miles west of Bridport in the west of the county of Dorset.
Dorset knob throwing: Hopes high for record - BBC News
Last edited by Blackleaf; May 3rd, 2015 at

06:23 AM

..