G
Here's your chance to name the European rover that will go to Mars in 2020.

Currently called ExoMars, the six-wheeled robot needs something a bit more engaging and inspiring for when it lands on the Red Planet.

Astronaut Tim Peake is leading the hunt for a great moniker.

He wants everyone to go to a special website set up for the purpose and enter a suggestion. But don't think "Spacey McSpaceface" is a goer because this is not an online poll
.
Wanted: Inspiring name for Europe's 2020 Mars rover
By Jonathan Amos
BBC Science Correspondent
20 July 2018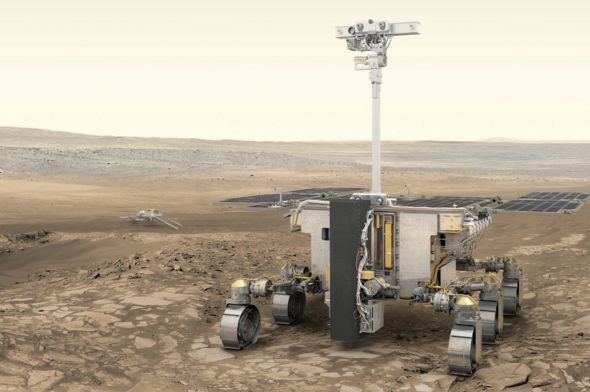 Artwork: The ExoMars rover would land on the Red Planet in early 2021
Here's your chance to name the European rover that will go to Mars in 2020.
Currently called ExoMars, the six-wheeled robot needs something a bit more engaging and inspiring for when it lands on the Red Planet.
Astronaut Tim Peake is leading the hunt for a great moniker.
He wants everyone to go to a special website set up for the purpose and enter a suggestion. But don't think "Spacey McSpaceface" is a goer because this is not an online poll.
All ideas will be put before an expert panel and it is they who will make the final choice.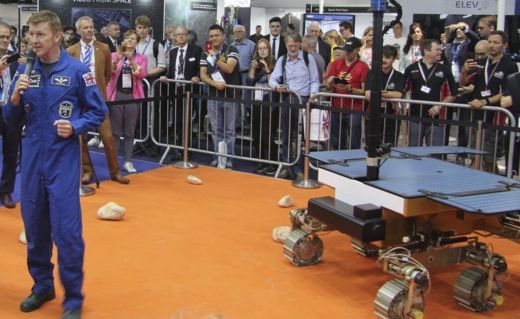 European Space Agency astronaut Tim Peake at Friday's air show event
The vehicle is currently being assembled at the Airbus factory in Stevenage, Hertfordshire.
Its job when it lands on Mars in 2021 will be to seek out signs of present or past microbial life. The robot will even have a drill to dig 2m into the ground to see if any bugs are hiding away from the surface.
Tim says thinking about the rover's mission might be the source for a great name. "I often get asked 'Is there life out there beyond Earth?'. It's a very fundamental question, and it's one that this rover is going to try to answer," he told BBC News.
Dr David Parker, the director of human spaceflight and robotics at the European Space Agency, agreed: "The Americans called their Mars rovers Spirit, Opportunity and Curiosity. We've tended in the past to name our missions after famous scientists.
"But, yes, perhaps this time we go with a name connected with the search for life - biology, genetics, DNA, whatever. Who knows? We just want a great name."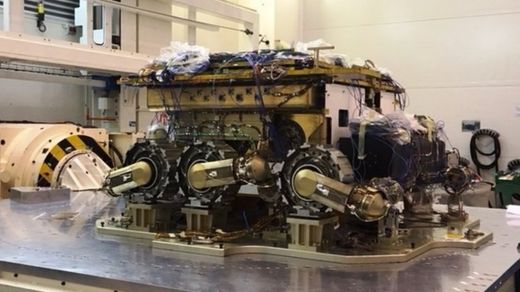 Rover development is being led from Airbus in the UK
Britain acquired the naming rights for the rover at Esa's Ministerial Council in 2014. It got them because the country is the key financial contributor to the rover; part of Europe's two-part ExoMars project. The other part is a satellite that is already orbiting the planet studying its atmosphere.
However, the UK Space Agency says it wants the search for a name to be as wide as possible. This means anyone resident in an Esa member state can put forward a suggestion (including associates, eg Canada).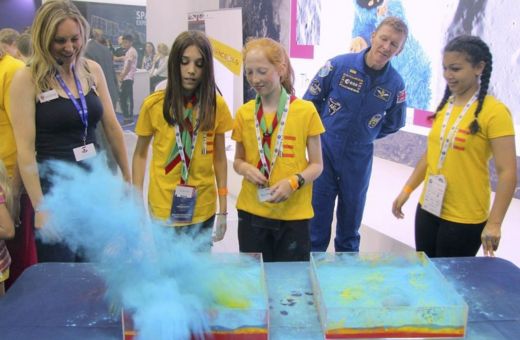 There's a big push on to develop the engineers of tomorrow
Tim Peake launched the name search at the Farnborough International Air Show on Friday. He used the same event to kick off the Holiday Makers campaign - an initiative aimed at getting children making, inventing and exploring engineering.
The campaign is running a series of free family-friendly activities and events across the country as part of the government's Year of Engineering.
The Esa man was helped by Dr Suzie Imber, from the University of Leicester's Department of Physics and Astronomy. Suzie won the BBC show Astronauts: Do You Have What It Takes?"
She said: "It's always a delight to open young people's eyes to how exciting engineering and science can be and the government's Year of Engineering campaign is a fantastic way that scientists like Tim and me can share some of the amazing research that is happening in labs across the country, and the vital role engineers play in this."
https://www.bbc.co.uk/news/science-environment-44889596
Last edited by Blackleaf; Jul 21st, 2018 at

05:41 AM

..