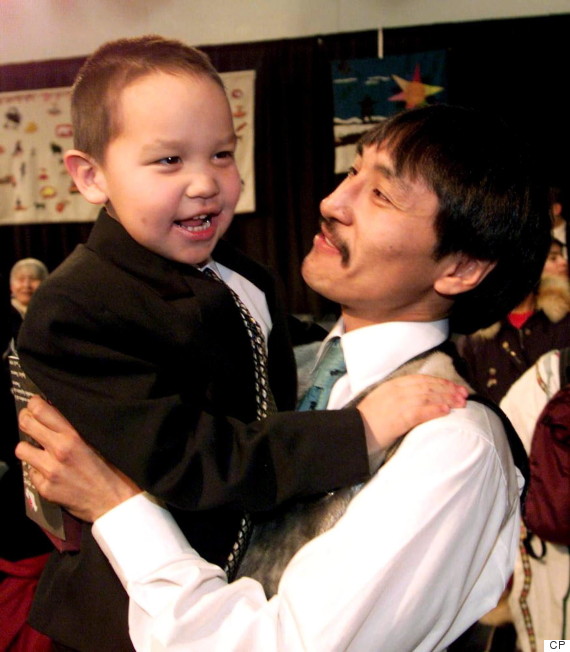 N
unavut Premier Paul Okalik hugs his son Jordan after being sworn-in as a Member of the Legislative Assembly in Iqaluit, Nunavut on April 1, 1999

A veteran politician stood up in Nunavut legislature and announced his resignation from cabinet Thursday in protest over the territory's plans to open a liquor store.

Paul Okalik opened his remarks with a candid confession: "My name is Paul and I'm an alcoholic."

Okalik, a former premier who recently served as minister of health and justice, said the birth of his children prompted him to stop drinking, saying he took his last sip of alcohol on June 11, 1991. And, as a recovering alcoholic, he said he could not stand by the government decision.

"I cannot continue as a minister under the current circumstances," Okalik said.

A majority of Iqaluit residents voted in a plebiscite last year to open a beer and wine store. The decision rattled Okalik, who called it short-sighted given that Nunavut has has no treatment facilities to help people struggling with addiction.

"I cannot support an institution of selling beer and wine in my community, while we don't have the facilities to support those who may not be able to combat their addictions," he said in his speech.

In addition to the health and justice files, Okalik also served the territory's consensus government — where politicians are elected as independent candidates — as minister responsible for the human rights tribunal, labour standards board, suicide prevention, and immigration.

Peter Taptuna, the territory's current premier, accepted Okalik's resignation and in a statement and thanked him for his "dedicated service" to cabinet.

'I have my limits, and this was one of them'

In an interview with CBC News following news of his resignation, the longtime politician cited his principles as the motivating factor behind his decision to step down from cabinet.

"I'm following the parliamentary convention that we abide by, which is a cabinet system where if a minister cannot live with principles or the decision of cabinet," the Iqaluit-Sinaa MLA said in an interview.

"And I have my limits, and this was one of them."

Paul Okalik, Nunavut MLA, Quits Over Territory's Plans To Open Liquor Store

How refreshing - a person who actually stands by their principles. Nunavut's government lost a good man here - hope it might spark them to carefully consider his concerns over treatment centers.