The Brexit Party's Abdul Turay is standing against Labour's David Lammy in Tottenham, North London, to counter Lammy's myth that the Brexit Party is racist...

Why I'm standing against David Lammy

Brexit Party candidate Abdul Turay on the myth that Brexit is a racist enterprise.
Abdul Turay
7th November 2019
Spiked
Abdul Turay
Just days after Britain voted to leave the
European Union
in June 2016, David Lammy, Labour MP for Tottenham,
demanded
that parliament ignore the referendum result.
This is not surprising. David Lammy is one of parliament's most ardent Remainers. Since the
Brexit
vote, he has
compared
Brexiteers to Nazis and continually suggested that Brexit supporters were motivated by racism.
Lammy's view is not unique. Many in the media and in the Remainer army also believe that Brexit was
racist
and xenophobic.
This is such an outrageous lie. It is staggering that so many people have bought it for so long. As the Brexit Party's prospective parliamentary candidate for Tottenham, I intend to challenge this ugly narrative.
For all the talk about 'racist' Britain, the EU is simply not diverse. The EU is a protectionist club that prevents Britain from trading freely with the rest of the (non-white) world. It is also predominantly white. And European institutions in Brussels and Strasbourg are disproportionately white and male.
Brexit is not about immigration. Brexit is about sovereignty and democracy. But even if we do have to talk about EU immigration, that, too, is white. Many of the immigrants to Britain over the past 15 years have been white people from former Eastern Bloc countries. Britain's Polish community is now over 800,000,
according
to the Office for National Statistics. And Polish is now the
second most widely spoken language
in the UK after English.
Settled refugees, meanwhile, cannot emigrate from one European country to another. This is due to the third-country status the EU designates them. This means Syrian refugees now settled in Germany cannot move to live in the UK.
That the Remainer army is oblivious to these facts is hardly surprising. Just look at the people who descend on London every so often to demand a so-called People's Vote. They are almost all middle-class,
Guardian
-reading, home-counties types – people who have little real contact with migrant communities.
Many of us – black English men and women; working-class, Windrush families, like my own – support Brexit. We, too, want control of Britain's borders. Part of this is about immigration, and concerns about the impact this has had on the economy and the housing market. But, most of all, we want our sovereignty back.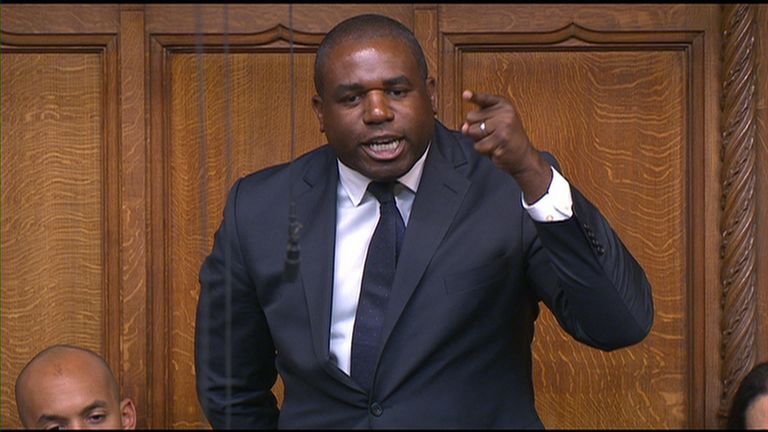 David Lammy
Britain is not like other European nations. It has historical and cultural ties with many other parts of the world. My roots, for instance, lie in the Commonwealth. But Britain turned its back on the Commonwealth when it joined the European Union. In doing so, Britain turned its back on families like my own.
Britain should leave the European Union and rebuild its ties with Commonwealth nations, as partnerships of equals. We would be free to trade with and invest in the Commonwealth.
While the British spent a century enslaving Africans, they also spent another century helping to liberate them. While other European nations were still enslaving Africans, the Royal Navy patrolled the Atlantic trying to stop them. They would capture any slave ships they could find, and liberate their passengers.
Indeed, my parent's country of Sierra Leone was founded by black British people, liberated by white British sailors. That's why the capital city is called Freetown.
There's a reason every former colony has chosen to maintain its relationship with Britain through the Commonwealth. Because the ties are strong.
The EU, however, has done nothing for Africa, Asia or Latin America. I defy Lammy, or anyone else, to name even one way that an Asian or black person benefits from EU membership.
While David Lammy claims to stand for BAME people, all he really cares about is hobnobbing with his high-powered friends in Europe. In this election, I hope to offer the people of Tottenham an alternative.
Abdul Turay
is the prospective parliamentary candidate for the Brexit Party in Tottenham.
Comments
Ven Oods
7th November 2019 at 12:04 pm
"This is not surprising. David Lammy is one of parliament's most ardent Remainers."
You could equally well have claimed:
David Lammy is one of parliament's most consistent Idiots.
Puddy Cat
7th November 2019 at 10:02 am
Terminology, dont you love it. I'd like to know to what actually constitutes racist language, how far you can stretch the boundaries until discourse is all but impossible and every uttered or written thing has to be interrogated by authority. The most gormless aspect of race is its promotion. We cannot let sleeping dogs lie and because the vocally incontinent of questionable sanity may say something rude, that's what it is rude, uncouth, illiterate. But instead we have to be subjected to ever stricter rules to allow a small percentage of our population to what, thrive? Soon the coloured part of our society will be so infantilised as to be unable to conduct normal social functions. The idea of competing will be out the window. Even now there is a rash of coloured representation in advertisements, it's all so contrived and the more your attention is drawn to the less functional and more contrived society becomes. Exception needs and arbiter that is a political function and that's where dragons be. We do not know what constitutes bullying, what its parameters are. Normal conversation is impossible, it becomes a contrivance. The complaints against sexist practices are legion what are the parameters to sexism? The answer is that there are no limitations and they take on the intolerance of the individual. Living in a currently dysfunctional society how do we become the guardians of the world's morals?
Michael Lynch
7th November 2019 at 9:53 am
At last, someone with common sense and sees identity politics for what it is; a poisonous ideology that only divides people. Go for it, my friend. Hope you win.
Jerry Owen
7th November 2019 at 9:05 am
If I lived in Tottenham you'd get my vote !
You may find it a hard task as the people of Tottenham seem to be happy enough with a low quality representative like 'Mastermind Lammy' that thinks Henry VII succeeded Henry VIII to the throne!
A Game
7th November 2019 at 8:51 am
Yes, the ideas that Remainers cling to, the well of ignorance. Always this top layer of rhetoric, but the moment it goes deeper, they have no idea what they are really supporting.
It must be deeply frustrating having establishment types like Lammy speaking on behalf of your minority. Just a gamer, just looking after himself, his own career… horrible betrayal to people.
That is the thing. I don't think existing minorities fare at all well with an unceasingly high migrant programme. How could they? They are now competing for resources, every year, with more, "needier" people.
Go the Brexit Party. Time to break up the status quo.
Mike Stallard
7th November 2019 at 8:39 am
Abdul – how de body? Ah bin day Koiduside for teach bushboys English! E fine!
Jerry Owen
7th November 2019 at 8:59 am
Idiot.
Michael Lynch
7th November 2019 at 9:53 am
Pratt.
Stephen J
7th November 2019 at 8:08 am
Good piece, and good luck up there in Tottenham, I don't fancy your chances, even though I am a paid up supporter of the Brexit Party.
There was a funny line near the end when you wrote: "I defy Lammy, or anyone else, to name even one way that an Asian or black person benefits from EU membership."
Well I might suggest that Commonwealth citizens were given and took the opportunity to defend the EU's interests during the WW2, as he said on the BBC a couple of years back, something which they didn't even realise they were doing when they thought they were defending the British way of life.
https://www.spiked-online.com/2019/1...t-david-lammy/