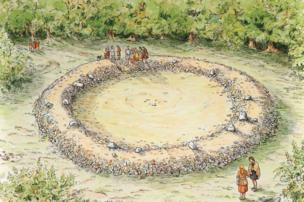 A previously unknown Bronze Age monument has been discovered hidden in woodland in the Forest of Dean following an airborne laser scan.
The ritual monument, known as a ring cairn, dates back to about 2,000 BC.
It consists of a circular bank with several small limestone standing stones on top.
Archaeologist Jon Hoyle, who found it, said it was the only site of its kind known about in Gloucestershire, and was a "very significant" discovery.
https://www.bbc.co.uk/news/uk-englan...shire-50208092