Steven Gerrard has given himself five years to achieve the two biggest targets in his career - win the Premiership and the World Cup.
The Liverpool and England midfielder turns 30 on 30th May, the day that England play Japan in a pre-World Cup friendly.
So, as he starts to see the end of his career appearing on the distant horizon he wants to see Liverpool become English Champions for the first time since 1990 and England become World Champions for the first time since 1966 at some point within the next five years.
That would mean England having to win this year's World Cup in South Africa or the 2014 World Cup in Brazil.
Gerrard made his Liverpool debut in November 1998 against Blackburn Rovers and made his England debut on 31st May 2000 against Ukraine.
Gerrard wants World Cup and title in five years - Exclusive
5 27/03/10
By Simon Mullock
The Sunday Mirror
28th March 2010
Steven Gerrard has given himself five years to achieve the two biggest targets of his career.
With his 30th birthday ­approaching Gerrard has set his sights on winning the World Cup with England and the Premier League title with ­Liverpool.
Gerrard celebrates the landmark on May 30, the day that England face Japan in a pre-World Cup friendly, and just three days before Fabio Capello's side fly to South Africa.
And although he has been Liverpool's driving force for more than a decade, and earned 78 international caps along the way, he still dreams of writing one dramatic final chapter to his career.
"It's a big time for me – I am aware of my age and what I want out of the remainder of my career," said Gerrard.
"I look after myself, and I'm in good shape physically so I believe I've still got five years to fight for all the big prizes in football. I'll do everything I can to keep going."
Steven Gerrard making his Liverpool debut in 1998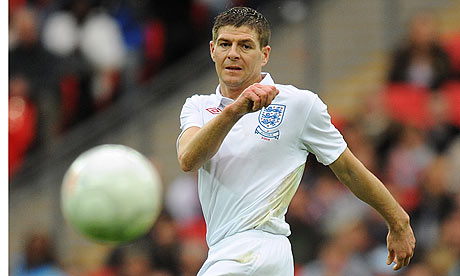 A bit of all white: He is also one of England's star players
The first prizes on offer are fourth place in the League and the first ever Europa League trophy with Liverpool.
But it is in South Africa where Gerrard can really make himself a national hero, 10 years after making his England debut against the Ukraine on May 31, 2000.
"We have a chance," ­insisted Gerrard. "This England team has been together for a long time and I don't think there's too many excuses out there for us any more. It is time to deliver.
"It's easy to sit in front of a camera and say we should do this, we should do that. The most important thing is to do your talking on the pitch."
The target for Liverpool is perhaps more long-term ­because although the battle for fourth place is absolutely crucial, the ultimate dream of that elusive League title will have to wait at least ­another year.
Gerrard's dream is to lift the World Cup with England within the next five years. It would be the first time England have lifted the World Cup since 1966 (above)
"It's fair to say it's been a mixed season for me," ­admitted Gerrard. "It's been positive for England, because we've qualified for the World Cup and we've been winning football matches. But at Liverpool there have been times when it has been tough. But that's football, you have to deal with that.
"You have to accept that as a team we have underachieved and I have to accept that there have been times when my form hasn't been good. We deal with that and move forward.
"There's a chance to finish the season on a high with ­Liverpool now, by finishing fourth and going to a cup final. It would be fantastic if we could achieve both of those things. Then you focus on the World Cup.
"Things change quickly in football," he added. "That's why my main ­priority is to try and finish the season strongly with Liverpool.
"That will give me a big lift going to the World Cup, and then I'll be going feeling ­positive that I can achieve something really important with England."
Steven Gerrard was talking at an event organised by the Nationwide Building Society, proud sponsor of the England team. The Giant England shirt is touring the country before it heads to South Africa. Find out more at Nationwide Football
mirror.co.uk
Last edited by Blackleaf; Mar 28th, 2010 at

11:41 AM

..