An "urgent inquiry" is needed after a male gorilla escaped from its enclosure at London Zoo, say conservationists.

The western lowland silverback's escape did not endanger the public but it "could have ended very differently", the Born Free Foundation warned.

Despite it only getting into the secure keepers' area, the organisation said it was a "startling reminder" of the risks of keeping wild animals in captivity.

The zoo is investigating and said the gorilla is a "gentle giant".

London Zoo gorilla escape: Born Free wants 'urgent inquiry'
BBC News
14 October 2016
"There was no danger", London Zoo's Malcolm Fitzpatrick said. He added Kumbuka is a "gentle giant"

An "urgent inquiry" is needed after a male gorilla escaped from its enclosure at London Zoo, say conservationists.
The western lowland silverback's escape did not endanger the public but it "could have ended very differently", the Born Free Foundation warned.
Despite it only getting into the secure keepers' area, the organisation said it was a "startling reminder" of the risks of keeping wild animals in captivity.
The zoo is investigating and said the gorilla is a "gentle giant".
London Zoo is open to visitors but the gorilla enclosure remains closed for now.
Malcolm Fitzpatrick, curator of mammals at London Zoo, said: "He did not smash glass to get out of his area. He got out of his back den area into a secure keeper area."
Armed police were called in as staff sought to recapture the 29-stone gorilla, called Kumbuka, which was eventually tranquilised and taken back into captivity.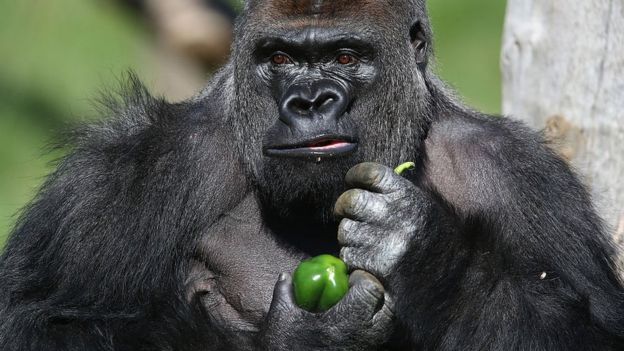 The zoo said Kumbuka, a western lowland silverback, arrived from Paignton Zoo in Devon in early 2013
The Born Free Foundation - which wants to see zoos phased out - has called on the Zoos Expert Committee (ZEC), the government's advisory body, to investigate the welfare of great apes in zoos across the UK.
"While we are relieved that this incident apparently ended without injury to visitors or to the gorilla, it is yet another startling reminder of the risks associated with maintaining dangerous wild animals in captivity," said Chris Draper, the foundation's associate director for animal welfare and care.
"We are calling for an urgent inquiry into the circumstances surrounding this escape, and into safety procedures at London Zoo."
Mr Fitzpatrick said Kumbuka escaped at 17: 15 BST on Thursday but was caught and returned to his den in about an hour and had recovered "very quickly" after being tranquilised.
"Yesterday evening [Kumbuka] was making happy gorilla grumbling noises and interacting with the rest of his family in the Gorilla Kingdom and also the keeper stayed on and gave him some extra treats yesterday evening," he said.
Police and evacuated visitors stand outside London Zoo yesterday
"Gorillas are highly intelligent and what I can confirm also about Kumbuka is that he's got a lovely character. He's a real gentle giant.
"However, he is a big impressive silverback and one of the things silverbacks do is that they almost display to force their authority so they will bang tree trunks and they will bang windows but it's very much just a display behaviour."
Responding to criticism about welfare of animals, he added zoos were involved with many conservation projects and animals at London Zoo had a "very good quality of life".
Visitor Brad Evans said customers had been locked inside the zoo's cafe at about 17:10 and were told by staff a gorilla had escaped from its enclosure.
Metropolitan Police officers arrived at the zoo at 17:20 and the animal was recaptured shortly before 19:00.
Eyewitnesses Hannah O'Donoghue-Hobbs and Charlotte Neild said the gorilla's escape was "like being in Jurassic Park ".
'Up and grumbling'
Jonathan Mall, who was at a conference at the zoo, said he and other visitors were forced to take refuge in a bird enclosure for up to 30 minutes, as armed officers arrived.
"I was kind of scared, to be honest, because we were in a really closed space where everything is green and beautiful but there could be a gorilla hiding behind every bush," the 33-year-old from Hamburg said.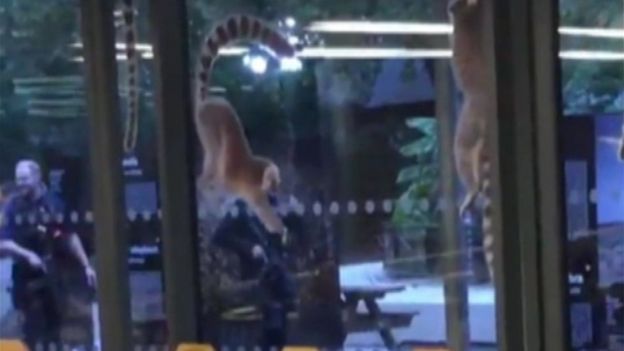 Police arrived at London Zoo to assist in the recapture

Kumbuka, who came from Paignton Zoo in Devon in 2013, is understood to be one of at least seven gorillas at the zoo's £5m Gorilla Kingdom, which was opened in 2007 by the Duke of Edinburgh.
The recapture comes after
Harambe, another gorilla, was shot and killed at Cincinnati Zoo
in the US after a young boy fell into its enclosure.
The boy was not seriously hurt and Harambe's death sparked anger on social media.
London Zoo gorilla escape: Born Free wants 'urgent inquiry' - BBC News
Last edited by Blackleaf; Oct 14th, 2016 at

05:17 AM

..