A star of the cult film Witchfinder General has spoken of its enduring appeal, 50 years after its release...

Witchfinder General star Ian Ogilvy talks of film's appeal
By Nic Rigby
BBC News, East
1 July 2018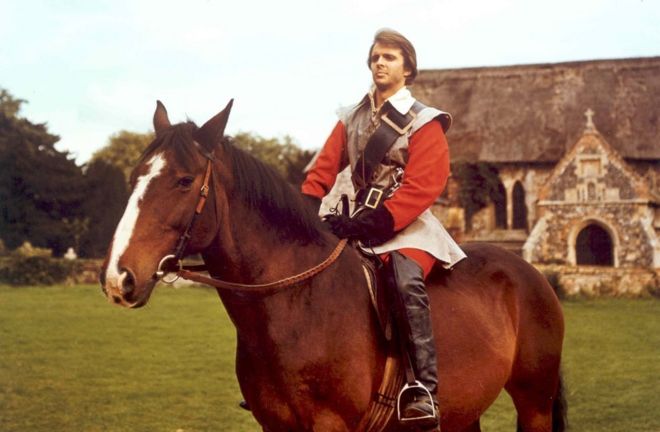 Ian Ogilvy would go on to star in The Return of the Saint and I, Claudius on television as well as becoming a successful children's writer
A star of the cult film Witchfinder General has spoken of its enduring appeal, 50 years after its release.

The movie was shot at locations across Suffolk and Norfolk including Lavenham, Kersey, St John's Church in Rushford and Kentwell Hall in Long Melford.
The crew and cast, which included horror star Vincent Price, stayed at the Angel Hotel in Bury St Edmunds.
Ian Ogilvy, one of the lead actors, said he enjoyed making the film with friend and director Michael Reeves.
The film is a semi-fictional account of the 17th Century witchfinder Matthew Hopkins, of Mistley in Essex, who was paid to get confessions of witchcraft from women, who were then put on trial.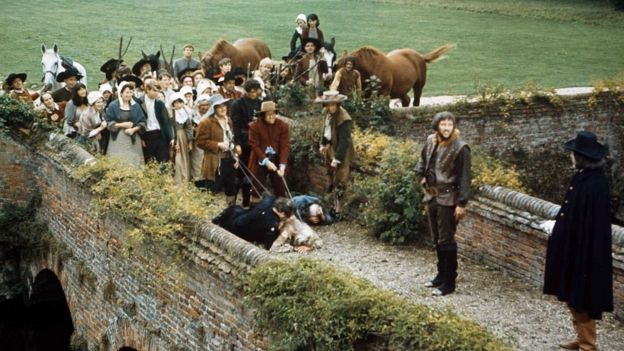 Many of the scenes were shot in and around Kentwell Hall in Long Melford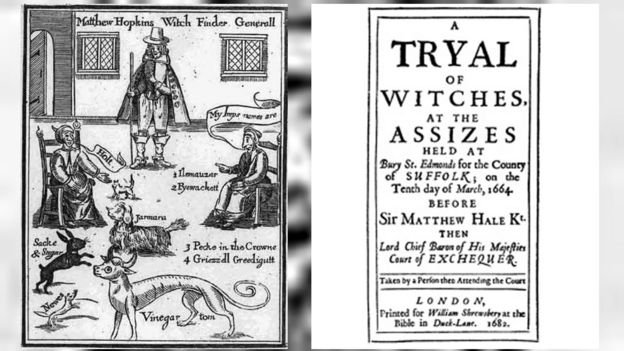 A print featuring the witchfinder Matthew Hopkins and a contemporary poster giving notice of witch trials in Bury St Edmunds in 1664
Reeves, who grew up in Suffolk, died less than a year after the release of UK/US production at the age of 25 of an accidental alcohol and barbiturate overdose.
Ogilvy said this was one reason the film has grown to have cult status.
"Being cynical about it, the fact Reeves died so soon after the movie came out must be one reason it endured," he said.
"But it is also a very good and interesting film and caused such a fuss when it came out [writer Alan Bennett called it 'persistently sadistic and morally rotten']."
The movie was also ahead of its time in not having a "happy ending" with matters neatly resolved.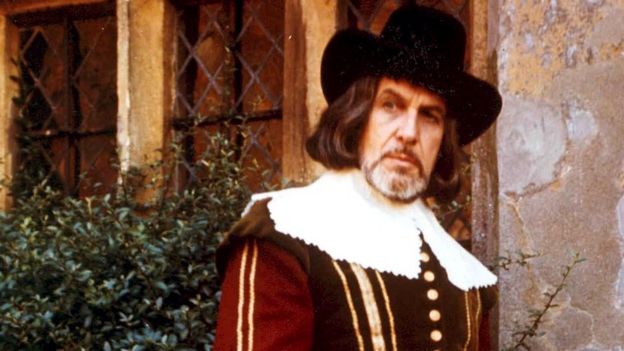 Vincent Price (1911-1993), who played Matthew Hopkins, would hold court in the bar of the Angel Hotel with tales of Hollywood
Ogilvy said that is partly due to a "happy mistake" as they ran out of time to film the final three pages of the script.
He said his fondest memories of the film are of "charging around Norfolk and Suffolk countryside on an almost unstoppable horse".
Ogilvy said Price was a "very funny man, Vincent would hold court in the bar [of the Angel Hotel] with tales of Hollywood".
Leading lady Hilary Heath, then called Hilary Dwyer, who was in her early 20s when she starred in the film, said director Reeves "was terrific, we became really good friends".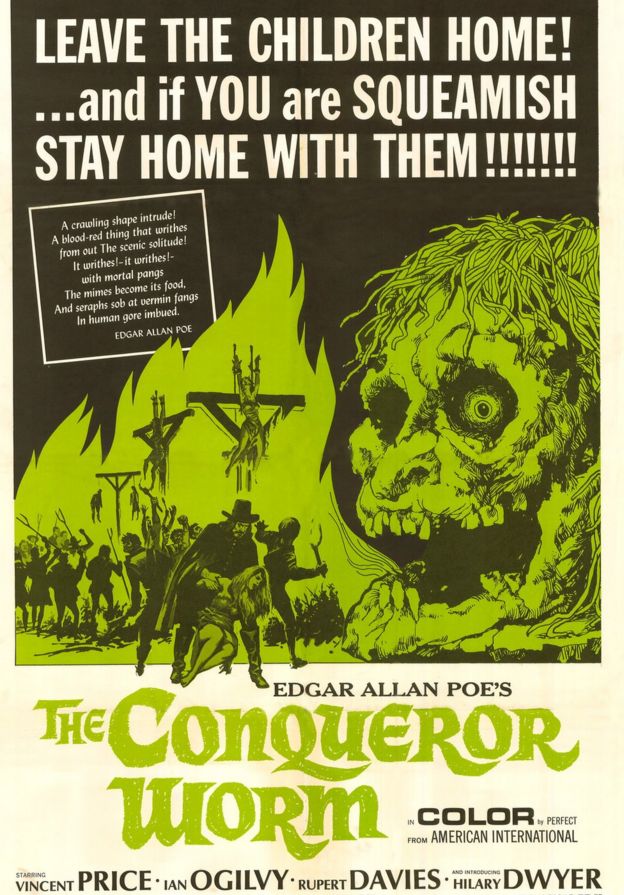 In the US the film's title was changed to The Conqueror Worm although it had no connection to Poe's stories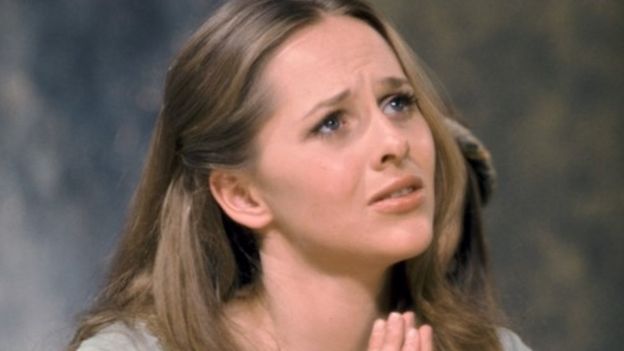 Hilary Heath, who was in her early 20s when she starred in the film, was impressed by the director Reeves
Reeves and cinematographer John Coquillin would watch rushes of the movie after each day of filming at the Abbeygate Cinema, Bury St Edmunds, where Patrick Church worked as projectionist.
Mr Church said: "They were filming Vincent Price riding off through the forest and all the camera picked up were the branches of trees - they had to reshoot it the next day."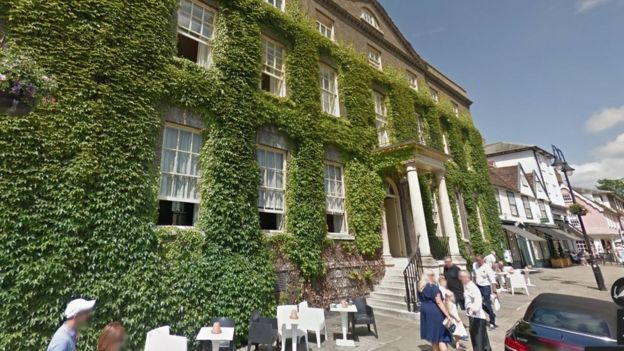 Vincent Price expert Paul Fuller said Price stayed in Room 215 at the Angel Hotel in Bury St Edmunds and it still contains the bed he slept on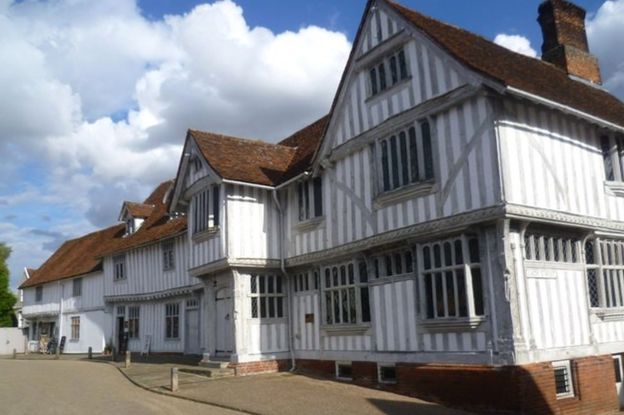 The 16th Century Guildhall on Lavenham's Market Place featured in a key witch-burning scene
Anne Churchard, 64, who has lived in Lavenham all her life, said: "I remember watching the witch-burning in the Market Place.
"Lorry loads of sand and straw made it look very authentic. They lowered the stunt girl into the fire and lifted her out when her eyebrows singed and then put in the dummy.
"The fire brigade was hiding behind the cross."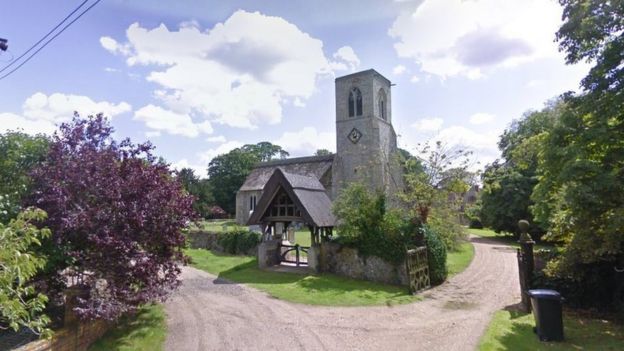 Filming also took place at St John's Church, Rushford, and Vincent Price expert Paul Fuller has recently arranged tours of Witchfinder locations including the church
The filming not only made an impression on local people, but also on the dead, if a story Reeves told Ogilvy is to be believed.
Ogilvy said that Lavenham people told him that the night after they filmed the witch-burning scene there was "a lot of ghostly banging and crashes - it had caused ructions in the spirit world.
"Reeves thought it was very funny, the idea that a film could cause upset among ghosts," he said.
https://www.bbc.co.uk/news/uk-england-suffolk-44541056