Top News
Stern: We are committed to the Chinese market
By Chen Xiangfeng (China Daily)
Updated: 2010-10-15 08:19

Comments
(0)

Print

Mail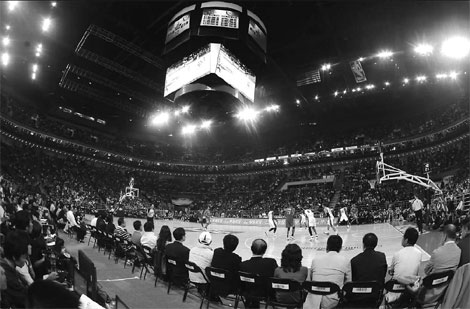 A sold-out stadium takes in this year's first NBA China Game between the Houston Rockets and New Jersey Nets on Wednesday at Wukesong Arena in Beijing. The NBA says it will continue its efforts to help cultivate fans and develop the sport in China. Zhong Ti for China Daily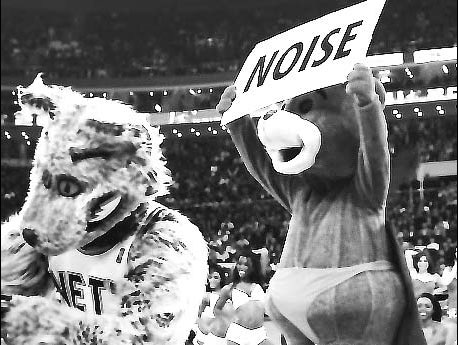 Mascots from the Houston Rockets and New Jersey Nets, together with cheerleaders, entertain the fans during the NBA China Game on Wednesday at Wukesong Arena. [Provided to China Daily]
Related story:
NBA chief: It's good to have Yao back
Commissioner says local star not necessary for China Games success
BEIJING - An energetic David Stern is busy in China meeting friends and China Basketball Association (CBA) officials, holding interviews and watching the NBA China Games.
It is a busy trip but one the 68-year-old NBA commissioner believes will be ultimately rewarding as he says the NBA is committed to the Chinese market.
"We want to tell our Chinese fans that we are committed to the market and to show our games here in China," Stern said during an exclusive interview with China Daily to promote the two NBA China Games in Beijing and Guangzhou. "In the past, Chinese fans have to get up early in the morning, seven or nine o'clock to watch NBA games. Now with the China Games, they can watch at eight o'clock at night."
The NBA's first Chinese preseason game was held in Shanghai in 2004, and this year's exhibitions mark the fifth time the world's most populous nation has hosted NBA practice games.
Stern said the preseason games in China helped develop the level of arenas in Chinese cities.
"The No 1 thing for us is to demonstrate NBA games in beautiful arenas. Remember, when we were here in Shanghai, 2004, the arena had to be improved. Now we have new stadium," he said.
"In Beijing, we only had the Capital Stadium to host the China Games. Now we can have the games in Wukesong Arena. We helped contribute to the development of those beautiful arenas.
"However, the most important thing is to grow the game expose it to more fans and bring our existing fans closer to the games."
Stern said he expected more cities to join Beijing, Guangzhou and Shanghai in having NBA-standard arenas.
"We have had other cities visit us and show their interest. They want our advice to help build such arenas," he said.
But he also said the venues should be used in a variety of ways to entertain Chinese people.
"People in Shanghai, Guangzhou and Beijing love the NBA arenas ... but they are not just about the NBA. They can host concerts, family shows and circuses. It's great to let Chinese people enjoy themselves in these places. Basketball is just a small part of it. Exhibitions, concerts and gymnastics events can also be held," he said.
One of Stern's aims is to bring NBA regular season games to overseas countries, including China, but he said no concrete plans were in place as yet.
"Bringing regular-season games to China would be very costly. You must pay a lot for the travel and players. There are some difficulties to achieve this. So far we do not have a specific plan to bring regular-season games to China," he said.
Chinese hoops fans will also have to wait longer for an NBA-affiliated league in China.
Six years ago, Stern tried to create an NBA-affiliated league in China but has now changed his mind, saying the most important thing is to work with the CBA to develop the sport.
"In respect of China, we have decided that the best thing is to develop our partnership with the CBA. We have committed to work every way possible the CBA would like to help it perform to its potential and develop young basketball players," Stern said.
"That is going to be our focus in China - to work with coaches, to work on the officiating, to work with players and to work any other way that the CBA would like. We will also help in the development of sports medicine, training and nutrition."
Q & A | David stern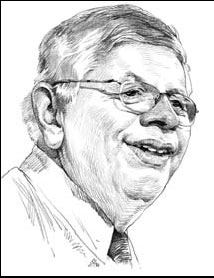 Is it likely China will see an NBA Finals or All-Star Game?
Travel will be a difficulty for the teams. It will take two weeks out of the season. China is very far.
Have you told Yao Ming how to be a good boss?
I have told him nothing. He told me.
We had a brief talk last night. My advice to him to not waste a minute. He is still young and competitive. He wants to play. Houston is very wise to have him.
If there are two matches, one has Yao Ming and one has Yi Jianlian, which one do you go to watch?
There are 30 teams in the NBA I would like to watch.
Every time you have said Yi and his team will come to China he gets traded.
That's why I will not schedule his team anymore. Because I do not want to see him traded.
I think he is a very good player and he will get better. In Washington, he has John Wall, Gilbert Arenas, and together with other young players, Washington will be much better this year.
So are you going to bring the Washington Wizards to China?
I do not know which team will be scheduled to come to China in the future. I think it is no longer necessary for us to have a Chinese star for the NBA China Games because Chinese fans are so sophisticated. They just appreciate the games and not just the Chinese stars.
What do you think of super team the Miami Heat after it signed Chris Bosh and LeBron James?
They have not played one game yet in the regular season. It's premature to say it's a super team. We can say Kobe (Bryant), Pau (Gasol), Lamar (Odom), that's a super team. Kevin (Garnett), Paul (Pierce), Ray (Allen), that's a super team. We will see if the Heat will become a super team in the new season.
We have the big three in Boston. Now we have a big three in Miami. Is it a good tendency or bad tendency considering the increasing gap between big teams and small teams?
I think it's always been a tendency. From Larry Bird, Robert Parish and Kevin McHale to Michael Jordan, Scottie Pippen, Steve Kerr or somebody. In most cases it's been a tendency to have a big three or even big four. It's interesting to me. It's too soon to make a judgement (if it's good or bad).
The NBA has 30 teams, do you have any plans to include more?
There are no plans for expansion. When I am in Europe they always ask me about Europe's position in the NBA. I said: 'Yes, in 10 years', and I said that 10 years ago. I'm now still saying it will happen in 10 years. There's no current plan for expansion.
What do you feel is the biggest achievement you have made during your tenure?
Just working hard! Seeing the sport grow. From small sport to becoming a big sport. A local sport that has become a global sport.
After you retire, how would you like your tenure to be remembered?
Just that we worked very hard, grew the game and respected the values of the game. We showed discipline, hard work and teamwork. We showed how to win and how to lose.
Are you going to retire?
Yes, I will announce it in China. That's a joke.
Fact file
Birth date: Sept 22, 1942
Birth place: New York City
CAREER:
1966: Outside counsel representing NBA at Proskauer Rose
1978: NBA's general counsel
1980: Executive vice president of NBA
1984-current: Fourth commissioner of NBA, succeeding Larry O'Brien
HIGHLIGHTS:
1980-1984: Reached two landmark decisions with the NBA Players' Association on drug testing and team salary cap.
1991: Successfully brought NBA games to Chinese audience by providing CCTV (China Central Television) a free broadcasting deal during his first visit to China.
1996: Oversaw the foundation of the WNBA (Women's National Basketball Association).
2002: Chinese center Yao Ming joined Houston Rockets as the 37th top pick in the NBA's history, which symbolized NBA's solid commitment to the Chinese market.
Oct 2004: Launched NBA preseason games in China with the first-year games between Yao's Houston Rockets and Sacramento Kings held in Shanghai and Beijing.
2005: Launched NBDL (National Basketball Development League), the NBA's official minor league basketball association.
Current: Under Stern's management, the NBA has expanded from 23 to 30 franchises, and is televised in 215 countries in 43 languages. The NBA now has 11 offices in cities outside of the United States.
China Daily