+2
#10411
Re: Gun Control is Completely Useless.
Dec 4th, 2018
The Gun debate in Canada: Where lies truth? Part-1
By
RCI
|
english@rcinet.ca
Monday 3 December, 2018 ,
The first of a series of responses to claims about guns in Canada
Canada is facing a federal election in October 2019. With an apparent increase in criminal use of guns, the gun control debate is set to become an election issue with the anti-firearms rhetoric ramping up.
Several statements have been made by the governing Liberal Party of Canada, and by gun-control lobby groups even as the Liberal government mulls a complete ban on handguns and possibly also on so-called "assault weapons".
Firearms hobby and sporting advocacy groups are not often heard from in this issue.
Their responses to such public statements shows a strong difference to what appears to be those apparently unsubstantiated claims being made by various government and police officials, and gun control lobby groups.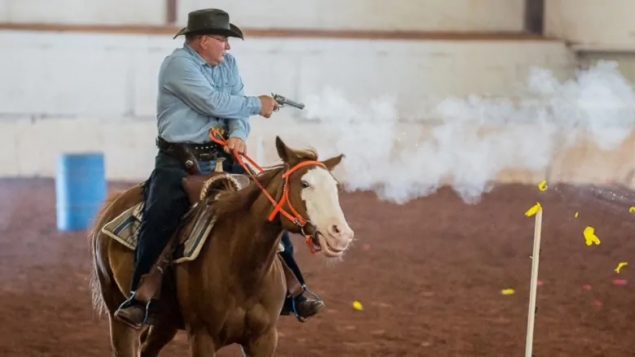 Firing blanks from real revolvers at balloons, the growing sport of cowboy mounted shooting would likely come to an end with a handgun ban. Many businesses, employees, and even tax revenues would also be negatively affected (Ulli Hoeger-via CBC)
Such statements have been refuted by a limited number of mainstream investigative media, but nonetheless these statements continue to be repeated by those officials, gun-control lobby groups and also by many mainstream media outlets.
Domestically sourced crime guns
With the theory that banning private ownership of handguns will reduce, or even eliminate criminal use, several comments by proponents of such a ban have been made to support this claim.
Canadians have long believed that because of our strict gun control laws, most criminals got guns that have been smuggled in from the U.S. Some police claim that "crime" guns are now mostly being sourced in Canada.. Various police and other official claims have been made that up to 50 %, even 60% of crime guns now originate in Canada. This is either through break and enter and theft from legal owners or through so-called "straw purchase".
"It is a fact that the majority of gun-related crimes in our communities are committed with guns that are domestically-sourced"
RCMP Inspector Chris McBryan, Vancouver Sun News 2016.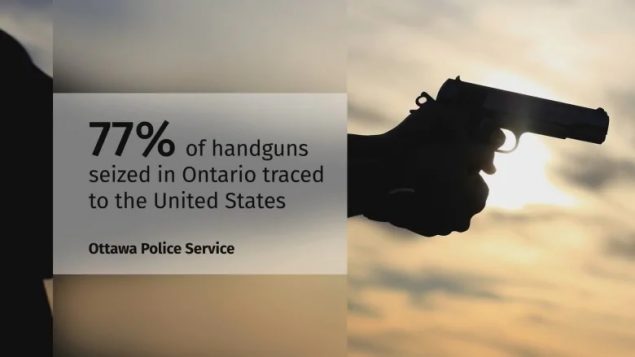 This statistic is from figures compiled by the Provincial Weapons Enforcement Unit of the Ontario Provincial Police. (OPP). (CBC)
A "straw purchases" whereby a legally licensed individual buys a firearm and then sells it illegally on the black market to someone who is unlicensed and so not allowed to have a gun, handgun or other.
"It's the main source of how firearms are being purchased and how they come into people's hands on the streets nowadays," Sgt. Eric Stewart, head of the Guns and Gangs unit for the Alberta Law Enforcement Response Teams (ALERT).
These claims have been, and continue to be, widely reported by media and gun-control lobby groups without verification of facts.
QUESTION: How many illegal firearms "crime guns" are actually "domestically sourced" and how realistic is the so-called straw purchase issue?
First an explanation by Nicolas Johnson, editor,
TheGunBlog.ca
"Crime gun": Any firearm, airgun, antique, starter pistol, toy gun, replica, etc. that police think was owned for crime, whether unlawful possession or a violent attack;. e.g., if a pellet gun or nail gun is used to rob a bank, it's deemed a "crime gun." Also any firearm with serial number removed.
RESPONSE
: Johnson adds, "about 31 percent of firearms seized by Toronto police each year are considered "crime guns." Toronto police data show the percentage of so-called "crime guns" traced to Canada fell for a second straight year in 2017 to the lowest level in at least four years, contrasting with claims that outlaws are getting more of their firearms from domestic sources.
Only 20 percent of firearms, airguns, toy guns or replicas seized by the Toronto Police Service and deemed "crime guns" were traced to Canada in 2017, the least since at least 2014, according to calculations by TheGunBlog.ca based on police statistics. The earliest year available was 2014.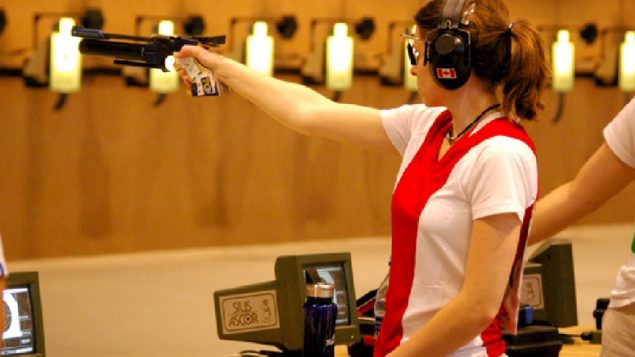 It is not clear what effect increased restrictions or a ban on handguns would cause for Canada's Olympic shooting competitors. (via olympic.ca)
More than a third of the so-called "crime guns" seized by Toronto police last year weren't firearms, and many were never used in a crime, according to an analysis of police data obtained by Dennis Young, fuelling new concern about the reliability of statistics.
The data show 469, or 65 percent, of the 726 "crime guns" seized by Toronto police in 2017 were counted among the three classes of firearms in the Firearms Act: "Non-restricted," "Restricted" or "Prohibited." That leaves 35 percent that weren't firearms regulated by the Firearms Act.
Police use their best judgement when investigating and reporting on complex crimes with imperfect information. But counting non-firearms and non-crimes as "crime guns" makes the data unreliable and undermines trust in police records.
Response:
Dennis R Young (retired RCMP) and Gary Mauser (professor emeritus) and others have researched gun issues extensively, often through access to information (ATIP) requests on government and police documents.
From the website
Justice for Gun Owners
, "Between 2007-2016, StatsCan reports that only 5% of the firearms involved in homicides were registered and used by someone other than the legal owner to commit murder – this percentage includes thefts as well as straw purchases"
Public Safety Minister Ralph Goodale who leads the gun-control issue and Bill C-71 with its proposed new restrictions on gun owners has tweeted,
"With so many crime guns coming from legitimate domestic sources, we need effective firearm measures that prioritize public safety while ensuring fair treatment for law-abiding firearm owners." revealed they had no information on stolen firearms whether from private citizens, retailers, museums, police, military or other"
.
Presumably legitimate domestic sources means "stolen" from legal owners, or perhaps "straw purchase".
Canada Border Services Agency shows pistols it has seized attempting to come into Canada (Denis Dossmann/CBC)
Another
ATIP request from Mr Young
to Public Safety Canada headed by Minister Goodale revealed they had no information on stolen firearms whether from private citizens, retailers, museums, police, military or other."
Response
: Tracey Wilson- VP Public Relations,
Canadian Coalition for Firearms Rights
"I attended the Summit on Gun & Gang Violence last March on invitation from the Minister. The resounding issues and complaints brought forth by law enforcement at every level was there was a lack of credible data to verify any of this debate about domestically sourced.
As far as those stolen from legal firearms owners homes – since when is the answer to a victim of crime (theft) to ban them from owning it in the first place? Is this not victim blaming? Have they completely given up on prevention, crime solving and investigative policing?"
Straw Purchases
"The straw purchase issue is high profile because media chooses to use it as an example of lax gun control laws without any statistical evidence, and with unsubstantiated remarks from some law enforcement officer".
B Hagen, NFA.
An
ATIP request from Mr Young
to Canada's national police force, The Royal Canadian Mounted Police (RCMP) indicated that they could find no documents related to so-called "straw purchases" in their files .
Response:
Nicolas Johnson- TheGunBlog.ca
– Canada's biggest municipal police force, Toronto, has quoted the same four straw purchasers for more than two years. That suggests it's not a major issue, or we'd have a couple more names.
– Is it true that a tiny handful of licensed gun owners sell guns illegally? Yes. Does this reflect a broader or systemic problem? No.
– Canada's firearm-licensing system is highly controversial and of questionable use for public safety, but it has yielded at least one accidental benefit. We have decades of statistics showing that millions of lawful, legitimate gun owners are the closest thing Canada has to a crimeless demographic
Response:
Blair Hagen:
National Firearms Association
– advocacy group
It is important to remember that the firearms programme and provincial Chief Firearms Officer approve and track all transfers of restricted and prohibited firearms. They can and do investigate every transfer, they can even investigate the license holder making the purchase beyond routine investigations that are in effect now.
I personally have had many cases where license holders making legitimate purchases of multiple restricted firearms have been targeted for secondary investigation, interrogation by firearms officer and even inspection because of the purchase. The fact that it happens at all is being used to justify calls for gun bans. It is the extreme minority of illicit purchase and transfers.
There are two issues not being addressed.
The demand to confiscate the property of Canadians because of the risk of theft or illicit transfer. Since when do you punish people who have broken no laws and confiscate their property, and since when are victims of crimes made responsible for those crimes?
Response :
Tracey Wilson- VP Public Relations, Canadian Coalition for Firearms Rights
There have been very few cases of straw purchases, and as Mr Johnson (TheGunBlog.ca) stated, they seem to re-use the same ones over and over to prove a point. Fact is – this is already illegal and I think we've got the CFP failing to follow up on things, likely due to the fact they are already over-burdened with bureaucracy. Wait until C-71* kicks in and watch them fall apart. (
*The proposed Liberal gun control legislation)
SUMMARY

According to these sources,

about a third of "crime guns" seized by police aren't firearms at all.
The claimed number of domestically sourced crime guns stated by the federal government, some police officers, and by gun-control lobby groups is wildly exaggerated at best
The claimed number of straw purchases stated by the federal government, some police officers, and by gun-control lobby groups is wildly exaggerated at best
for more information on this subject
CBC:Jun 14, 2018: J St-Onge: Straw purchase guns for criminals ALERT
CBC:Aug 10,2018: E Dyer: Canada Can't say where guns coming from
CBC: Sep 3 2018: E von Scheel: Handgun ban would have no effect- Police union head
Global news radio 640: Matt Gurney (Sept 6,201: "Toronto's gun surge never happened"
Globe and Mail Nov 27,2017: Bulk of seized guns are domestic (B.C.)
Cheryl Gallant: Conservative Member of Parliament
CBC News in Review; Feb 2003: Gun law- Pro and Con
Statistics Canada: June 2018: firearm related violent crime
Statistics Canada: June 2018 Homicide rates 2017
CSSA website
http://www.rcinet.ca/en/2018/12/03/t...-truth-part-1/