Obama: US favors stronger relations with China
(Xinhua)
Updated: 2009-03-13 16:25


:docmtend()" target="_blank">Comments(

1

)
(external - login to view)

:Print()" target="_blank">Print
(external - login to view)

Mail

(external - login to view)


WASHINGTON - US President Barack Obama said on Thursday the United States and China share important international responsibilities and his administration is committed to a stronger relationship with China to make joint efforts in dealing with various global issues and challenges.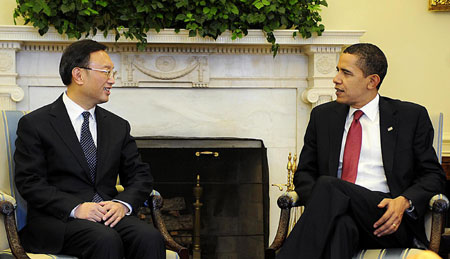 US President Barack Obama (R) talks with visiting Chinese Foreign Minister Yang Jiechi during their meeting at the White House, Washington, March 12, 2009. [Xinhua]

Obama made the remarks at a meeting with visiting Chinese Foreign Minister Yang Jiechi at the White House, according to Chinese officials.
Obama said he was glad the foreign ministers of the two countries had exchanged visits within a few weeks and achieved progress on a series of important issues.


Yang told the US president that the most important purpose of his visit is to make political preparations for the heads-of-state meeting between the two countries at the Group of 20 (G20) summit scheduled for early April in London. He said the Chinese side stands ready to make joint efforts with the US to ensure the success of the G20 summit and pursue its positive outcomes.
Obama said he is also looking forward to meeting with Chinese President Hu Jintao in London.
As to the ongoing global financial crisis, Obama said the US and China should strengthen cooperation to deal with the crisis together.
Obama said he appreciated the measures taken by the Chinese government to stimulate domestic consumption and maintain economic growth, and that the US is taking similar steps.
He said the US is willing to increase communication and coordination with the Chinese side, and play important roles together in stabilizing financial markets, promoting recovery of the global economy, strengthening supervision over financial systems and reforming financial institutions.
Obama stressed that countries like China should have a bigger say in relevant international financial institutions.
Yang, who is here on a five-day working visit, said making joint efforts in tackling the financial crisis is the top priority in Sino-US cooperation at present.
He said the two sides should increase coordination in macroeconomic policies, oppose protectionism in all forms, deepen cooperation in economy, trade and investment, and build up new cooperation in such fields as energy and environmental protection.
Obama said greater cooperation between the United States and China in the fields of energy, environmental protection and climate change will be beneficial to the two countries and the world as a whole. He reiterated his country opposes trade protectionism and will continue keeping open its market.
Yang briefed Obama on recent developments across the Taiwan Straits and reaffirmed the principled position of the Chinese government on the question of Taiwan.