In a round about way George Jr does have a legacy after all
A human rights protester was in police custody Monday after throwing a shoe at Chinese Premier Wen Jiabao during a speech at Cambridge University.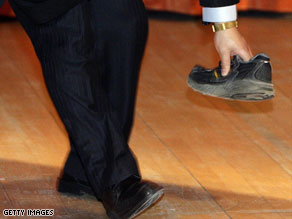 The shoe landed several meters from Wen Jiabao.
The shoe landed several meters from the premier and the man was quickly apprehended by security and handed over to police for questioning on suspicion of committing a public order offence, according to witnesses.
A student who witnessed the incident told CNN that the man had stood up and shouted, "Why are you prostituting yourself? How can you listen to the lies he is telling?"
Cameras filming the speech remained fixed on Wen during the incident, but video images later showed an unidentified student being escorted out of the building by a university proctor.
The student was then handed over to police, a university spokesman, who would not disclose his name due to 'university regulations,' told CNN.