Iron Maiden frontman Bruce Dickinson, a pilot, helped to bring home British passengers who were stranded abroad after the airline XL, Britain's third-largest tour operator, collapsed on Friday as Britain plunges into its first recession since the early 1990s.
Up until now, Britain was the only G8 nation to have not suffered a recession since 1997.
Earlier this month, Dickinson also flew home 106 RAF crew who had just served in Afghanistan.
Iron Maiden frontman Bruce Dickinson piloted XL rescue planes
Bruce Dickinson, the Iron Maiden frontman, has been revealed as one of the pilots who helped rescue passengers stranded by the collapse of airline XL.
By Aislinn Simpson
14 Sep 2008
The Telegraph
Bruce Dickinson flew specially chartered flights to get XL passengers home after the travel group collapsed Photo: REX FEATURES
The singer, who has worked for the airline Astraeus for nine years, took up flying during a low point in his solo career after he quit the band in 1993.
He trained to fly commercial jets and has been a captain with Astraeus for two years.
Mr Dickinson, 50, was one of the pilots who flew specially chartered flights to ease the crisis facing travellers this weekend.
Around 85,000 tourists were stranded in the US, the Caribbean, Africa and Europe after Britain's third-largest tour operator went into administration with reported debts of £143 million.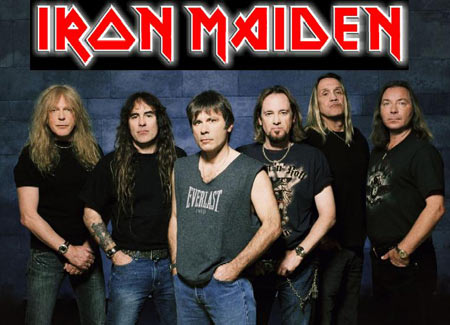 Dickinson (centre) with his bandmates
Although he rejoined his band in 1999, Mr Dickinson still works as a full-time pilot taking leaves of absence when the group goes on tour.
"I was just doing my job," he said. "I was called out like a lot of other pilots to help and I was obviously happy to do that.
"Some of the people on the flight were obviously frustrated by the situation they had found themselves in but everyone was pretty good-natured about it all."
He first flew 221 holidaymakers who had been stranded in the Egyptian resort of Sharm-el-Sheikh home, then went to collect another group stuck on the Greek island of Kos.
Earlier this month he flew 106 RAF crew back to the UK after service in Afghanistan on a plane chartered by the Ministry of Defence.
telegraph.co.uk