Smoking ban ensures a healthy Games
By Gong Gao (China Daily)
Updated: 2008-08-22 10:56


:docmtend()" target="_blank">Comments(

0

)
(external - login to view)

:Print()" target="_blank">Print
(external - login to view)

Mail

(external - login to view)




While Beijing is hosting a "green, hi-tech and people's Olympics", the city's municipal government is also making efforts to ensure a healthy Games by prohibiting smoking in public areas.
The regulation was enacted to meet requirements from the World Health Organization (WHO).
In a 2004 meeting with Premier Wen Jiabao in Beijing, former WHO Director-General Dr. Lee Jong-wook said it was his hope that all athletes and spectators coming to the Beijing Games have a smoke-free environment at the competition venues.
Premier Wen agreed, noting that a smoking-free Olympic Games is in line with the Olympic spirit, and would further enhance tobacco control in Beijing.
Health authorities in Beijing banned smoking in public areas beginning on May 1.
According to the regulation, areas where smoking is fully prohibited include indoor areas of medical organizations, nurseries, kindergartens, schools and other educational and training organizations, theaters, concert halls, exhibition halls, museums, art galleries, libraries, buses, taxis, trains, gymnasiums and stadiums.
No-smoking signs
To meet the regulation, a total of 6,700 no smoking signs were place at all Olympic sports venues.
To create a smoke-free dining environment, the Beijing Health Bureau and other organizations issued a regulation requiring no-smoking areas in the city's 40,000 restaurants in February 2007.
By the end of May in 2008, all hotels serving the Games and the restaurants in the Olympic Village were totally smoking-free. In addition, 114 restaurants were given awards noting their tobacco-free setting, while all large and medium-sized restaurants in Beijing have set aside no-smoking areas.
The campaign for smoking-free taxis was started by the health bureau and Beijing Transport Management Bureau in September 2007. A month later no smoking signs were posted in all 66,000 Beijing taxis.
Another program banning smoking in all primary and middle schools took effect in early 2006.
As well, more than 1.2 million students from 1,673 schools attended the health education classes. One million students took part in contests to promote tobacco control and 910,000 students signed a vow to "refuse the first cigarette".
The campaign received a warm welcome from students and teachers, with the participation rate as high as 94.4 percent.
Another no-smoking campaign requires medical organizations to take the lead to turn hospitals into a no-smoking environment, then promote the initiative to all of society.
The Beijing Health Bureau has formulated six standards for smoke-free hospitals. Every hospital is required to post obvious no-smoking symbols and ban smoking in indoor working areas.
The medical staff is prohibited from smoking and is also required to inform patients of the dangers and provide medical services to quit smoking during their treatment. By the end of July 2008, indoor areas of all medical organizations in Beijing have been fully smoke free.
Public awareness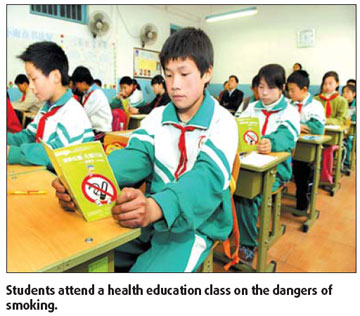 In order to enhance the public's consciousness of tobacco control and promote a smoking-free Olympics, the municipal government joined with the media and other organizations to launch a range of educational and promotional activities.
From April to June in 2008, a total of 165 reports on smoking control appeared in the news media.
Posters to promote tobacco control were placed in many communities in Beijing.
Letters were mailed to 2.2 million people, messages sent to 3 million mobile phone users and posters on tobacco control were placed at 310 bus and subway stations.
The Beijing Health Bureau has also strengthened cooperation with WHO and other international organizations to enhance the tobacco control task in the city. Successful programs used in developed countries have been applied in Beijing.
The bureau said fighting smoking is a long-term and complicated task that requires participation from all sectors of society.
While Beijing has made some progress and met the primary aim of a smoking-free Olympics, creating a 100 percent smoke-free indoor environment has a long way to go and further endeavors are required.
Building on existing achievements, Beijing's health bureau said it will continue its promotional efforts and enhance international cooperation.