BEIJING, China (CNN)
-- A Chinese attacker stabbed to death the father-in-law of a U.S. Olympic coach and seriously wounded the American's wife and a Chinese tour guide before killing himself, the International Olympic Committee said Saturday.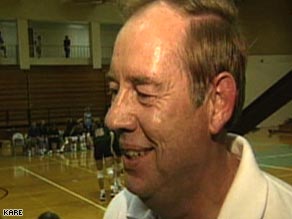 Todd Bachman, seen in a 1995 photo from KARE-TV, was stabbed to death Saturday in Beijing, China.
1 of 2

Todd and Barbara Bachman of Lakeville, Minnesota, were attacked at the Drum Tower, an ancient monument in downtown Beijing, the IOC and Chinese authorities said.
Barbara Bachman's injuries are "serious and life-threatening," an IOC statement said. The tour guide's condition was not immediately clear.
Todd Bachman was the father-in-law of U.S. Olympic men's indoor volleyball head coach Hugh McCutcheon. McCutcheon's wife, 2004 U.S. Olympic women's indoor volleyball player Elisabeth Bachman McCutcheon, was with her parents when they were attacked, but she was not hurt, the IOC said.
The Bachmans were not wearing apparel that identified them as relatives of members of the U.S. delegation at the time of the
attack
(external - login to view)
, the IOC said.

Watch where Americans were attacked »
(external - login to view)
The attack happened around noon at the Drum Tower, a popular tourist site, China's official news agency Xinhua reported.
The assailant, a 47-year-old man from Hangzhou in eastern China, jumped to his death from the tower after the attack, authorities said
"It is impossible to describe the depth of our sadness and shock in this tragic hour," said U.S. Olympic Committee Chairman Peter Ueberroth. "Our delegation comes to the Games as a family, and when one member of our family suffers a loss, we all grieve with them. Our thoughts, prayers and deepest condolences are with the Bachman and McCutcheon families."
full article...
(external - login to view)