Britain and Germany are set to sign a new defence pact as Theresa May signals her intention to play a significant role in European security after Brexit.

The Prime Minister is seeking to reassure EU leaders that Britain will continue to co-operatate on training, cyber security and maritime patrols.

The UK's MoD said it was working with Germany "on a joint vision statement on future co-operation".

Britain and Germany set to sign new defence pact after Theresa May triggers Brexit

British Prime Minister Theresa May and German Chancellor Angela Merkel Credit: REUTERS/Yves Herman
Laura Hughes
(external - login to view)
, Political Correspondent
20 March 2017
Thee Telegraph
Britain and Germany
(external - login to view)
are set to sign a new defence pact as Theresa May signals her intention to play a significant role in European security after Brexit.
The Prime Minister is seeking to reassure EU leaders that Britain will continue to co-operatate on training, cyber security and maritime patrols.
The UK's MoD said it was working with Germany "on a joint vision statement on future co-operation".
British Army's 5 Rifles Regiment, The Royal Logistics Corps, Royal Artillery and Royal Millitary Police arrive in Estonia Credit: Estonian Defence Ministry
And the
German defence ministry confirmed to the Financial Times
(external - login to view)
that it was working on joint projects.
It said: "Independent of the effects of Brexit, Great Britain remains a strong partner and ally in Nato and also bilaterally."
Sir Michael Fallon, the Defence Secretary, is understood to have spoken to a number of EU countries about building up military links.
Exercise Griffin Strike, a joint military exercise between British and French forces, watched by Sir Michael Fallon and Jean-Yves Le Drian, the respective Defence Ministers of both countries Credit: David Rose

The Government is keen to empahsise that Britain is committed to Nato and European security. A new deal with Germany is expected after Mrs May triggers Article 50 later this month.
It comes after British troops began a long-term deployment to Estonia on Saturday- where the UK is playing a leading role in the Nato mission.
The deployment is part of what Nato is calling an "enhanced forward presence," designed to reassure eastern allies and deter potential Russian aggression.
The Royal Navy's newest helicopter, the Wildcat, will also operate from a German frigate and take part in operations in the Mediterranean next year.
News of a stronger German-British alliance comes after Donald Trump accused Germany of not spending enough on defence after he
sat down
(external - login to view)
with Angela Merkel for the first time on Friday.
The American President took to Twitter to demand that Germany "pay more" to the United States for its defence, only hours after meeting with the German Chancellor.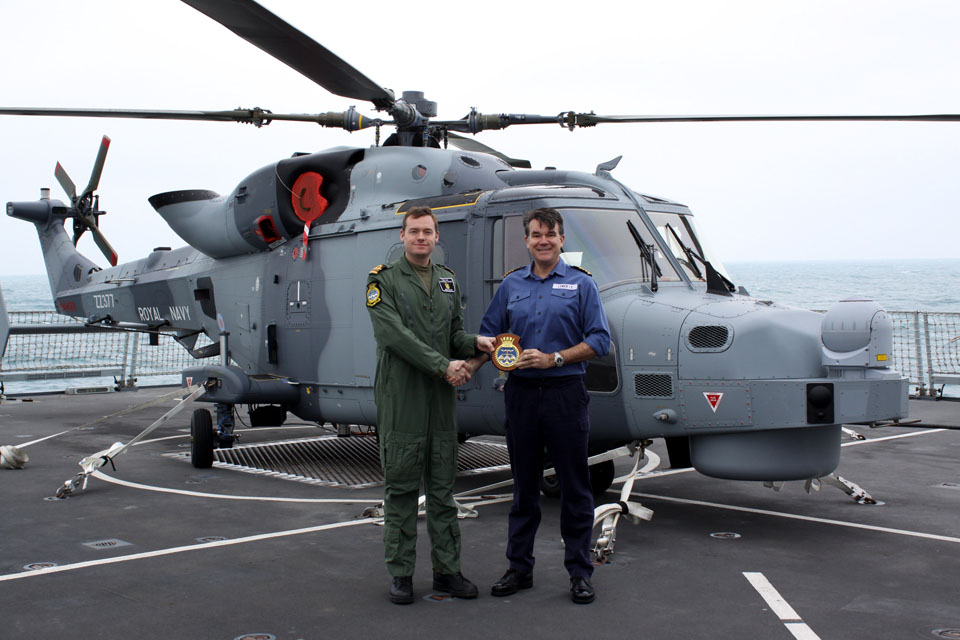 A new Royal Navy Wildcat onboard destroyer HMS Dragon
Mrs Merkel told the president she believed Germany must work to pay its fair share to be in the Nato alliance – a key demand by Mr Trump, who has repeatedly said he believes America is bearing the brunt of the costs.
Britain and Germany set to sign new defence pact after Theresa May triggers Brexit*
(external - login to view)