Reduced to manslaughter? This man should never have been tried at all. We send Our Boys in to kill the Taliban and then when they DO kill the Taliban they are tried for murder!

Marine Alexander Blackman conviction reduced to manslaughter
BBC News
15 March 2017
A Royal Marine jailed for shooting an injured Taliban fighter in Afghanistan has had his murder conviction reduced to manslaughter by an appeal court.
Sgt Alexander Blackman, 42, from Taunton, Somerset, has already served three years of a life sentence.
Five judges at the Court Martial Appeal Court in London ruled the conviction should be "manslaughter on the ground of diminished responsibility".
A further hearing will now decide what sentence Blackman should serve.
Blackman was not in court to hear the decision.
The marine had a recognised mental illness at the time of the shooting in 2011, the hearing had been told.
His defence team argued that fresh psychiatric evidence, if available at the time, would have provided him with the "partial defence of diminished responsibility".
The panel of judges were urged to overturn the "unsafe" murder conviction.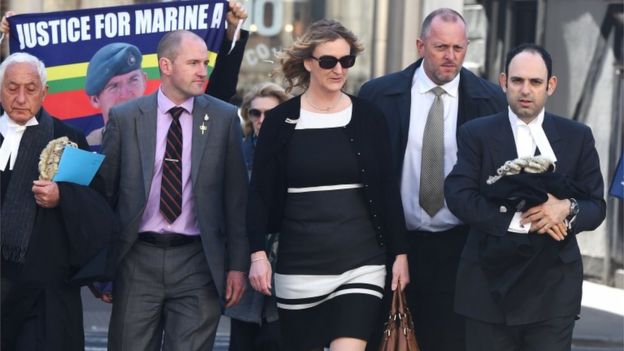 Sgt Blackman's wife, Claire, supported him throughout the legal process
Sgt Blackman's wife, Claire, said she was "delighted" with the ruling.
"This is a crucial decision and one which better reflects the circumstances my husband found himself in during that terrible tour in Afghanistan," she said.
'Mortal coil'
In Afghanistan in 2011, Blackman shot an insurgent, who had been seriously injured in an attack by an Apache helicopter, in the chest at close range with a 9mm pistol.
Footage of the incident was captured on a camera mounted on the helmet of another Royal Marine.
A court martial heard that Blackman used abusive language and said: "There you are. Shuffle off this mortal coil."
It was then alleged that he then turned to his comrades and said: "Obviously this doesn't go anywhere, fellas. I just broke the Geneva Convention."
During his trial, Blackman, who denied murder, said he believed the victim was already dead and he was taking out his anger on a corpse.
Marine Alexander Blackman conviction reduced to manslaughter - BBC News
(external - login to view)
Last edited by Blackleaf; Mar 15th, 2017 at

06:53 AM

..