ISIS Says It's Burning Marijuana Fields In Syria
ISIS Says It's Burning Marijuana Fields In Syria
(external - login to view)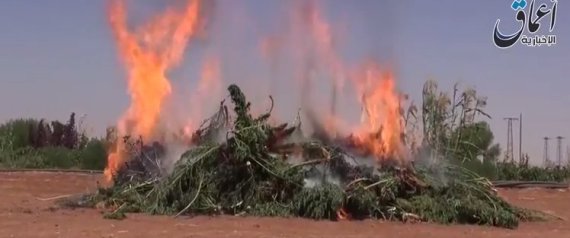 The Islamic State militant group
released a video
(external - login to view)
on Tuesday purporting to show its fighters burning down a marijuana field in a town it captured in north Syria.
In the clip, which appears to be shot in the town of Akhtarin and was uploaded to YouTube by an ISIS supporter on Tuesday, the fighters denounce the evils of drug-taking, before appearing to chop down bushes and setting them ablaze.
The militants claim they discovered the farm after
having captured Akhtarin
(external - login to view)
from the Free Syrian Army, a rival group of opposition fighters in Syria, in recent weeks. The militants claim the farm owner fled over the nearby border with Turkey.
Syria Deeply
(external - login to view)
reported in July that some farmers in north Syria have turned to pot-growing in a desperate bid to make an income amidst Syria's devastating civil war.
But the farmers have come under threat from radical Islamist fighters, such as the militants of the Islamic State, who consider drugs against Islamic law.
The Islamic State group, earlier known as ISIS, is known to impose a harsh interpretation of Islamic law in areas under its control in Iraq and Syria, and has banned
cigarettes, alcohol and drugs
(external - login to view)
. A United Nations commission
said on Wednesday
(external - login to view)
that the group's systematic abuse of civilians, including public executions and training child fighters, may amount to crimes against humanity.
-------------------------------------------------
NNNNNOooooooooOOoooooo!!!!!!
They Need to be STOPPED!!!!
Last edited by Praxius; Aug 27th, 2014 at

07:18 PM

..