Man fired for being first to buy legal weed in Spokane: 'I regret nothing'
Jordan Chittley, CTVNews.ca
Published Thursday, July 10, 2014 2:00PM EDT
We may be accustomed to seeing long lines for the trendiest new electronics, but earlier this week one man was so eager to be the first person to buy legal weed in Spokane, Wash. he waited outside the store almost a full day before it opened.
When Washington became the second U.S. state to allow marijuana sales without a doctor's noteearlier this week, Mike Boyer was determined to be among the first to avail himself. So, when pot purveyor Green Leaf opened Tuesday afternoon, Boyer enthusiastically walked in, pumped his fist in the air and purchased four grams of Sour Kush. This all happened in front of TV cameras and other news outlets, who were there to cover the historic buy. Triumphant in a tie-dye T-shirt, Boyer emerged from the store and shouted "Go Washington."
But his jubilation was short-lived. CNN followed Boyer back to his home and watched as he lit up. About 30 minutes after purchasing the weed, Boyer found out he was close to being fired from two of his three part-time jobs.
Boyer says someone saw him on TV and complained to one of his employers. Boyer said the boss at one of his workplaces sent him a text asking him to take a drug test within 24 hours – one he would certainly fail.
Another of his employers wasn't too happy either.
"We are a security firm," human resources manager for Kodiak Security Kym Ramey told
The Spokesman-Review
. "Our employees can't be under the influence on the job."
Employers are allowed to test workers pursuant to their internal policies.
As Boyer basks in his dubious new distinction, he is also taking some initiative to find a new job. He posted a note, including his resume, on Craigslist.
"I lost my job due to the news coverage of me being the first person to buy marijuana legally in Spokane," Boyer writes. "I regret nothing."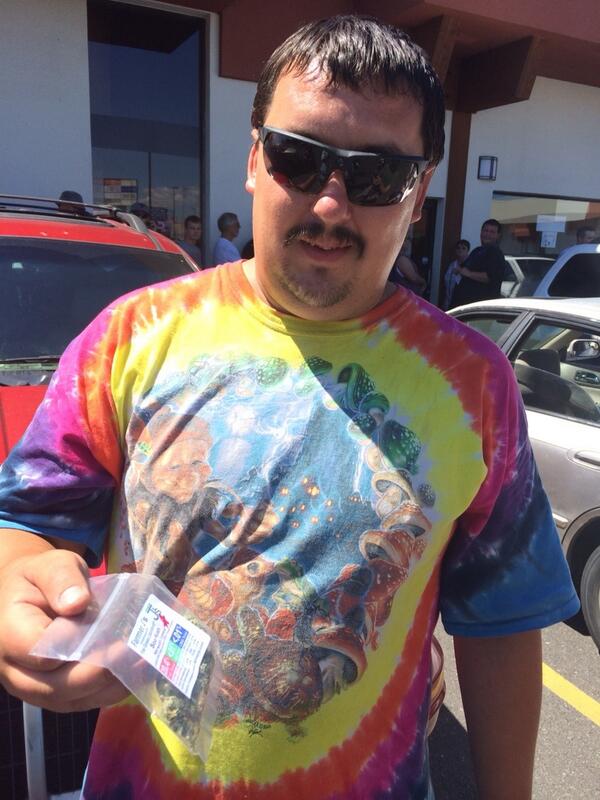 First man in Spokane to buy recreational marijuana. Mike Boyer says he's gonna go home and test it and take a nap.

Fired for high-profile marijuana purchase, Wash. pot pioneer Mike Boyer regrets nothing | CTV News

(external - login to view)