tragic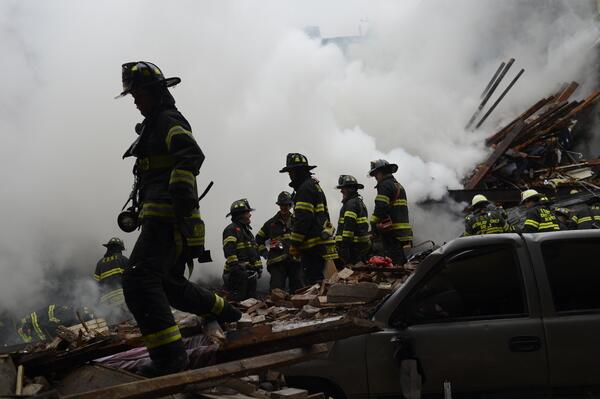 A massive explosion followed by a fire at a pair of apartment buildings in upper Manhattan on Wednesday has left three people dead and at least 60 injured, officials say.
The extent of all injuries wasn't immediately known, but earlier in the day fire officials said seven people were in serious condition, including two with life-threatening injuries.
Rescuers are currently combing through bricks by hand in an effort to locate other possible victims. More than a dozen people are reportedly unaccounted for.
"There are a number of people missing," Mayor Bill de Blasio said at a news conference. "I emphasize that those who are missing could well be safe in another location and just not contacted yet or reachable yet."
The FDNY said it received a call shortly after 9:30 a.m. reporting a large explosion in the five-story apartment building on Park Avenue near 116th Street in East Harlem.
The blast shattered windows and crumbled walls up to several blocks away from the explosion. Residents in the neighborhood told reporters they feared the earthshaking boom was a terrorist attack. One man was so worried, he told CNN, that he rushed out of his home wearing nothing but his underwear.
"This is a tragedy of the worst kind," de Blasio said. "There was no indication in time to save people."
Based on preliminary information, the mayor said, "The only indication of danger came about 15 minutes earlier when a gas leak was reported to Con Edison. Con Ed dispatched a team to respond. The explosion occurred before that team could arrive."
Yahoo News Canada - Latest News & Headlines
(external - login to view)