According to
this
(external - login to view)
, radio personalities Steve and Leeanna from Long Island's K98.3 decided it would be super neato if they completely fabricated a story about gay dads being the victims of bigotry. They publicized this birthday party invitation, which went completely viral:
It's a compelling story, isn't it? A 7 year old's birthday party invitation returned to the senders (two gay dads) with that note on it? The radio station posted that note on their Facebook page mid week this past week, and of course, readers went completely crazy over it, expressing their due outrage and offering their sympathy and support to the fathers. It spread like wildfire.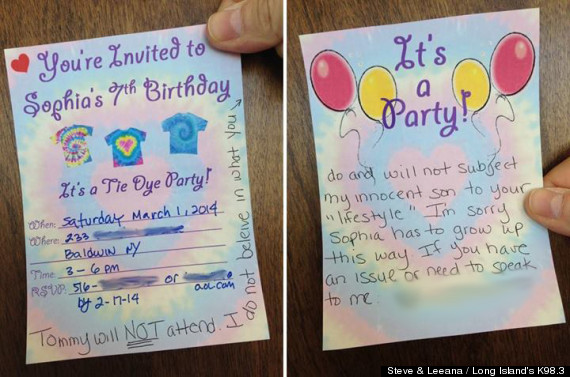 The problem with the story, though, is that Steve Harper and Leanna (last name unknown) made up the entire thing, right down to the actual invitation, which they apparently hand-crafted. And they wrote this apology note on the
station's website
(external - login to view)
yesterday:
more
Unbelievable.
(external - login to view)
Mom's Homophobic Response To Gay Dads' Birthday Invite Was A Radio Show Hoax
(external - login to view)