Iran to blind criminal with acid in 'eye for an eye' justice
Retribution granted to woman who had acid thrown in her face by man she refused to marry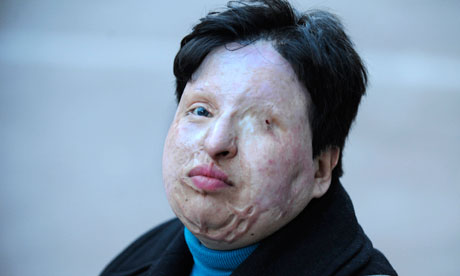 Ameneh Bahrami, who was blinded when a spurned suitor threw acid at her, asked for the same to be inflicted on him. Photograph: Lluis Gene/AFP
In a literal application of the sharia law of an eye for an eye,
Iran
(external - login to view)
is ready for the first time to blind a man with acid, after he was found guilty of doing the same to a woman who refused to marry him.
Majid Movahedi, 30, is scheduled to be rendered unconscious in Tehran's judiciary hospital at noon on Saturday while Ameneh Bahrami, his victim, drops acid in both his eyes, her lawyer said.
"The person who did this deserves to go through the same suffering. Only this way will he understand my pain … my intention is to ask for the application of the law not just for revenge but also so that no other woman will have to go through this. It is to set an example," Bahrami was quoted by the Spanish newspaper ABC as saying.
JUSTICE OR BARBARIANISM?
Last edited by CUBert; May 13th, 2011 at

02:03 PM

..