Little 'Boretard' aka, 'Bo', 'Goldfish', 'Catfish, 'Darth Bobo', 'Velcro' and 'Meat head'.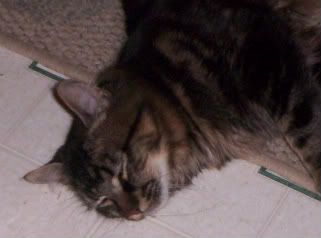 The second of two cats rescued from SCB's old place of employment. The least likely to survive.
Crushed by a 1000lb bale of cardboard.
I absolutely hate cats, lets make that fact perfectly clear.
But I hate suffering animals more, and SCB knows that and uses it against me so often when it comes to lil critters.
Somehow, lil 'Boretard' managed to get himself under a bale of cardboard. Once discovered, all machines were shut down and the rescue efforts of a plant of recycling workers went into emergency mode.
A forklift was brought in, to do the heavy lifting, while one of SCB's employees risked limb to reach under and snatch the little puff of fur from certain doom.
He was gingerly placed in a box, complete with one of SCB's sweaters and lauded the attention of a new born baby. Not knowing what to do, I was text'd and begged for help. As I have a history of saving little critters or having to do the unpleasant deed of ending the suffering.
Let me reiterate certain facts here...I hate cats.
I dropped what I was doing and made way to the scene of the emergency.
Upon arriving I assessed that the kitten was on deaths door. Unfortunately, he was so damned cute, that had I taken the quick and easy route to ending his suffering, I would have likely been lynched, or at the very least, not gotten laid again until Jesus came back.
I gave him the medics once over and determined that he had crushed all of the ribs on one side and that one of his lungs had either been punctured or had collapsed.
Financially at that point, we could not afford the cost of such an expensive operation, for a feral cat. So I tended to him as best I could.
I prepared everyone for the inevitable. He likely wouldn't survive the night...the next day...the week...the month...oh **** it, I just gave up counting him out!!!
I then gave him the chances of growing to a normal size limited possibilities. Let alone being able to live a normal life in a house with a wily dog and another domesticated feral cat.
This little bastard just had to prove me wrong at every turn.
8 months on now and he's a good size, he gives the 'Daisey', a Bull Dog Red Heeler cross, a run for her money and is every bit as energetic as the 'Villain', the other feral rescuee in our home.
And despite having difficulty breathing, what appears to be a diminished mental capacity (hence the 'goldfish affectation), a pitiful meow, a pur that sounds like a muted Turkey call and fur that attracts and picks up every quarter sized partical in the house, he's absolutely fine.
Nothing amazes me more then the drive to survive.