A German man was found dead in his home half eaten by his own exotic spiders and lizards.
The man from Dortmund, Germany lived in his own 'zoo', he had over 200 exotic spiders, lizards and other pets. His house was described as a mix between a botanical garden and a 'The Silense of the Lambs'-style butterfly breeding room.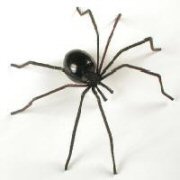 The man was found lying on the floor a few days after he was bitten by his favorite Black Widow spider. After he died of the bite, his pets partially consumed him.
Police said spiders were coming out of his mouth and nose. The man's lizards had ripped flesh off his body and parts were found all around the house.